Android is everywhere and its really huge in numbers when it comes to device activations made per day. Users move to smartphones to feel the difference in the way they interact with their mobile phones. Internet, Music, Movies and mobile phone is becoming the great device that cuts the time you need to hang on with your computer system. 8Tracks, is an app launched for Android, and iPhone.
Also, checkout our list of android mobiles with 3000 mAh battery capacity, if you are looking for one.
8Tracks Radio App for Android and iPhone is not just another online radio app. This is quite different than your usual radio app. It is an handcrafted internet radio app that offers simple way for people to share and discover music through an online mix. A short playlist contains atleast 8tracks.
Once you have installed this great app you can do two things. Listen to a Mix or Create a Mix and upload it to let people listen to it. You can search for a mix by artist or genre then stream it in a legal, radio-style manner and follow others who make compelling mixes as well. DJs can make use of this service in great way to upload their MP3's or AACs to craft a playlist, add context with description and art, then publish their mix on 8tracks.com with their personal webpage
8Tracks Radio
One might wonder if 8Tracks carry more than 300,000+ music mixes and still counting. This is a platform for people who knows and loves music as well. 8Tracks works with a simple motive to encourage and enthrall some budding talent by sharing their handmade audio and music mixes on to selected category tabs on 8Tracks and share them to all users.
Highlights of 8Tracks
The most appealing feature of 8Tracks is you can listen to any playlists in any style or genre which is in any mood or ambiance. It carries a Tag feature which helps you to pick some best collection on the following moods like Study, Sleep, Chill, Party, Trek etc.,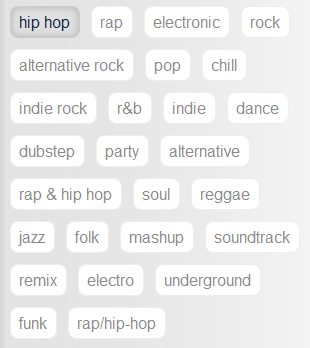 Being Social is the next feature on 8Tracks. It is moreover like you could find a person's profile who have a DJ's Mix collection. You will see his location, Short biography, his interest, followers and who he follows.
It carries the huge collection of DJ's and music artists who were already on limelight. You could follow your favorite artists and start enjoying their handmade works.
It has a separate tag feature support for browsing music genre's like Hip Hop, Rock, Jazz, electronic, and dub step etc., Browse for your favorite mixes anywhere like on a beach or at gym.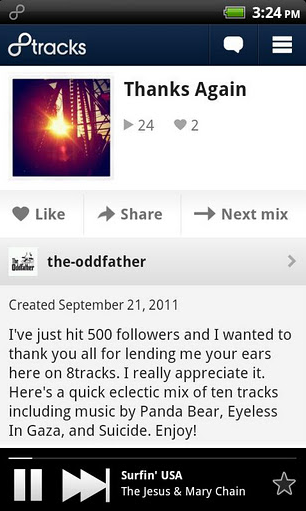 Playlists are meant to play and stream as like a radio based on category tags you have added on the previous sections so you can enjoy a non stop flavor of songs sounding good each time.
Thanks for reading and please do share this post with your friends and followers in Facebook, Twitter and Google+ and let them too know about this awesome music service 8Tracks.