Airplay comes as one of the major feature update on OS X Mountain Lion. But if you want to use Airplay on your Snow Leopard or Lion installed Macbook or iMac, then here we have an App to do that. AirPlay feature helps you to share your OS X computer screen on a big television screen that is helpful for business presentations and meetings. This feature is very useful for iPad users where they need to configure an Apple TV in their conference hall or meeting room to Airplay the presentation, web browser and videos to the audience.
The screen Resolution and Quality makes it really the best one among other ways available. Apple TV takes care of connecting your iPhone, iPod Touch, iPad, Macbook or iMac with a Television. You dont need any wires to share mac os screen on your television. Once you have connected your Apple TV to the Home or Office WiFi network, you will see an icon on your iOS device that lets you share your Videos and other applications.
Apple has added screen sharing feature via Apple TV only with its recent OS X release, Mountain Lion. You can use iTunes videos and music streaming through Apple TV with Snow Leopard and OS X Lion, where the screen sharing was not possible. But now you can use the new feature that comes with OS X Mountain Lion, Screen sharing using Apple TV in your OS X Snow Leopard or OS X Lion. AirParrot is an App to bring the ability of sharing your screen via Apple TV to a bigger television screen.
This will now be very useful for business people who use older version of Mac OS X in their Macbook Pro, Air or iMac.
1080p Mirroring
If you have Apple TV 3 in your business meeting room or at home, then you can use the mirroring feature of airparrot app with 1080p high definition picture quality. You can watch videos, images, and the complete desktop wirelessly in full 1080p screen resolution.
App Mirroring
No more flickering or screen not displaying issues when you screen share a specific app installed on your mac computer. Airparrot can mirror any specific application on your desktop without any screen cluttering or other issues.
Desktop Extension
Another interesting feature that airparrot brings to your mac os x installed computer is desktop extension possibility. Now you can add more space to your desktop by creating a virtual monitor and extend your desktop to your TV without any wires. This feature supported only for OS X version and wont work if you are running Dual or Parallels based Windows OS.
Mirror Your Desktop
There is no restriction on the version when you use this app. Airparrot can let you share your mac screen with any apple tv version. You will see exactly whats on your desktop that makes it totally easy for you to use the Mac OS X on a bigger television.
Airparrot Compatibility
Airparrot is compatible for OS X 10.6.8 (snow leopard) and higher versions. Also it works pretty great on Apple TV 2 and Apple TV 3 which is the latest one. You may download airparrot trial version before purchasing the actual software for 9.99$.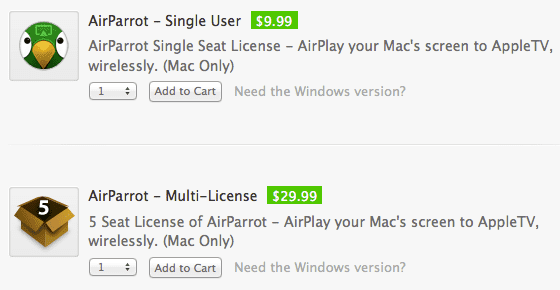 We regularly bring some interesting iPhone, iPad and Mac App Reviews at DailyTUT. If you like to receive more tech news and updates, do subscribe to our Free Newsletters or Like us at Facebook, Twitter and Google Plus to get it on your social news feed.
Thanks for reading and dont forget to share this post. Have a great day !