Apple Back to School Deals 2023 announced. Education Pricing on Macbooks and iPads plus a $150 Gift Card and a 20% Discount on AppleCare+ plans. Every year around June or July, we get Big Discounts on Apple Macbooks, iMac, Mac mini, and Mac Studio computers.
Apple Education Discounts also includes iPad Air, iPad mini, and iPad Pro models under Back to School Offers.
This year, Apple's Back to School Offers are announced with Discounts and Offers similar to last year.
Here are the complete details about Education Pricing, Back to School Offers, and Discounts when you buy an eligible Apple MacBook or iPad.
Also Read, ScreenFlow Review and Wirecast Coupon Code 2023
Apple Back to School 2023 Deals
During this Apple Education Discounts offers period, apple sometimes gives Free AirPods, and sometime it will Gift Cards. For U.S. Region, you can redeem a $150 Apple Gift Card at Apple Online Store or the nearest Apple Store with future purchases.
These offers may vary based on country. For example, Apple India gives Free AirPods 3rd Generation with a Mac purchase and Free Apple Pencil with an iPad purchase.
What are the Macbook Offers?
This year, you will get Education Pricing Discount for the Macbook Air, Macbook Pro, iMac, Mac Studio, and Mac mini computers. Additionally, you will get the following benefits.
$150 Apple Gift Card.
20% Discount on AppleCare+ Purchases.
Discounts on Accessories like Magic Keyboard and Magic Mouse.
Note: Education Discounts Pricing means you will get a $100 or more discount based on different Mac and iPad models from Retail Pricing.
What are the iPad Offers?
Under this Apple Student Deals, iPad 9th and 10th generation models are not eligible. Benefits are,
$100 Apple Gift Card.
20% Discount on AppleCare+ Purchases.
Discounts on Accessories like Folio Keyboard, Magic Keyboard, and Apple Pencil.
iPad Education Pricing also brings discounts compared to Retail Pricing.
Also Read, How to Use Free Microsoft Office on iPhone and iPad?
Who Can Buy under Apple Back to School Offers?
Both Teachers and Students stand to gain from this Back to School Deals. Whether you're a teacher looking for robust tools to facilitate your lesson plans or a student searching for reliable devices for studying and creative endeavors, Apple Education Discounts and benefits make it easier to obtain the technology you need at a more affordable price.
How to Buy Online?
You must visit Apple's online website (apple.com) or your country-specific Apple Website Education portal. Log in with your UniDays verified Teacher or Student Account, or you can contact UniDays support, Register on their website to create a new account.
Browse the Apple Products catalog on UniDays Website and complete your purchase. Apple Student Discounts and College Discounts are valid only for a limited time.
This year education pricing discounts will end by the first week of October.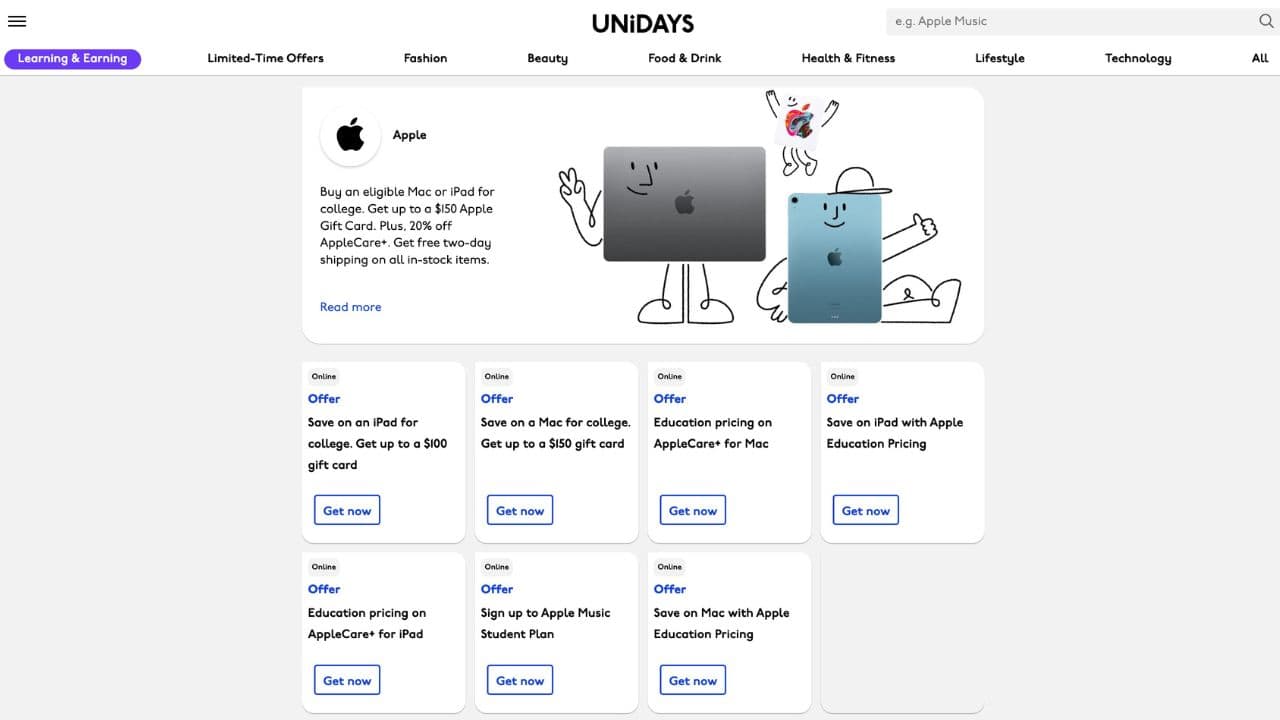 Don't miss this opportunity to take advantage of the latest Apple products and elevate your educational journey. Visit the Apple Online Store or your nearest Apple Store to make the most of these incredible offers today.
Feel free to share this post about Apple Back to School Offers with your friends on Twitter and Facebook. It may help them save and get more benefits when they buy Macbook or iPad under Education Pricing.