Untethered Jailbreak for iOS 5.0.1 now available.
Apple has released iOS 4.3.3 with minor feature updates and patched the jailbreak and unlocking vulnerability exist in iOS 4.3.2. This update is specially for iPod Touch 3, iPod Touch 4, iPad 1, iPad 2, iPhone 3GS and iPhone 4.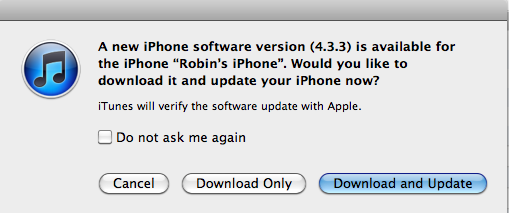 Following are the 3 important fixes that apple has made to this version of iOS.
Reduces the size of cache. (The size of location data storing file has been reduced.)
No longer back up the cache to iTunes. (The location file backup to itunes has been fixed.)
Deletes the cache entirely when location services is turned off.
Connect your Apple device to your computer and launch iTunes software. It will prompt you for the latest available update iOS 4.3.3 and there you can proceed with the upgrade by clicking "Download and Update".