The biggest strength of Mac devices is its applications. Even though many competitors were available for Mac, still it stands unique because of its applications. In 2008, Steve introduced App store for all the Mac and iOS devices. Using that people can download and install apps from Apple as well as third party developers. This concept was later adopted by many companies and started their own app stores but they couldn't match the quality of Apple's app store.  Today Apple's App store has thousand of apps and separate App stores were available for Mac and iOS devices.
You may also be interested in a Mac Blu Ray Player Software. MacGO Coupon Code we have also let you save 30% on purchase. It is a premium blue ray player software.
Few years before Audio converters are used only by the sound engineers, design professionals, and others., but today even a common man needs a simple audio converter for converting music files and to transfer them to their Gadgets, Tablets and Mobile Devices. There are Music Players from various brands each supports certain audio file formats and some dont. Audio converters can help you to convert any file format to make it compatible with your music player. Some famous music devices and players supports very few audio formats. So in that case you need a converter to play that particular audio in your device or computer.
Especially for Mac OS X, based on the music player audio formats may change, so you need a simple audio converter in hand to enjoy the music. Today we are going to discuss about five different audio converters for Mac OS X which helps you to convert and edit audios right from your desktop. Let's have a look at the applications below.
Smart Converter is one of the simple and best audio converter for Mac OS X. The interface is very simple to understand and it is exclusively designed for Mac and it has preset of audio formats for various Apple and Android devices. All you need to do is just drag and drop the audio file and select the format or device you need to convert. That is all, once the audio conversion is done it will be available on the output folder. It doesn't need much computer knowledge and anyone can easily convert audio files on their own. This application is available for free and you can download it from App store.
Flv Crunch is exclusively designed to convert FLV videos into MPEG1, MPEG2, MPEG4, MOV, 3GP, etc. This application can convert both audio and video files in your Mac OS. It supports wide range of audio file formats and you can easily convert any type of audio file into the supported file formats using FLV Crunch. This application is available for free and you can download it from the official website.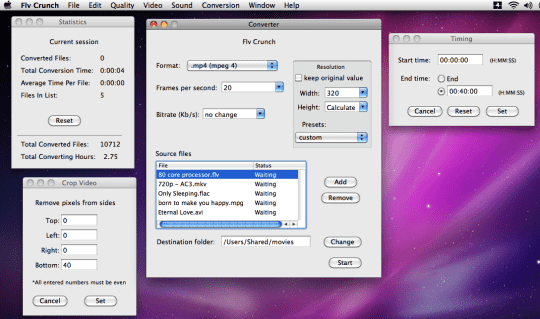 Adapter is a free audio, video and image converter for Mac and Windows. You have preset options to convert audio for devices like XBOX, Play Station, Apple, Sony, Microsoft Zune, etc. Also it has advanced set of options to separate the audio and video from a video file and you can convert that audio into any format you need. It is a free application and you can download it from the official website.
Lona music converter is yet another simple and powerful audio converter, which can convert an audio into eleven different formats. The interface is very simple and a best application for beginners. To convert audio, click add file on the top of the window, browse and locate the audio file you need to convert. Then select the audio format you need to convert from the list available. Also you have options to automatically add the converted audio to your iTunes playlist. You can download this app from the App store.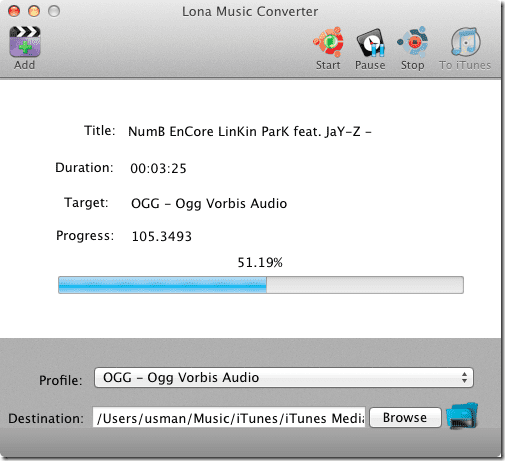 Adobe Audition is one of the famous audio editors available in the market. It is a professional audio converter and audio editor which has advanced set options to edit your audio files. Using this application you can edit, restore, mix and add effects to your audio files easily. It has automatic speech alignment and powerful pitch correction techniques which makes your work even more comfortable. For audio editing professionals it is a must have application.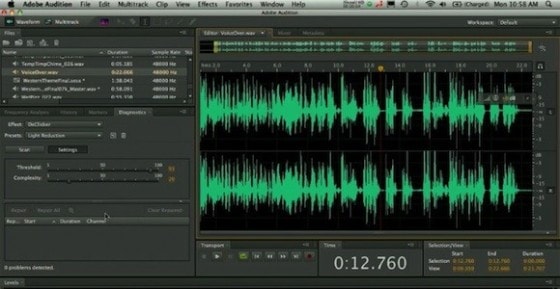 These are the five different audio converter applications for Mac OS X. If you use Windows 7 or Windows 8 you can download PowerDVD Blu ray Player software. Get PowerDVD Coupon Code to save money on your purchase. Try your favorite applications on Mac and share your experience with us in the comment box. Do let us know if we have missed any of your favorite audio converter applications for Mac. Thanks for reading. Have a great day !