Apple has released iOS 11 worldwide to iPhone and iPad users with a Big Surprise. Augmented Reality (AR) Apps have started to Flood into the App Store, and Apple has a separate page to make it easier for you to find AR Games and Apps. Apple has enabled AR Kit in iOS 11, and it's like flicking a switch to enable AR ability to Millions of iPhones and iPads worldwide.
Many are premium, and some are Free AR Apps for iPhone and iPad to Download. We are hand-picked a few best and most free AR Apps to try and experience Augmented Reality on your iOS device.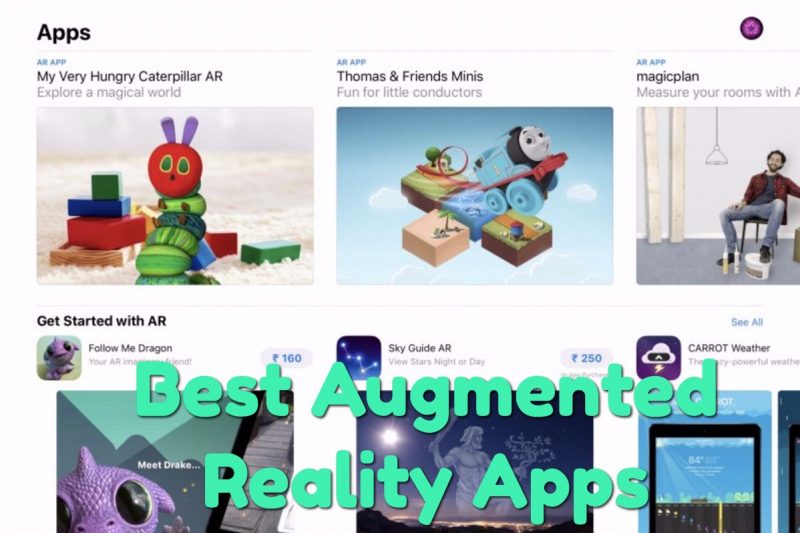 Remember Pokemon GO? the starter of this Augmented Reality Gaming among iPhone users? Now you have plenty of similar games without the need for running on the street staring at your iPhone or iPad. AR App like IKEA Place lets you place the furniture in your Room and order it online. Utilizing the sensors available in your iPhone or iPad, these AR apps perfectly measure your Room Size and places the objects accurately.
Augmented Reality is going to change the game in the coming days. We don't have to wait several months or years to see more productive apps and games.
Best AR Apps for iPhone and iPad
We hand-picked a few Best Augmented Reality Apps for iPhone and iPad to simplify your search. Also, these apps have excellent ratings and work as promised to let you experience Augmented Reality how it is meant to be. Alright, without any further delay, let's dive into the List of AR Apps.
You may also like to Read, Best Virtualization Apps for Mac OS
Insight Heart
If you are a medical student, this app will be very helpful. There are some good anatomy apps already available on iPhones and iPad. However, this Augmented Reality App will let you explore the body parts more effectively. This app allows you to explore the complete structure of the heart. The veins and flow of the blood help you get better answers.
It's three-dimensional (3D) and shown in high-resolution 4K textures. You can visualize various conditions, such as Normal Heart Rate, Myocardial Infarction, Arterial Hypertension, and Atrial Fibrillation.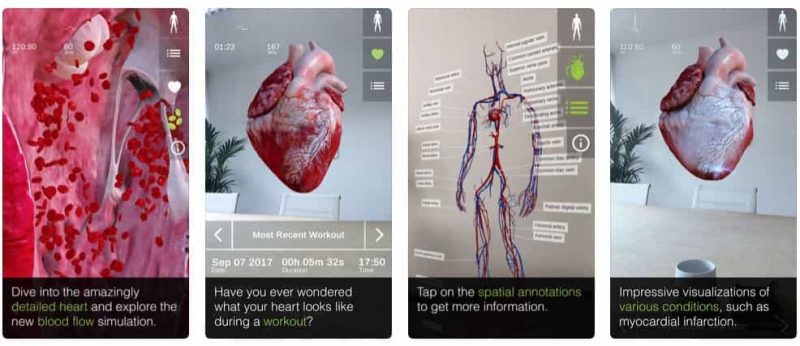 In high definition, you can open the heart and see the complete blood flow structure inside and around the heart. Integrating HealthKit with the Insight Heart app allows you to see what your heart looks like during a workout. The app fetches your heart rate data from your last workout and renders it to give you an amazing AR experience.
Price: $3.00
Download: Insight Heart App
PLNAR
If you plan to remodel your Rooms and like to preview the design before making the changes, then PLNAR AR App is for you. Measure your Room, Add Structures, View Detailed measurements, Save your Room Plan, and you are done. Now proceed with the material purchase and start remodeling your Room.
One App, just one App, is all it takes with the help of AR and no more clunky tapes.
After remodeling through PLNAR App, you can generate an Augmented Reality Pro Report with complete Photos, 3D Models,s and CAD files to start the work. You can access those reports anytime from your PLNAR App and share them with your Designer or Construction company.
Some of the feature highlights of the PLNAR App are, Creating 2D, and 3D room plans, including and measuring structures such as islands and stairs, Obtaining wall surface area, combining multiple rooms into a single project, attaching photos to a project, and seeing a 3D view of your space.
This app provides In-App purchases, where you can pay the subscription fee of $99.99 per month only if you want to generate the reports after remodeling your room in AR. It's more like, if you find it useful and ready to use the full potential of this app, then pay for it.
Price: $99.99 / month
Download: PLNAR App
Graphmented
Your Office Presentation will be a lot more interesting and Sci-Fi like experience with Graphmented App. Create charts, graphs, and dashboards using augmented reality and display them on your Boards and Walls. It has built-in tools to make your presentation more fun. Record stunning videos of data and 3D chart exploration.
Stream it to Big Screens, Projectors, or Apple TVs. This app also supports CSV, Excel Files, and Google Sheets imports.
You can add screenshots from any website to the dashboard or fetch the Facebook page insights in a few taps. Supports both Horizontal and Vertical surfaces when you want to place your Dashboard.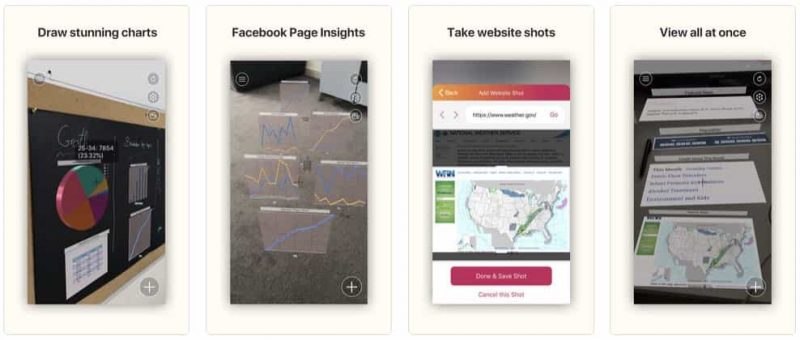 Price: Free (Offers In-App Purchases)
Download: Graphmented App
TapMeasure AR Utility
This one is similar to the PLNAR app we have seen earlier in this Best AR Apps for iPhone and iPad list. You can quickly scan and measure your Room using the built-in 3D Room Builder feature. Quickly measure any objects, Frames, drawings, boards, and other structures with two taps on the screen.
It is one of the fastest measuring apps that makes you lose the Tapes and any other measuring scales you need to carry all the time. Your iPhone or iPad is enough to measure and take a screenshot of that object for further sharing or printing.
Geometric Recognition, Quick Outlining, Easy Sharing, and SketchUp Exporting are some of the feature highlights of the TapMeasure AR utility App for iPhone and iPad.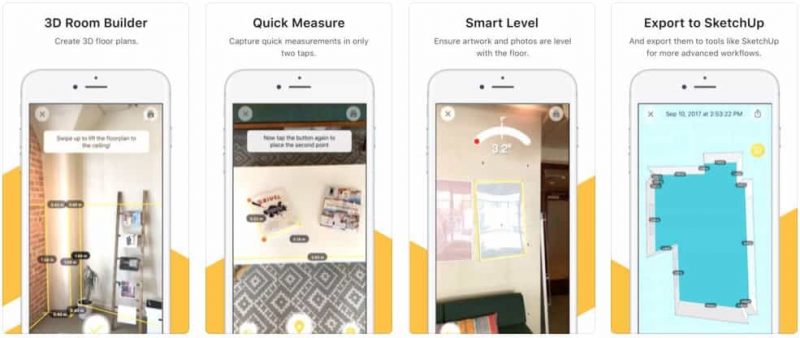 Price: Free (Offers In-App Purchases)
Download: TapMeasure AR Utility
Sky Guide
One of my favorite AR apps came within a Week when Apple announced iOS 11 AR Kit. It was initially OK with some glitches, but now they perfected it, and it works excellently. Hold your iPhone or iPad up, and SkyGuide App will automatically align itself to the stars above you. There is no need for any setup or how-to guide to follow.
It's that simple and easy. You will be amazed at the accuracy and data it provides about the stars. You can search for the Constellation Virgo, Andromeda Galaxy, or the next big meteor shower inside the app. SkyGuide AR mode is super interesting for kids who want to explore and learn about the stars.
You will see the Stars that are not even visible or clear to your eyes without special equipment like Telescope.
Another interesting thing is that this app doesn't require WiFi or Cellular Data connectivity. It intelligently uses the Sensors available on your iPhone and iPad to work.
Price: Free
Download: Sky Guide AR App
Several more useful and Best AR Apps are available for iPhone and iPad to Download. Simply navigate and search for more AR Apps in iTunes App Store. We listed some popular and Productivity related AR Apps for you here. We will be updating this list of Apps in the coming days. So Bookmark this page, and don't forget to follow our Facebook and Twitter profiles for more Tech Updates.
Feel free to share this post with your friends and followers on Social Networking sites and let them experience Augmented Reality on their iPhones and iPad.  Have a great and productive day.
You may also like to Read,