ZAGG Slim Book Case iPad Pro Keyboard
Another 12.9 inch iPad Pro only keyboard case from a popular accessory manufacturer. ZAGG is known for its high quality iPhone screen protectors and hardshell cases. They do have several iPad accessories in their store and their latest release is an iPad Pro Keyboard that connects wirelessly using Bluetooth with your iPad and gives a complete premium feel.
Its ultra thin and Hinged with Detachable Backlit Keyboard with a dedicated battery backup built inside. ZAGG promises that its lithium battery built inside the iPad Pro keyboard will last up to 2 years of regular use between charges.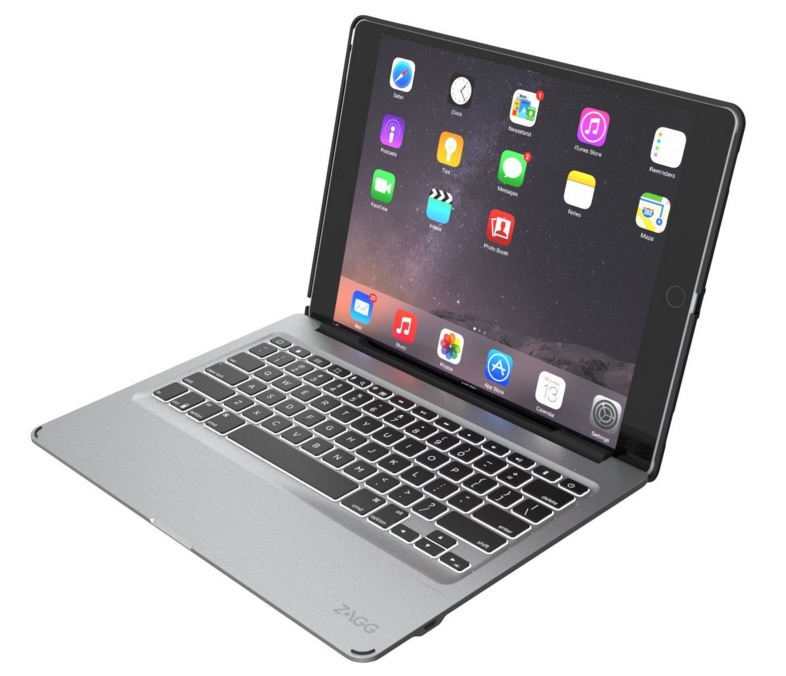 This keyboard case gives full protection to your iPad Pro and also gives you 4 different modes for different use cases.
Case Mode that lets you use it as a regular iPad on the go.
Keyboard mode for comfortable placing in the desk and typing on like a macbook.
Book mode for convenient and comfortable reading, while you sit in the couch or at a coffee shop.
Video Mode for watching movies in a perfect viewing angle.
Overall, ZAGG once again done a wonderful job and the only negative side is, the missing of smart connector feature. Anyhow, the battery lasts longer than regular bluetooth wireless keyboards available in stores. So you don't have to worry about replacing battery while you are in a tour.
Price: $115 (12.9 inch)