IVSO Bluetooth iPad Pro Keyboard
If you are looking for something leathery, soft and different type of iPad Pro keyboard case than the regular one, IVSO iPad Pro Bluetooth Keyboard should meet your requirement. This keyboard designed using high quality leather cover and soft microfiber material lined interior that provides full protection to iPad Pro.
IVSO Bluetooth Keyboard for iPad Pro uses Bluetooth v3.0 to connect with your iPad. The stand mode allows you type comfortably at office, cafe or at any desk setup. IVSO Bluetooth Keyboard for iPad Pro instantly converts your iPad to Macbook without loosing any premium look and feel.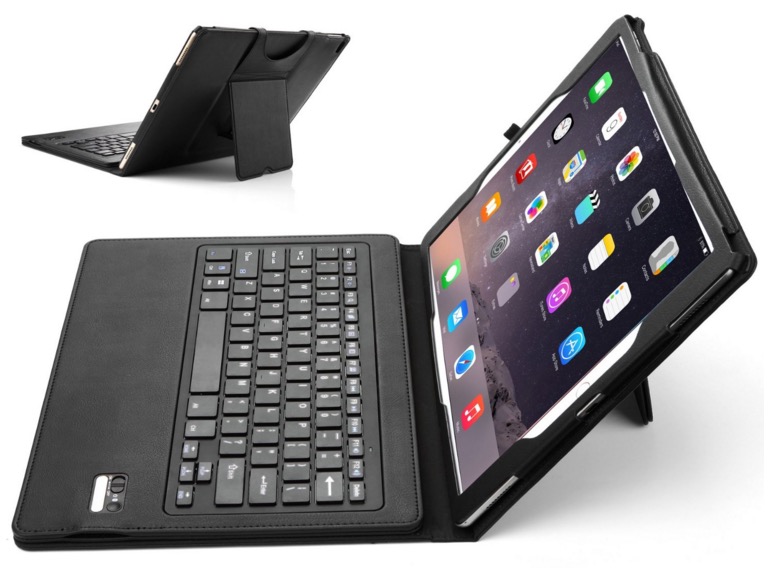 The top casing that covers your iPad Pro has precise cuts to let you access headphone port, charging port, volume and power controls easily. Comes in 7 different colors to choose, and starts at just $32.95 for iPad Pro 12.9 inch device. Ofcourse, they do have same Bluetooth Keyboard case for iPad Pro 9.7 inch model as well.
Price: $32.95 (12.9 inch) / $27.90 (9.7 inch)
Buy: IVSO Bluetooth iPad Pro Keyboard
So, which one you have decided to buy today? I personally recommend you to consider an iPad Pro Keyboard with Smart Connector and we have very limited choice as Logitech CREATE is the only answer. Bluetooth keyboards are good too, with all the protection focus and battery that lasts longer as up to 2 years. So carefully decide and go for the Best iPad Pro Keyboard today.
I hope you liked these Best Apple Smart Keyboard Alternatives recommendation. Feel free to share a word about this to your friends and followers across Facebook, Twitter and Google+. Have a wonderful productive day.
You may also like to Read,