Keyloggers does the job of recording every single key strokes you make on your Computer. Windows has plenty of keylogger softwares available from popular software vendors, but mac has limited keylogger apps. Today we have hand picked few best keylogger apps for mac that runs stealthily and records every single keystrokes types using wired and wireless (bluetooth) keyboard. These are popular and widely used by security researchers and enterprises to monitor their employees activity.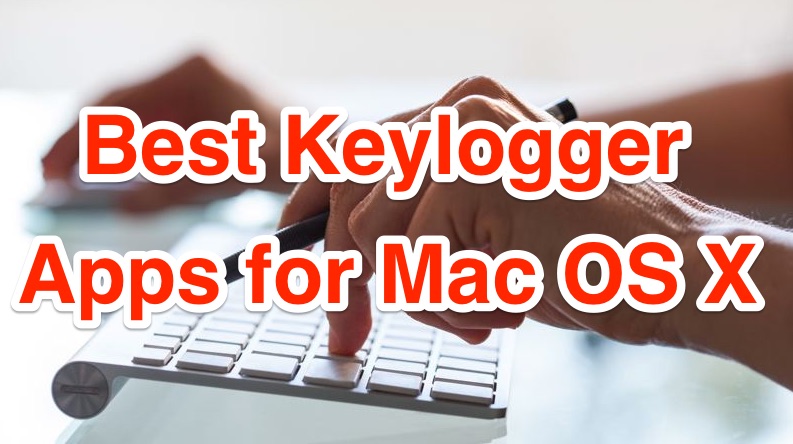 These mac keylogger apps are also used as best Parental Control software to monitor their kids computer and internet activity. Parents can guide the kids for proper usage of computers and deploy necessary Parental Control softwares after monitoring the keystrokes. We do have mSpy Review with Coupon Codes and Daddy's Eye Pro Review with Coupon Codes to install mobile spy apps on your Kids and Employees smartphone. You can monitor Calls, full Phone History, Messages, GPS Location and more.
If you are using Windows 7 or Windows 8 then Kaspersky Internet Security 2015 Review and Bitdefender Internet Security 2015 Review will help you download and install a premium parental control software to monitor and block access to websites and applications.
Why We Use Keylogger?
Well, there are tons of bad activities that can be performed using a keylogger. It is just like a Knife, where you can use it for Cutting Vegetables or cause trouble to others. It is totally your decision and we recommend you to use it wisely and positively to monitor and protect your kids from unwanted issues and problems if you see any suspicious activity recently. Also, your employees can be kept under monitoring if you suspect they are selling out company secrets to your competitors.
Best Keylogger Apps for Mac
Alright, lets see the list of best keylogger apps for mac computers. These apps work better than free keylogger apps that fails most of the time from doing its job, also not being compatible with latest OS X versions.
mSpy Software for Mac OS
mSpy is popular for its online monitoring ability. It collects all the user data and keystrokes, website data, computer activity regularly and stores them online in a secure encrypted web server. You can login and authenticate to access all the collected details from the remote computer. Simply login to mSpy Dashboard via mobile or your personal laptop and monitor the user activity.
To Download mSpy Software for Mac, kindly visit the linked article. You can select which subscription model suits you after reading its details.
Elite Keylogger for Mac
Very famous keylogger app for Windows, now available for mac as well. Elite Keylogger for Mac OS X is an updated, compatible, feature rich keylogger software available for Macbook, iMac and Mac mini computers. Now you can perform the following actions using elite keylogger for mac.
Record Facebook, Twitter and any Social Networking Website Login IDs and Passwords.
Record every single website address visited using your Mac computer.
Receive the complete keylogger reports via Email.
Capture screenshots of any screen at frequent intervals.
Record all the Chat History details (Facebook Messenger, Google Hangouts, iMessage etc.,)
There are two different versions available in elite keylogger for mac. You can give a spin with their Trial version to see how it works effectively as promised. To unlock full features set, you can upgrade to PRO version.
It runs completely stealthy and hidden from dock, menu bar and even from process list in activity monitor. You can configure a shortcut key and access the Elite Keylogger Dashboard anytime you wanted.
Compatibility: OS X 10.10 Yosemite
Price: $49 onwards
Download Elite Keylogger for Mac
They have some discounts of up to 50% running on their website. So hurry up and save flat 50% discount of elite keylogger for mac.
Perfect Keylogger for Mac
Another OS X 10.10 Yosemite compatible and updated mac keylogger that is simple and works excellent. Stealth mode makes it completely undetectable from any type of softwares. Its super fast and easy to install and setup without rebooting the computer. Let me highlight few important features of this powerful mac keylogger app.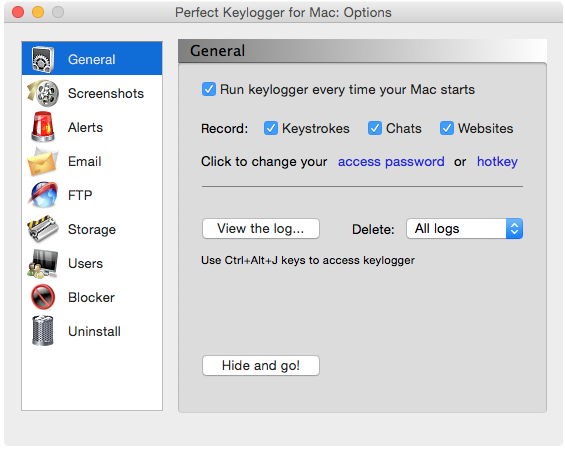 Its compatible to latest OS X Yosemite with Retina Display Support for latest Macbook Pro and iMac.
Records all user activities including guest accounts and other administrator accounts.
Records chat conversations like iMessage, AIM, Adium, Proteus, Skype, Yahoo IM, MSN Messenger, Facebook Chats and any browser based chat application data.
Records all website addresses visited with texts typed on those websites.
Takes snapshots of websites the user visit
Records Video of the user using that computer through Mac's iSight Camera.
One step forward to other apps, Perfect Keylogger also records keystrokes and application data happens inside Virtual Machine Apps on Mac OS X. For an example, if you are using Parallels Desktop 10 for Mac, and running Windows 7 or Windows 8 inside, then all your activity inside that virtual machine also recorded and stored.
You can password protect the app to prevent it being accessed by others.
Email Delivery: You can configure to to automatically send an email to you at regular intervals. So, it is possible to read those data from anywhere just by visiting your mailbox.
Perfect Keylogger for Mac is a very powerful and a complete premium application available. It comes with one time lifetime license key, so that you dont have to renew it every year. Also you get a lifetime tech support after purchasing this brilliant app.
Compatibility: Mac OS X 10.4.x, 10.5.x, 10.6.x, 10.7.x, 10.8.x 10.9.x and 10.10.x
Price: $49.95
Download Perfect Keylogger for Mac
There are discounts and offers announced by Blazingtools regularly. We will update the above purchasing link if they are available.
SniperSpy for Mac
We recommended SniperSpy sometime ago. They have the best keylogger software for windows 7, windows 8 PCs and Mac OS X as well. You can read our SniperSpy Review here and you can purchase the license key with 20% sniperspy coupon code which we included in that article. Some of the feature highlights are,
Real Time Screen Viewer.
Take Screen Shots of the Mac computer screen remotely.
Monitor and Record Websites Visited.
Record all Keystrokes in any languages.
Clipboard Logs, Facebook Logs and Social Networking sites logs are categorized for easy review.
Record and View Chat Messaging App Conversations.
Applications Launched and Session Durations.
File / Folder Changes.
Remote File Browser with Search feature.
App, Web, Social Media Filter can be applied.
and many more features that makes this keylogger software fully premium and worth for its price.
Compatibility: OS X 10.6 Snow Leopard, upto OS X 10.10 Yosemite latest version.
Price: $19.97 / month
Download SniperSpy for Mac OS X
Don't forget to use our 20% SniperSpy Coupon Code and Save on your keylogger app for mac purchase.
AMac Keylogger for Mac
Premium keylogger app for mac that works as promised with tons of cool features. You may see different user interface with amac keylogger but has all the functions and features that above keylogger apps loaded with. The main goal is to log the passwords and let the administrator or owner of the mac system access those details. Being premium keylogger app for mac, these apps allows you to remote monitor the mac computer at home or office and helps you to collect more detail as well. AMac Keylogger is another powerful mac keylogger that acts as a complete system monitoring utility rather just recording the key strokes.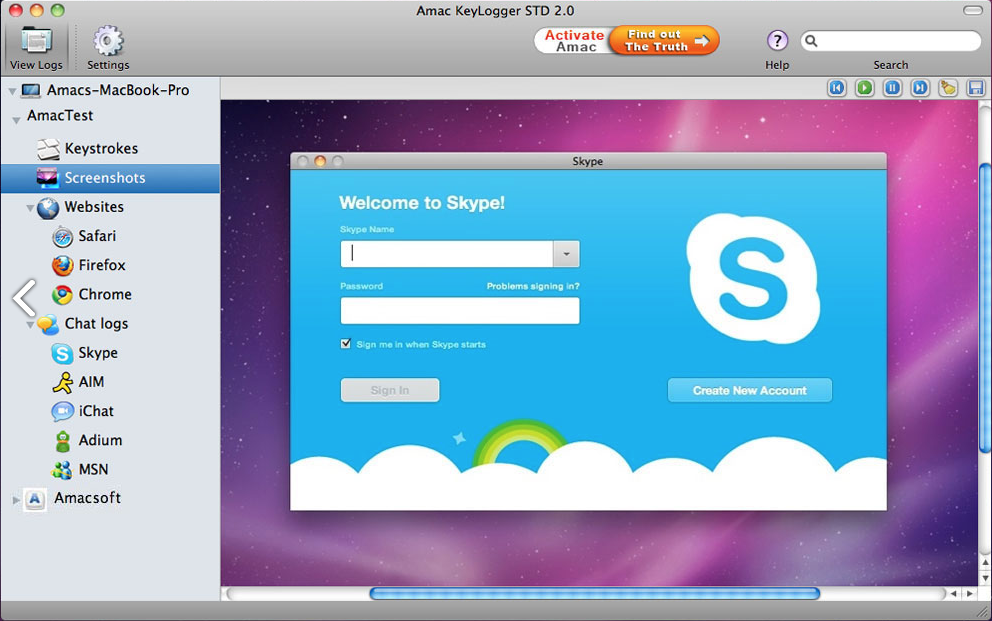 There is also a trial version which you can try but with limitations. So if you want a fully functional mac keylogger app, then consider buying this application. AMac Keylogger has received 4.9 out of 5 star ratings from many software reviewing websites like CHIP, Best Software 4 Download, SoftPedia and more.
Compatibility: OS X 10.5.x Leopard upto  OS X 10.10.x Yosemite
Price: $71.97 / Lifetime License
Download AMac Keylogger for Mac OS X
Alright, i hope you have found the best keylogger app for mac to monitor and prevent many problems inside your Family and Company. As i mentioned it at the start of this post, use it wisely and carefully. Avoid installing keylogger apps on Mac's and Mobile devices that you have no authorization or not belongs to you. Choose and Download Best Keylogger Software for Mac or Windows from the above list of apps.
Also Read, FlexiSpy Review: Does it Really Work and Worth the Money?
Also, feel free to mail us [email protected] if you have any queries or the link, discounts not working. Thanks for reading and do search here at dailytut for more interesting posts about Mac OS X, Windows and Apps. Have a wonderful productive day.