AMac Keylogger for Mac
Premium keylogger app for mac that works as promised with tons of cool features. You may see different user interface with amac keylogger but has all the functions and features that above keylogger apps loaded with. The main goal is to log the passwords and let the administrator or owner of the mac system access those details. Being premium keylogger app for mac, these apps allows you to remote monitor the mac computer at home or office and helps you to collect more detail as well. AMac Keylogger is another powerful mac keylogger that acts as a complete system monitoring utility rather just recording the key strokes.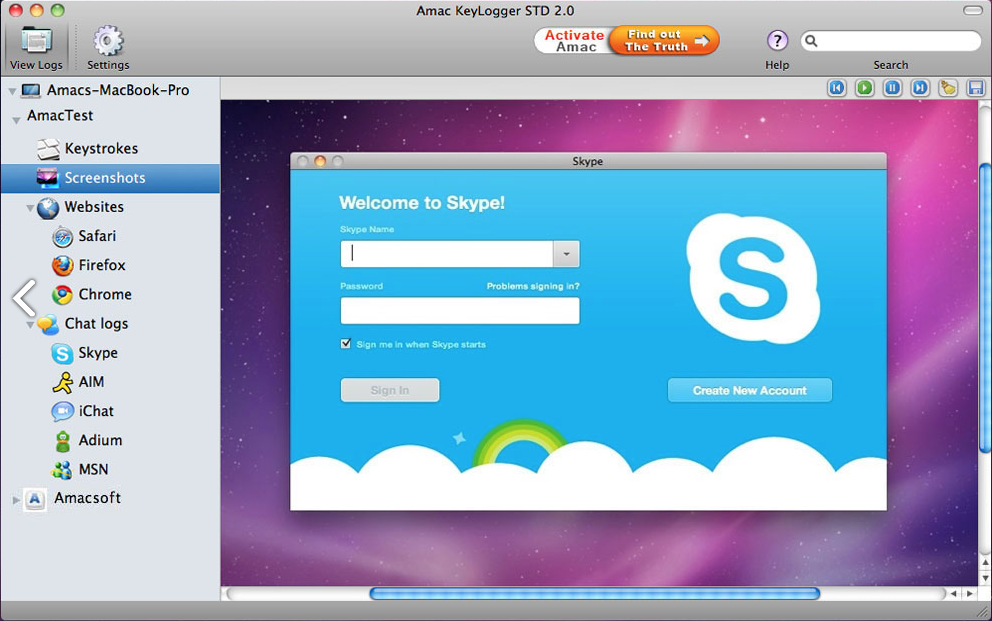 There is also a trial version which you can try but with limitations. So if you want a fully functional mac keylogger app, then consider buying this application. AMac Keylogger has received 4.9 out of 5 star ratings from many software reviewing websites like CHIP, Best Software 4 Download, SoftPedia and more.
Compatibility: OS X 10.5.x Leopard upto  OS X 10.10.x Yosemite
Price: $71.97 / Lifetime License
Download AMac Keylogger for Mac OS X
Alright, i hope you have found the best keylogger app for mac to monitor and prevent many problems inside your Family and Company. As i mentioned it at the start of this post, use it wisely and carefully. Avoid installing keylogger apps on Mac's and Mobile devices that you have no authorization or not belongs to you. Choose and Download Best Keylogger Software for Mac or Windows from the above list of apps.
Also Read, FlexiSpy Review: Does it Really Work and Worth the Money?
Also, feel free to mail us [email protected] if you have any queries or the link, discounts not working. Thanks for reading and do search here at dailytut for more interesting posts about Mac OS X, Windows and Apps. Have a wonderful productive day.