This is a new series that we like to start from now on to bring you the best mac apps every month. Apps are everything when it comes to a smartphone or a tablet. We can see that clearly with the success of iPhone, iPod and iPad sales globally. Though we have plenty of alternatives available right now in the market, people still buy iOS device specially for its Apps. I am not saying it is the only reason they buy iOS device, i am saying it is the main reason that people look no further. Quality Apps collection is really huge in iOS platform.
The apps that i am suggesting here are well compatible with OS X Lion and OS X Mountain Lion. If you have recently bought a new mac computer then you may like to read Essential Mac Apps for Macbook and iMac 2014.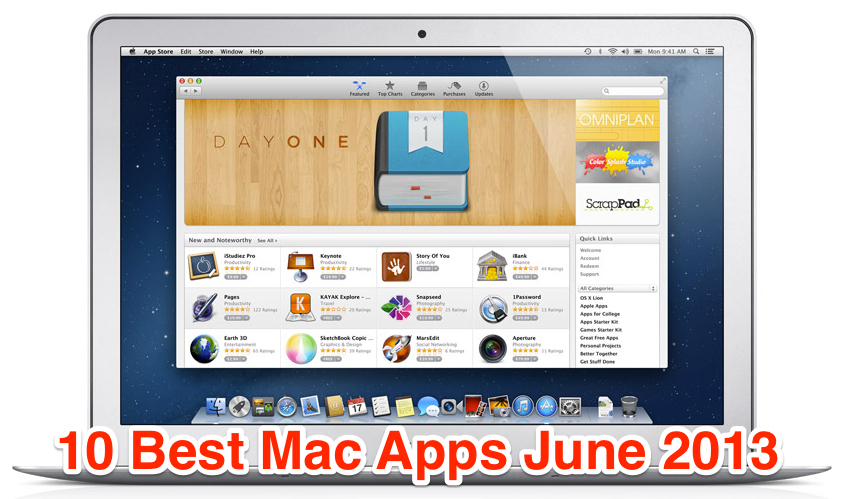 People who started using Macbook Pro or iMac find it really hard to switch back to Windows or Linux operating system for their every day computer tasks. OS X has productivity at top and delivers best performance with its powerful hardware. Stable, Secure and high availability makes it so favorite for its users. Lets talk about the best mac apps for the month June 2013.
It is really hard to pull 10 apps selectively from the App Store from the huge collection of quality apps. We will be covering 10 best mac apps selectively highlighting its features to help you choose and download for your every day tasks.
Best Mac Apps for Productivity
Mac means productivity and the apps collection proves that. Mac is not best for Gaming, still some Game developers do have mac version in their store. Counter Strike from Steam is my all time favorite game, which i am able to enjoy after switching from Windows PC platform. Its a first person shooter game that never gets boring as it has online multi player option as well. Alright, lets talk about some productivity apps and other apps that will help you to organize files and folders in your OS X powered Macbook or iMac.
Image Converter Star
It is essential to have an image converter ready in your Mac and you may need it while doing a word processing work or making picture attachments online. It is always best to compress or convert images to Jpeg, Png file formats from its native file format before attaching it further with the email that we send or while posting it online. Some websites do compression automatically and some dont, in that case we need an image converter for mac os x to do single image or bulk image convert tasks. Image Converter Star is one handy utility that will help you to convert single image or bulk image easily to any file format that you wanted.
Image Converter Star is one of the best batch image converter or bulk image converter software for Mac OS X. You can choose the output file format and DPI value to make sure there is no loss in the quality of the picture. Currently it is compatible with XBM, WDP, PNM, PPM, RAW, JPG, PSD, GIF and much more.
Price: 10.99$
Mac App Store: Download Image Converter Star
Annotate PDF
PDF editing is very easy with Annotate PDF for Mac OS X. You can add text, images, signatures, fix typo errors, resize images, fill out forms and redact sensitive information. Annotate PDF features are extra ordinary and worth for 19.99$ price point. You can create interactive forms and edit table of contents. Annotate PDF also lets you convert a website into PDF file. This software brings you everything you needed to do with your PDF file. Let me highlight some more features here.
Edit PDF Document permissions and Automatically Generate for fields in a non interactive form.
Edit Text, Highlight, Underline or Strike through text.
Add comments and notes to share with others.
Redaction feature allows you to remove private information. Search and Redact, Search and Remove feature adds easy way to remove private data or unwanted information from the PDF file.
Access your annotations by type and print them out as a list.
You can also add your Signature on the PDF file and email them or fax them from your computer.
Annotate PDF for iPad can help you seamlessly edit your PDF file quickly and easily. iCloud and Dropbox integration makes it possible to edit PDF files on your Tablet or Macbook from anywhere.
Library feature allows you to store used images, signatures and text so that you can use them anytime you want in your PDF file.
There are some more features that makes annotate pdf very powerful utility on your Mac OS X.
Price: 19.99$
Mac App Store: Download Annotate PDF
Acc Files Protection
Are you searching for an App to hide and protect your files and folders from Friends, Family and others ? Then this is the app for you that offers best privacy to protect your Files, Folders and Apps as well. Acc Files Protection App for Mac is the best tool to protect file and folder by hiding them also with a Password protection. So you dont have to worry about any breach by Programmers or some expert level of users who can unhide the hidden files and folders from Mac using Terminal. Hide and Lock Files, Folders and Apps so that they will not appear in Finder as well.
Provides Password Protection for Files, Folders and Apps
Easy to protect your Photos, Movies and Apps.
Price: 49.99$
Mac App Store: Download Acc Files Protection
CCleaner for Mac
Its a free utility for Mac and a must have app as well. It is a simple yet effective tool known for optimization and cleaning junk files and other unwanted data from a computer. CCleaner is a popular utility for Windows PC and it is now available for Mac OS X as well. It can clean up you browsing activity, cookies, and all other third party data that you left after surfing websites on your Mac. It dig really deeper in your computer to hunt for any private or third party information and deletes them to protect your Privacy. Best Internet Surfing cleanup software for Mac OS X computers.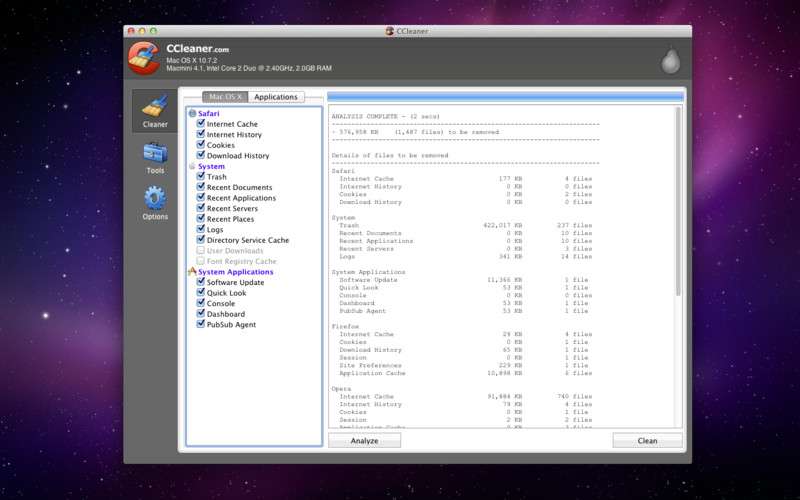 If you are already using any other third party software to clean up your mac, then avoid this one. This app is not for everyone.
Price: Free
Mac App Store: Download CCleaner App
Dropzone App
Dropzone is one multi purpose utility that does the job faster and easier to get things done on your Mac. It is a flexible, light weight, unobtrusive and extremely useful app for mac users. Dropzone App for Mac lets you organize the Cloud Services and other apps that you use in one place to do uploading of files, photos easily. You dont have to visit and login every time to upload photos in your Flickr Album.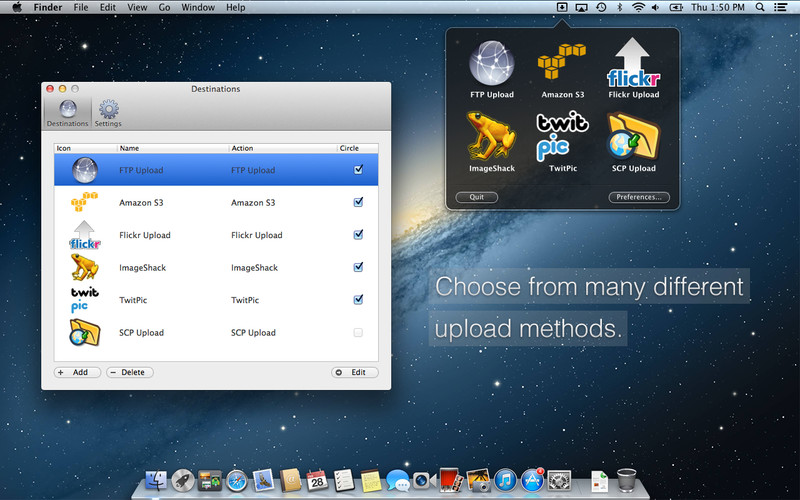 Configure Dropbox, Flickr, Copy or any app and upload files just by a drag and drop.
Copy and Save any Texts, Photos as a file from website to a Folder quickly.
Copy or Move files to Predefined folders.
Upload files to an FTP server.
Zip and Email Files in One simple step.
Dropzone has one powerful engine that allows you to run multiple tasks concurrently and track the progress of each with an easy to understand UI.
Price: 9.99$
Mac App Store: Download Dropzone
Alfred – Search your Mac and Web
This is one award winning mac app that is so popular and rated as the best productivity mac app at many places. It has also got so many awards for its simple yet powerful interface and design. Alfred is a keyboard driven productivity app that helps you launch apps, search your mac hard disk drive and web with great speed. The Application launcher can launch any app with a quick shortcut and Alfred will also learn which apps you use often and prioritize them when you use the search feature. This simple utility is not just for searching your local mac hard drive, it also searches the web for your favorite websites, maps, amazon, ebay, wikipedia and much more to find suitable answer for your search queries.
You can do a quick calculation, look up spellings, definitions or synonyms, antonyms, and it also supports wide range of system commands to control and manage your Mac OS X effectively. Now you can empty trash, start the screen saver, Restart your mac computer, shut down or eject the super drive easily. Custom search feature allows you to search and create your own web searches for frequently used terms, websites and wiki as well.
Price: Free
Mac App Store: Download Alfred
Daisy Disk – Best Disk Management App
DaisyDisk has got so many awards for being the best disk management app for Mac OS X. It scans your local hard drive and presents an interactive visual map where you can spot unusual large files and remove them if you dont want them to get free space. The map generated is so user friendly and quite easy to understand as well. You can browse your disk from the generated map and decide whether you want them or dont want them. So there will be very less chances for accidents and you get more free space in your local hard drive. Simply use the drag and drop feature to remove unwanted contents.
Daisy Disk can analyze and show you the complete disk information with all the data stored in it, to let you decide further.
Price: 9.99$
Mac App Store: Download Daisy Disk
The Unarchiver
Are you looking for a small and easy to use archive program that also has good UI to understand it better ? The Unarchiver is for you then, it is a free utility and must have utility to unarchive many different kinds of archive files. This simple utility can open most of the formats including Zip, RAR, 7-Zip and BZip 2 archive files. There are more older archive file formats it supports like disk doubler, lzh, arj, arc and stuffit. This multi purpose utility can also open ISO and BIN disk image files.
The Unarchiver app for mac has a good list of files that it can operate and allow you to access the archived data. It can correctly detect and handle the file name encoding as well.
Price: Free
Mac App Store: Download The Unarchiver
Thanks for reading and i believe you find some of these apps are very useful to you. Will come up with more interesting apps for Mac OS under various categories and dont forget to subscribe or follow us at Twitter, Facebook and Google + to get more free tech updates and app suggestions. Have a wonderful and productive day !