Apple has released mac OS High Sierra 10.13 to the world yesterday. In this simple and easy to understand tutorial, you will be able to create mac OS High Sierra 10.13 USB Bootable Disk. Mac users can now download and install mac OS High Sierra 10.13 in iMac, Macbook Pro, Mac mini and Macbook 12 inch laptop as well. The compatibility is pretty high, just like previous mac OS Sierra.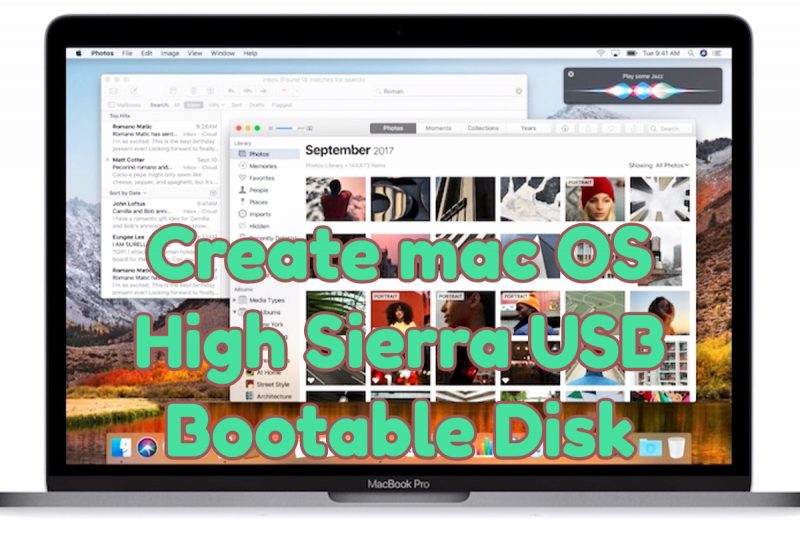 One of the top and most expected feature addition in mac OS High Sierra 10.13 is the APFS (Apple File System) coming to mac computers. Though, it is currently limited to SSD Storage only Mac computers, apple is working on a fix to bring it to Hard Disk enabled mac computers very soon.
There is also a video tutorial to make it much easier for anyone to create the USB Bootable Disk of mac OS High Sierra. Here are some of the important feature highlights of mac OS High Sierra 10.13.
Also Read, Best Microsoft Office 365 Alternatives for Mac OS
APFS – New Apple File System that is designed for 64 bit architecture. It is meant for flash technology that is used by mac computers widely since 2015. This new File System from Apple is ultra Responsive that makes your work flow complete breeze without any hiccups. APFS has built-in Encryption, Crash Safe Protection and Simplified Data Backup on the Go.
HEVC – High Efficiency Video Coding also known as H.265 arrives on Mac that can compress video up to 40 percent more than its predecessor. This makes 4K Video Streaming possible and seamless in many countries that are still using average Broadband Internet Speed. Also this will consume less Internet Bandwidth and saves big on Bills.
Metal 2 – Remember the Metal platform launched by Apple couple of years ago?. Now with Metal 2, it brings tons of advancements and machine learning capability to your Mac computer. Metal 2 has advanced technology to content creators who are going to create immersive contents in Virtual Reality, other Creative Applications and Games.
Apart from these three essential feature additions, there are tons of major and minor improvements under the hood. Also, your existing Apps like Photos, Mail, Safari have got major feature additions and core upgrades in this mac OS High Sierra 10.13.
Create mac OS High Sierra USB Bootable Disk [Video]
Download mac OS High Sierra 10.13 today and enjoy all the new feature additions that comes to your Macbook or iMac computer. In just couple of easy steps, you will be ready with your mac OS High Sierra USB Bootable Disk.
Also Read, Macbook vs Macbook Air vs Pro, Best Macbook to Buy?
Important Note: Once you downloaded mac OS High Sierra 10.13 from Mac App Store, do not click on "Continue" button. You must take the backup of High Sierra before installing it on your Mac computer. To prevent the file from being auto deleted after installation, we must take the backup.
Go to "Applications" folder via "Finder" and copy "Install mac OS High Sierra.app" file and paste it in Documents or to any secondary hard disk drive.
Alright, let's start with the steps to Create USB Bootable Disk of mac OS High Sierra 10.13.
Step 1: Prepare the USB Drive for creating mac OS High Sierra 10.13 USB Bootable Disk by Formatting it to "Mac OS Journaled" using "Disk Utility" app.
Step 2: Now Launch Terminal and copy, paste the following code to start the Formatting and creating of USB Bootable Disk. The following code is configured to pick up mac OS file from "Applications" folder.
If you see any errors while copy pasting the following code, modify the single dash to double dash that are prefix to – –volume, applicationpath and nointeraction functions.
sudo /Applications/Install\ macOS\ High\ Sierra.app/Contents/Resources/createinstallmedia –volume /Volumes/UNTITLED –applicationpath /Applications/Install\ macOS\ High\ Sierra.app –nointeraction
Note: You can rename "UNTITLED" from the above code to match your Disk Name after it is formatted by Disk Utility App.

Step 3: You will see the following screen when it starts creating USB Bootable Disk of mac OS High Sierra 10.13. About the timing, it takes around 10 to 15 minutes to complete the disk creation process. Once done, you can start installing mac OS Sierra 10.11 on other mac computers you own or share it with your friends and save them some time and Internet Bandwidth from downloading the installer file.
Congratulations! You've successfully created mac OS High Sierra 10.13 USB Bootable Disk. Feel free to share this post with your friends and followers.
You may also like to Read,