The reason we buy Macbook or iMac is to get the work done and boost productivity without any slow speed issue and other problems. But that dont happen all the time. One thing PC users who have Windows installed do is, spending some extra time to fix Windows PC Issues and Errors. Mostly, all have an Antivirus Software installed in their Windows PC still, malwares and viruses trouble their productivity a lot. Mac users are so lucky and dont have to be worried much about Viruses or Malware problems. Well Mac OS X do have viruses but the numbers are very less compared to Windows users.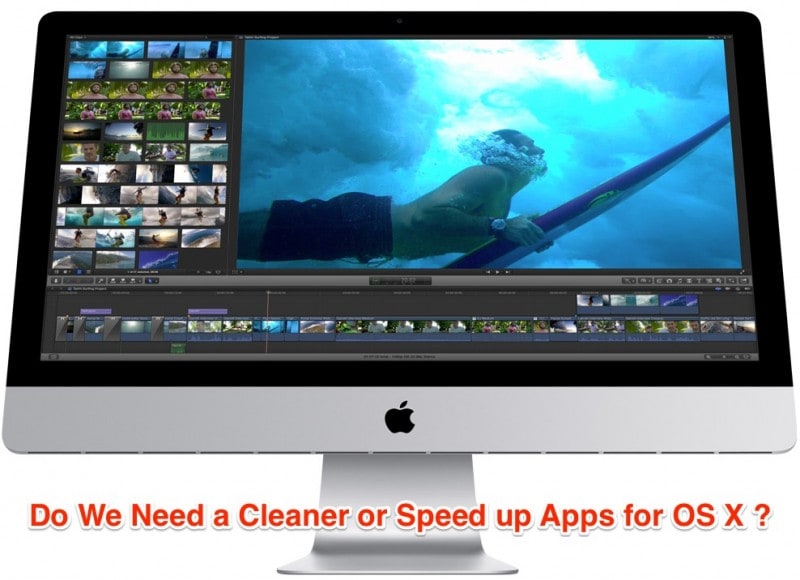 Lets talk about how to keep your mac computer clean and performance boosted all the time also to answer the title of this post, i do have my recommendation about Apps that will help you to clean and speed up your mac computer. Apple OS X is meant for productivity hungry users and its been serving the needs for so many years. OS X Mavericks the current stable release from Apple which is used in most of the Mac computers deliver best battery backup and feature enhancements for a good workspace.
Apple demonstrated OS X Yosemite and the public beta is currently available to download for limited users to experiment and see the feature additions. By default the OS X keeps itself speed and performance boosted, until we install third party apps and copy more photos, do video editing and so on.
Also Read, Cleanmymac 3 Review, The Best Premium Cleaner App for Mac to Download.
OS X started to store more Cache, Temporary Files by each applications you use in the hard drive. We also forget to completely remove the Trash folder after deleting files with "Cmd + Delete".
Tip: Boost OS X Startup by Reducing or Disabling Apps from Login Items. "System Preferences -> Users and Groups" Click on "Login Items" to select the apps that you want to run on startup.
Do We need a Cleaner or Speed Up Apps ?
Alright, so the question is whether we need any Third party Apps to Keep your Macbook, iMac Cleaner or Speed up softwares necessary ? and from my experience i will say YES, we need an additional application to clean up mac os x.
I was using several applications in the past couple of years and found the difference in speed overall when i use an app to clean the junk files, unused files and other temporary files than when i dont have any installed. Out of few i have tried, i have found just one app met my needs and didnt consume much resources. Also some apps truly false promise and only after installing that i noticed my macbook performance got affected a lot. So you got to be careful while choosing a clean up software for your Mac OS X computer.
So Why We Need an App to do the Clean up ?
Well, it is not possible for us to clean all the temporary files, cache files, logs, apps that stores temporary data, Widgets, Language Packs that we dont use or stored by
Apps
Plugins Temporary Data
Hidden Trash Files
Larger files that are never used and stored by Apps that we Install and Devices we connect.
Here we have some of the best free and paid cleaner apps for Mac. Lets start with Free Apps.
Memory Keeper
Developed by Kromtech Alliance Corp, this is a very simple app to speed up your mac by automatically clean up some memory and give instant speed boost to your Mac computer. This free speed optimizer app for mac os x is compatible for OS X Mavericks and previous OS X versions such as OS X Lion and OS X Mountain Lion as well.
Memory Keeper algorithm promises silent and quick monitoring of your OS X memory status and clean up unnecessary clogs and free up good amount of memory instantly. Many users also rated it as one of the best free app to clean and speed up mac.
Download: Memory Keeper via iTunes App Store.
Memory Clean
This app has got featured by Apple as an Invaluable Utility of 2014 and received many awards for its special algorithm that cleans up memory and boost your Mac OS X speed. This is another light weight utility that has slickest user interface and purges mac's inactive memory at its best.
FIPLabs has recently updated its version to make it compatible for OS X Mavericks. So you wont find any problem in using this app with your newly purchased Mac computer as well.
Download: Memory Clean via iTunes App Store.
MacPaw CleanMyDrive
CleanMyMac was my favorite utility to keep my mac clean always. It silently monitors the temporary files, junk files and alerts me at times when they go beyond certain Gigabytes. It flushes all of them and cleans up memory as well. It has become my favorite and you may check out the CleanMyMac 3 Review here. CleanMyDrive is a free utility from MacPaw and does most of the tasks that its paid app does. This simple and elegant utility sits on your Mac OS X Menu bar and lets you clean up any secondary storage drive and primary hard disk drive manually and automatically.
This app is free to download from Mac App Store and has best ratings and reviews from existing users.
Download: CleanMyDrive via iTunes App Store
Disk Doctor (Premium)
Another featured app by Apple as an Invaluable utility of 2014 and it is also from Fiplab Ltd. It costs $4 and works as promised. It removes tons of memory sometimes even gigabytes of unneeded files from your hard drive. In few mouse clicks Disk Doctor can remove Application Cache Files, Logs, Browser Data, Mail Downloads Folder, Downloads Folder, Large Files (for mountain lion only) and Trash Can.
Recent update from Fiplab brings Full Retina Support and new User Interface to operate it easily.
Download: Disk Doctor via iTunes App Store.
Another premium utility which we featured is Macpaw's Cleanmymac 3 Review and you can checkout the link for more details about the app. It is my favorite and the best cleaner app available for mac.
Well there is another utility which i dont like to add it to the list and its called Mackeeper. It was a popular App earlier but many users had issues like Overheating, System Reboots after installing Mackeeper in their Macbook Pro and Macbook Air. One of my friend also got a suggestion to remove it when he called Apple Technical Customer Care Support for over heat issue with his Macbook Pro. So i dont want to recommend it to you today. If i see any positive mackeeper reviews in future i will update this post.
Thanks for reading and you may now share this post with your friends and followers at Facebook, Twitter and Google+. Have a wonderful day.