Facebook Live Streaming Apps allows you to live broadcast anytime, anywhere from your Smartphone. Stream to multiple locations at a time. Professional Streaming Apps and Softwares to Broadcast wide range of audience. Stream your Windows or Mac Desktop with Screen Sharing and use Interactive tools to make your Youtube Live more fun and Professional. You can also use your Digital Camera and Studio Microphone with Facebook Live for ultra clarity with both Video and Audio.
We hand picked few Best Facebook Live Streaming apps for you to Download and start your Professional Live Broadcasting right away.
You may use your Professional Cameras from Brands like Sony, Canon, Nikon or GoPro and Studio microphones like Blue Yeti, Samson, Rode and so on with this Apps. It is easy and anyone with beginner level of Computer Skills can Go Live with stunning HD Audio and Video Quality to their Audience at Facebook.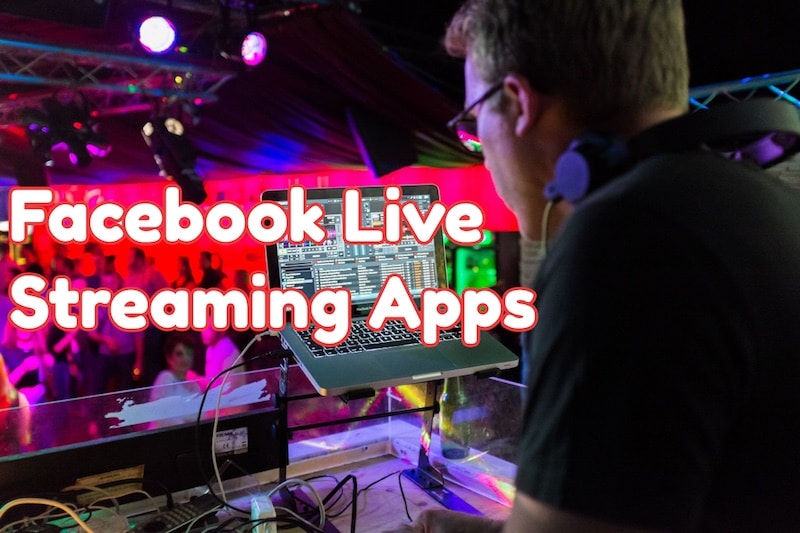 Just like any other apps, these are easy to install in your Windows PC or Mac OS. When you launch the app, configuration also goes like a breeze and let's you start Live Broadcasting in couple of minutes. Alright, let me start with high versatile and premium apps to start your Facebook Live Broadcast instantly. Based on your requirements, choose one from the list and Go Live.
Facebook Live Streaming Apps
Starting from Premium Apps, if you are looking for Free Facebook Live Streaming Apps, we have couple of apps at the end of this article. Scroll down and start downloading them for Windows and Mac computers.
JustBroadcaster for Facebook
One of the Simple yet powerful Facebook Live App for Mac available to Download. They do have dedicated apps for Youtube Live and Periscope, if you want to look for more. Their UI is pretty clean and very user friendly with Facebook Live Streaming. You may see that from the following screenshot of the app JustBroadcaster for Facebook in action.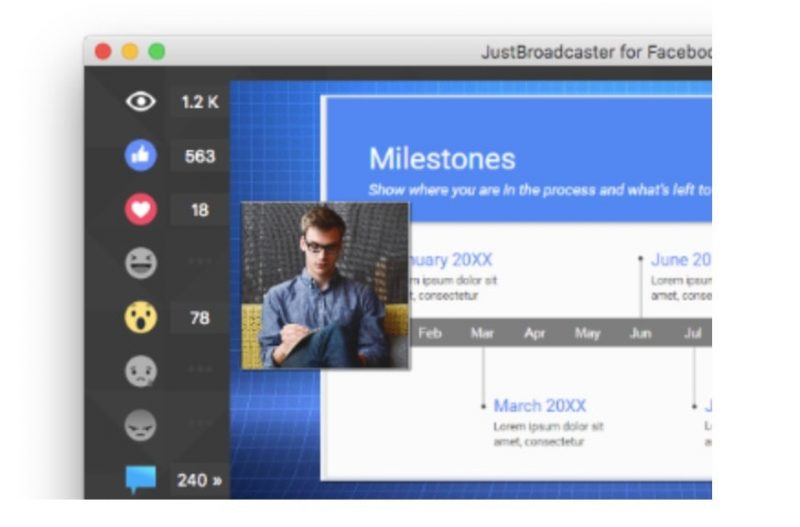 Brings all the necessary buttons like Viewer Count, Likes and other Emotion counts and Comments to the front with easy navigation options. When you upgrade to their Pro version, you can change the background scene with readily available templates, themes and more to add more Professional Touch to your Facebook Live Broadcast.
Easy Screen Transitions, Multiple Scenes Switching also available. Additionally, you can go for Facebook Voting with your Live Streaming in couple of clicks.
Chroma Key option allows you to replace your background with any Image you want. Additionally, you can do the iPhone and iPad Screen Capture while Broadcasting Live at Facebook.
You can always try their Free JustBroadcaster for Facebook App for Mac, before purchasing the license key. Their Pro version is super cheap and comes at just $20 for 12 months license and $50 for 36 months license key.
Price: $20
Download JustBroadcaster for Facebook
Telestream Wirecast for Facebook Live
Definitely, the Best Facebook Live Broadcasting Software at affordable pricing with tons and tons of built-in features. Start your Personal Television Broadcast with Wirecast Software today. Telestream Wirecast is an All-In-One Broadcasting software available for Windows and mac OS. It works as promised and brings you features that is suitable for any size of Events Broadcasting.
People already using Wirecast software for their very Professional Live Broadcasts such as Conferences, Product Launch Events, Music Festivals and much more.
Setup is pretty easy and that gains a Big Plus to Wirecast when people search for Facebook, Youtube, Periscope or UStream Live Streaming App.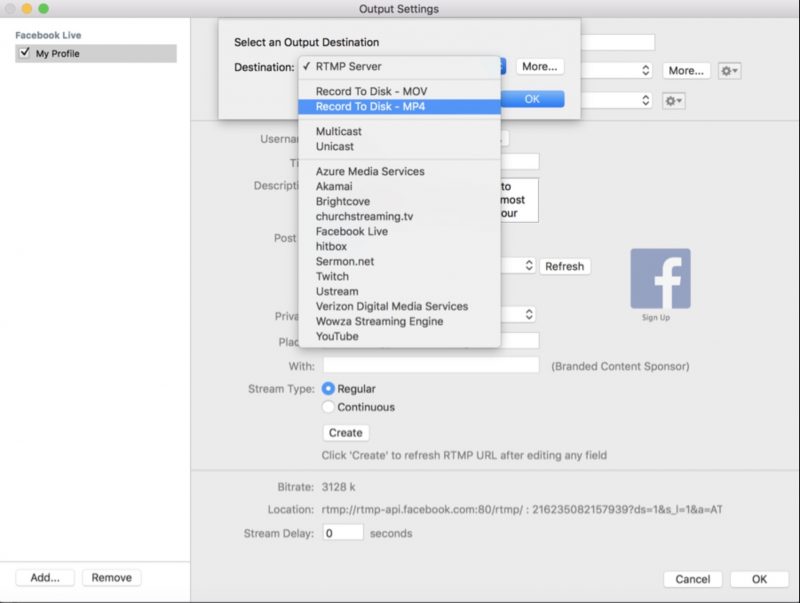 Configure and Control every single part of the Live Streaming Video output before starting your Broadcast. Wirecast Tools also allows you to customize the streaming during the Event in Progress.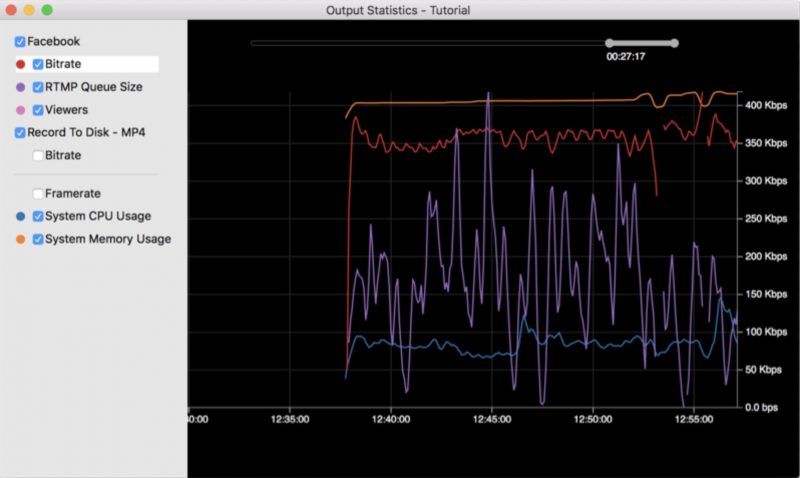 Get detailed glimpse of your CPU, RAM Memory usage while Live Broadcasting any event using Wirecast software. Also, their developers at Telestream regularly update their app with Bug Fixes and Performance improvements for Mac and Windows releases.
Explore the complete list of features of Wirecast only at Telestream Website here. Download Wirecast and start your Facebook Live Streaming right away.
Store Price: $695
Our Price: Check out Wirecast Coupon Codes page for more Discounts.
LiveStream Studio App
One of the popular video streaming service i have known for long time now available at livestream.com/watch. Livestream has two software's in it's store that lets you Go Live with Facebook. Their Free App Livestream Producer allows you to Live Broadcast only with Livestream.com using your 1 x Camera Input and 1 x Desktop Capture Input. You can do Desktop Screen Sharing and your Camera using this Free and Limited App.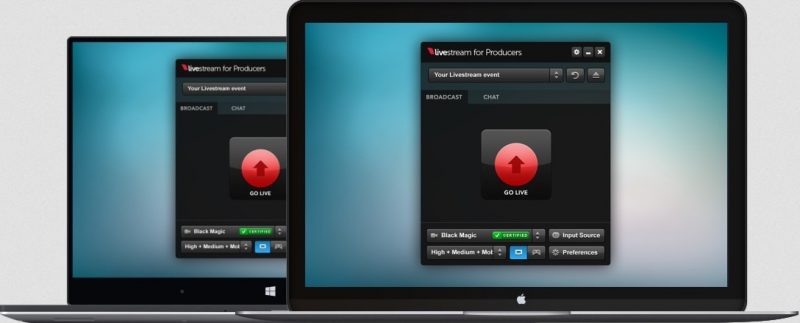 On the other hand, Studio app is full fledged Professional App that has tons of cool features. Unfortunately, it is available only for Windows PCs at present. In near future we can expect a Mac version and we will update this page once its available. You can go Live on Facebook, Youtube, UStream and many more Live Streaming websites with tons of following features,
Stream to Facebook Live and many other Service Providers
Windows Only Compatible
25 x Camera Input
10 x Remote Camera Input
2 x Media Player
3 x Graphics Track
Media Recording
Live Video Output
ISO Recording
Multi-Screen Feature
Phone Support (7 days a week)
Livestream is best suitable for Big Events. Facebook Live is part of its Broadcasting solution and comes with ton's of Enterprise Grade features. So choose Livestream Studio only if you are looking for such Live Broadcasts.
Price: $799
Cameleon Live
Cameleon Facebook Live is another simple UI app that is easy to understand and use. This is an almost Free version with $10 optional donate to let you use an additional simultaneous live streaming feature. Free version allows you to do Facebook Live (Coming Soon feature), Youtube Live on Windows, Mac OS and iOS as well.
Both their Free and Paid version currently in beta and yet to support Facebook Live, but going to be available very soon.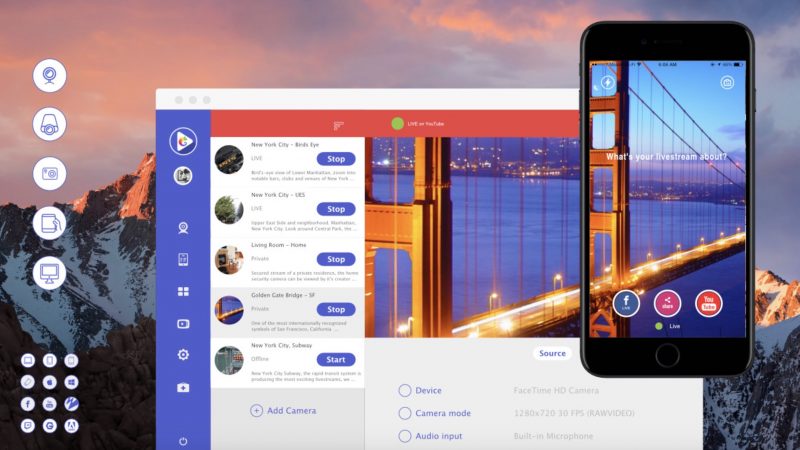 Cameleon Youtube Live feature is the one i tried and totally loved it. It's simple UI and Design will help you start with Live Streaming and Broadcasting in no time. At $9.99 you will be able to enable multiple streaming with their Pro / Premium version.
Some of the feature highlights of Cameleon Live Streaming & Broadcasting software are,
Broadcast to major Social Networks
Broadcast to RTMP Media Servers
No Configuration required
Multi Camera Live Streaming supported (iPhone, iPad, Windows and Mac OS)
Price: Free ($9.99 if Pro needed)
Download Cameleon for mac OS / Windows
BeLive Broadcasting App
This is an App that changes the Facebook Live experience to both you and your audience in lot of positive ways. Start selecting your Broadcasting mode from "Solo, Interview or Talk Show" and you are done. The necessary tools will be right on your screen and you are good to go.
Some of the feature highlights are,
Share any Photos from your Facebook page instantly to your audience.
Share your Entire Desktop screen to your viewers or students (for Online Class Sessions).
Present Powerpoint Slides to your Viewers.
Share new Ideas or Texts On Screen during the Broadcast.
Change view mode during Live Conference & Broadcasting to focus on One person or Screen.
Display Viewer Comments on Screen selectively during the Broadcast Session.
Add and Display Agenda before any Broadcast Event.
BeLive.tv Pricing is pretty simple and affordable. You can get 14 days free trial before purchasing any one of their plan. If you are looking for all the basic features to start your Facebook Live Broadcasting, then Lite version at $12 per month should be sufficient. You can unlimited Broadcast Sessions per month when you go for their $20 per month tariff.
Enterprise tariff allows you to get custom branding, graphics addition to your broadcast session and Technical support over the phone as well.
You can start any of the three paid tariffs for 14 days trial, before purchasing.
Price: $12.00 / month and above.
Download Belive.tv Facebook Live App
ecamm App for Mac
ecamm mac app is another powerful Facebook Live Broadcasting software. ecamm Call Recorder for Skype is still a popular Skype extension. Connect your Camera & Professional microphone through USB and you are ready to Go Live. Monitor all the reactions and comments right on your mac screen with this amazing Facebook Live App for mac.
ecamm is a premium app for mac and it feels like one when you use it for your Facebook Live Streaming.
You also get RTMP stream keys when you use ecamm Live Broadcasting, hence its easy to use other service providers like Youtube Live, Ustream, Periscope and Restream.io as well.
It will be like, you own your personal Broadcasting Studio with ecamm when you installed and fired it up on your Mac computer. Let me highlight some of the key feature highlights of ecamm app for mac before you download.
supports multiple cameras, Blackmagic HDMI encoders and Syphon inputs.
Camera Switchers allows you to switch between cameras seamlessly.
Create and Save Scenes with complete titles and split screens to use it during broadcast.
Add up to 5 Skype Guests with your Live Streaming and Broadcasting session.
Add Overlays for a Professional Looking and Custom Logo for Branding purposes.
Roll Pre-Recorded Video during your Broadcast with Picture-in-Picture mode.
Share your Mac Desktop Screen with Screen Sharing feature built-in.
Scheduling, Local Recording and many more features to transform your local mac computer to a Broadcasting Studio. Download ecamm app for mac and start your first Facebook Live Broadcasting service.
Price: $39.95 one time fee
vMix Software for Live Streaming
Another Enterprise level Live Streaming software for Windows systems. If you want to Run vMix on Mac OS, then the developers are suggesting you to download and install Windows inside Mac using Bootcamp and run vMix Software without any problem. They have wide variety of tariffs you can choose from, to suit your needs.
If you want to do Facebook Live streaming with multiple camera inputs and NDI inputs then their Basic HD package should be sufficient. I don't think their Basic tariff isn't good as it don't even support HD output. All of their tariffs comes with Recording, Streaming, Fullscreen output, External Output support and Playlist management.
For 4K Video Output Support, multiple Overlay Channels, vMix Call feature, Instant Replay, multiple External outputs and Scripting, you have to pay extra by choosing higher tariff from their Store.
Price: $60.00
Download vMix Software for Windows
mimoLive
Multi-In, Multi-Out Live Video Engine, in short mimoLive works excellent for Facebook Live Streaming and Broadcasting purposes. Subscription charges may look like little expensive, as i felt the same when i looked at their add-on purchases. mimoLive has three simple Tariffs that you can choose from, to start with your Live Streaming & Broadcasting.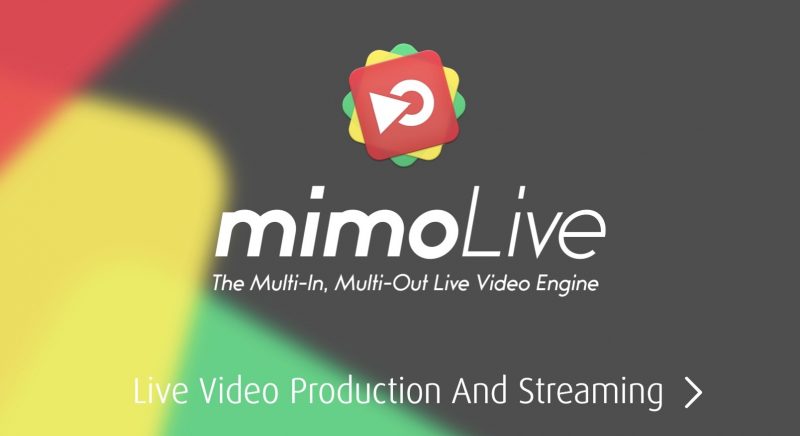 Custom Template, Custom Layer addition and couple of other Live Streaming addons are available with mimoLive Store for you to purchase separately. I wish they bundled everything into one package to not make it look very expensive buy for Live Streaming. There are plenty of other alternatives in the market that gets the job done.
Personal / Education tariff suitable for Non-Profit Organizations, Gamers and Youtubers who have less than USD 12,000 revenue per year. Bundling all the commercial Pro level of features, this packs in Live Streaming for multiple service providers, Recording to Disk, Playout to Full Screen, Support for NDI, Live Editing and 2D/3D Broadcast Graphics Engine.
Priced around $25 a month for Basic Personal Plan and ranges up to couple of $15,000 for their Top end tariff.
Store Price: $25 and above
Download mimoLive Streaming App
OBS Studio for Windows / Mac OS and Linux
An open source software Free Facebook Live Streaming app available for Windows, Mac OS and Linux Operating System. One of its kind, and popular among open source software's that brings plenty of features to your desktop for absolutely FREE. Open Broadcaster Software has built-in audio/video mixing, Unlimited Scenes made up of multiple sources, Images, Texts, Multiple Cameras, Capture cards and much more support packaged in one software.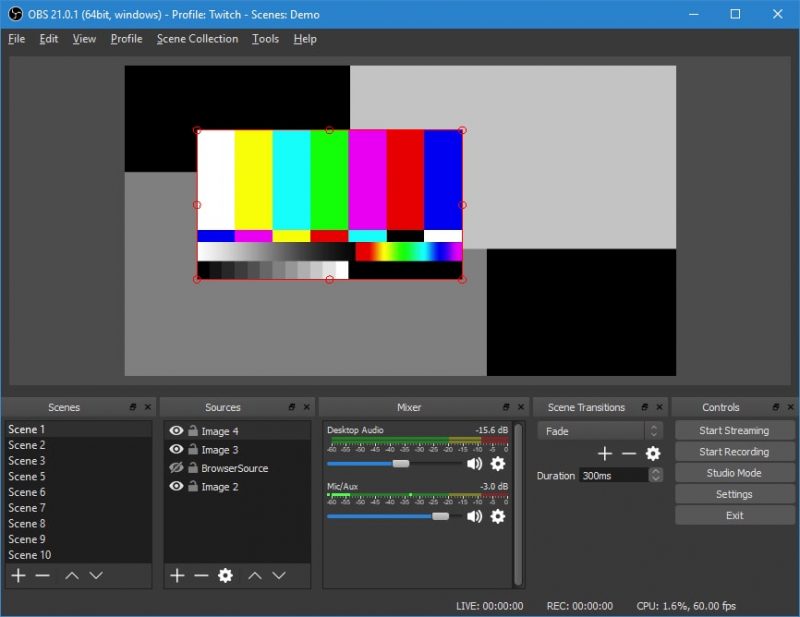 Audio mixer allows you to control the Live Streaming & Broadcasting very well with ready to use filters such as Noise Gate, Noise Suppression and Gain level adjustment as well. You can easily duplicate existing properties for reuse. Streamlined Settings panel gives you access to a wide array of configuration options that you can tweak every aspect of your Live Broadcasting and Recording.
There are so many features built inside this powerful Open Broadcaster Software (OBS Studio), and just like any other Open Source software, you have to spend few hours in learning and understanding before starting your Live Streaming session.
Twitch Gamers and Youtube Gamers are already using OBS for their Live Streaming as you read this post. You can get support and request for new features in their Support Forum.
Price: FREE
Download OBS Studio for Windows, Mac OS and Linux
Livedesk for Facebook Live
Only available for Mac and you can download Livedesk from Mac App Store right now. They do offer In-App purchases with few addon's but their Free app gets the Job done very well. Go Live with Livedesk and you can manage your streaming options such as, Cameras, Microphone and it also allows Screen Capture as well.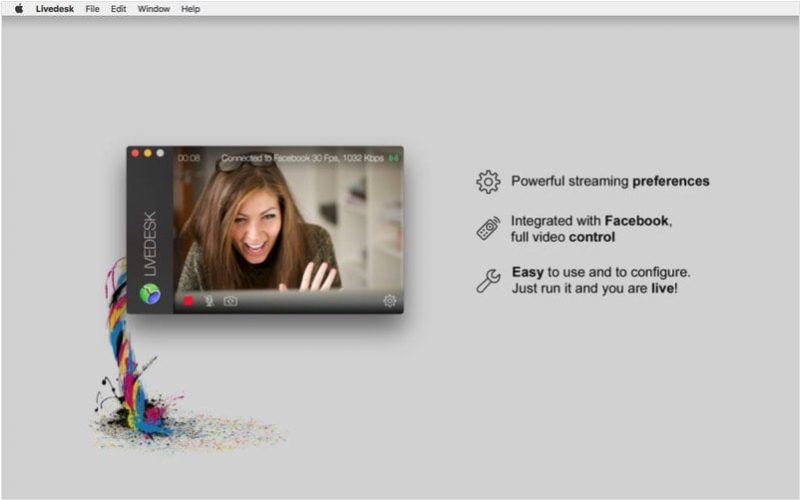 Suitable for Personal Facebook Live Broadcasters who need to have all the basic controls and some additional utilities to make it look like a Professional Broadcast. You can Live Video Stream your FaceTime Camera, USB Connected Webcam or Microphone and Screen Capture for Presentations.
Manage Likes, Comments, Friend Invite Requests and more directly from the app. Your Keynote Presentation with particular Facebook Group and Audiences will be more fun to watch with Livedesk Facebook Live Software for mac OS.
Adjust your Video/Audio bitrate and configure the app for Professional Facebook Live Broadcasting experience.
Price: FREE
Download Livedesk Facebook Live for Mac
Let us know in the comments below, which one of the above you have selected today as your Facebook Live Streaming App. I understand it is not that easy to settle with one, but choose the one that will meet your requirement. When we have multiple choices in front, it is always good to go with the Requirements in mind to make the selection easier.
Facebook Live Streaming Apps you choose, decides how your audience going to interact with your Broadcasting session. It is going to redefine your Product Introduction experience, Presentation, Conference Session between Clients and Teaching with Students. The benefits are plenty when you do it right.
We believe this article helped you with your selection of Facebook Live Streaming Apps for Mac OS and Windows PC. Thanks for reading and feel free to share this post with your friends and followers at Facebook, Twitter and Google+. Have a wonderful day.
You may also like to Read,