Facebook Live Streaming allows you to live broadcast anytime, anywhere from your Smartphone. You may have seen few Live Videos, where the broadcaster uses their Desktop computers like Windows or Mac with Screen Sharing, Interactive Comments and other impressive Tools. It is possible to use your Digital Camera and Studio Microphone with Facebook Live for ultra clarity with both Video and Audio.
We hand picked few Best Facebook Live Streaming apps for you to Download and start your Professional Live Broadcasting right away.
You may use your Professional Cameras from Brands like Sony, Canon, Nikon or GoPro and Studio microphones like Blue Yeti, Samson, Rode and so on with this Apps. Its easy and anyone with beginner level of Computer Skills can Go Live with stunning HD Audio and Video Quality to their Audience at Facebook.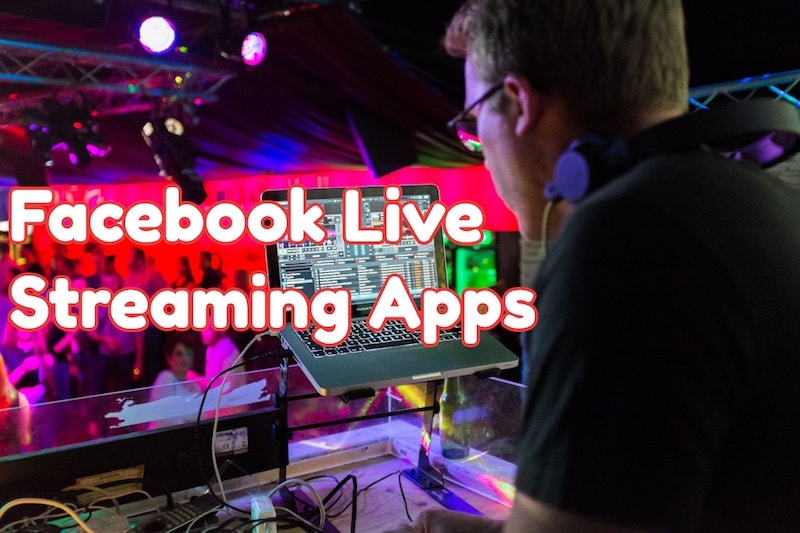 Just like any other apps, these are easy to install in your Windows PC or Mac OS. When you launch the app, configuration also goes like a breeze and let's you start Live Broadcasting in couple of minutes. Alright, let me start with high versatile and premium apps to start your Facebook Live Broadcast instantly. Based on your requirements, choose one from the list and Go Live.
Facebook Live Streaming Apps
Starting from Premium Apps, if you are looking for Free Facebook Live Streaming Apps, we have couple of apps at the end of this article. Scroll down and start downloading them for Windows and Mac computers.
JustBroadcaster for Facebook
One of the Simple yet powerful Facebook Live App for Mac available to Download. They do have dedicated apps for Youtube Live and Periscope, if you want to look for more. Their UI is pretty clean and very user friendly with Facebook Live Broadcasts. You may see that from the following screenshot of the app JustBroadcaster for Facebook in action.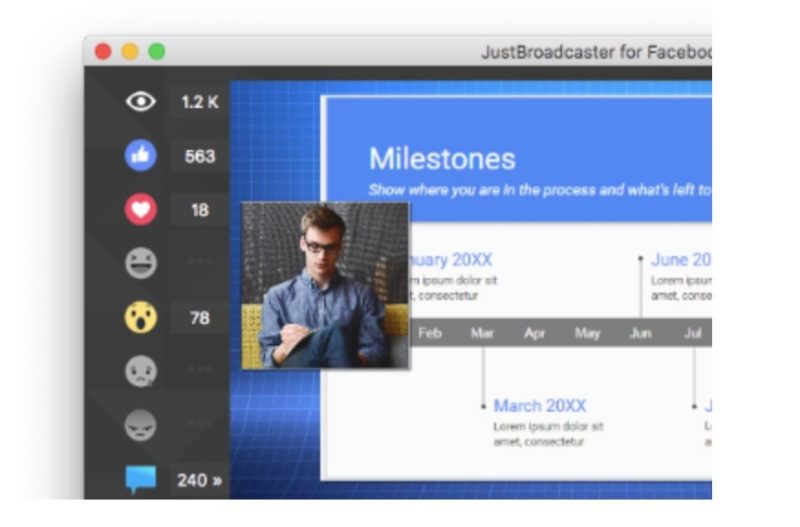 Brings all the necessary buttons like Viewer Count, Likes and other Emotion counts and Comments to the front with easy navigation options. When you upgrade to their Pro version, you can change the background scene with readily available templates, themes and more to add more Professional Touch to your Facebook Live Broadcast.
Easy Screen Transitions, Multiple Scenes Switching also available. Additionally, you can go for Facebook Voting with your Live Streaming in couple of clicks.
Chroma Key option allows you to replace your background with any Image you want. Additionally, you can do the iPhone and iPad Screen Capture while Broadcasting Live at Facebook.
You can always try their Free JustBroadcaster for Facebook App for Mac, before purchasing the license key. Their Pro version is super cheap and comes at just $20 for 12 months license and $50 for 36 months license key.
Price: $20