The addiction for the game of football can be witnessed in every nook and corner of the world. It is undoubtedly one of the most popular sports and almost every boy and man enjoys playing and watching football. If you have an iPhone, then you need not wait for enjoying your favorite game. iPhone has brought to you a number of such apps through which you can play soccer without even going out.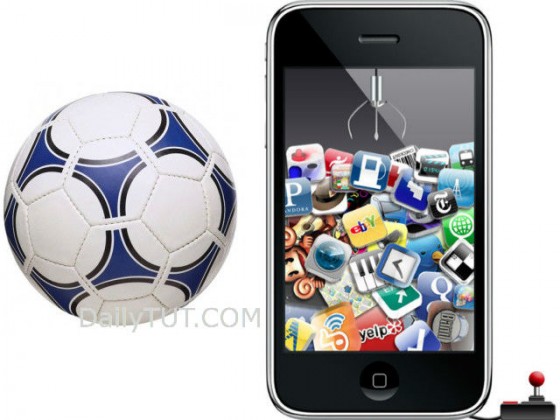 Along with some common functions, these iPhone Apps provide a large number of notable advanced features to make your Gaming more excitement and add to your football addiction.
iPhone Apps for Football Games:
Rotowire Fantasy Football Draft Kit 2011
One can download this popular football app by spending $4.99. This app offers the user a draft kit which lets you select good players by customizing the scoring system. You can also remain updated on the various news and information about any specific player with the help of a Players Watch list. Defensive Rankings of the individual players is another special feature of this application.
FanBall.com Fantasy news and updates
This is the most suitable app for those people who are engaged into a number of Fantasy teams. Downloading this application will not cost you anything. And this wonderful app provides NFL news, updates of various players and information about different leagues, all in the same app.
Kick Flick Football
This is a game which will do nothing but just enhance your football addiction to maximum. It gives you an experience of a real soccer game, in which you just have to go to different angles and do a free kick. No other game can beat its accuracy and fun which you get from playing this game on the touch screen of your iPhone. One can play this game on a number of different modes. Besides, you can also view the replays of your game in slow motion.
ESPN Fantasy Football 2011
Available for free, unlike its older versions, this is the most exciting football app for iPhone, in which you can manage your virtual soccer team through a number of advanced tools and functions. One can very easily select the players or drop them and create the team lineup. Without any ads, this latest version of ESPN Fantasy Football also has integration with Twitter. The notable features of live scoring and consistent news updates every single minute, makes this application must to play.
Huddle Hub Fantasy Football 2010
This awesome football app provides you a facility to manage the teams of both, ESPN and Yahoo. Apart from other basic features, this app also provides its users with the live updates and scoring of all the games of NFL. This application can be downloaded without any cost on your iPhone.
Fantasy Football Cheat sheet 10
One can very efficiently manage his fantasy football team through this version of Fantasy Football Cheatsheet 2010. Besides, you also get all the latest news and information about more than 500 players of soccer in this application, including their profiles, career statistics, history and future career projections. One can very easily manage a number of drafts at the same time and explore the schedules of various football matches to be played by different teams and clubs with the help of this application.
But you will have to spend $2.99 for downloading this app.
Author Bio : This is a Guest Post by Rajkumar Jonnala working for www.fifa13.com, the blog mainly focuses on the current events in football like. fifa 13 release date and fifa 13.