Update on 15 December, 2015: Mackeeper Database Compromised in a recent Security Breach exposing 13 million account details. We recommend you to not buy Mackeeper software. Consider the alternative Cleanmymac, if you are looking for mac speed software.
Mackeeper keeps your iMac, Macbook, Macbook Pro and Macbook Air Clean, Tweaked, Performance Boosted and overall, its a magic added for your Mac OS X powered computer. So far there are no mackeeper like software available to keep your mac perfect in all aspects to get you best experience.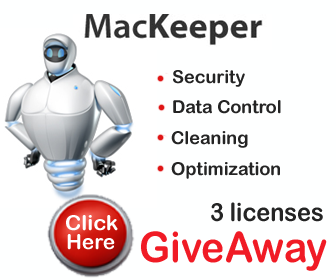 What is MacKeeper?
MacKeeper is like 911 for your Mac. It's an easy way to manage routine tasks and keep your Mac secured, clean, reliable, fast and attended!
[youtube width="550″ height="344″]http://www.youtube.com/watch?v=kFwkZ31UZ0E[/youtube]
What makes it so special?
MacKeeper is a bundle of most important system utilities for performing different tasks on your Mac. It will rescue you from numerous apps and dozens of customer support centers!
There are no software like mackeeper till date for a mac computers. Here we have come up with 3 mackeeper licenses giveaway. Lets have a look at the steps you need to do to join this giveaway. Complete the steps given in the box below.
Secret Tip: More you Tweet and FBLike Articles that at DailyTUT.com, More the chances of Winning.
[OR]
Retweet and FBLike this article and leave the links to your status update in the comment box at the bottom of this page.
Giveaway Rules:
Contest Starts today 29th July 2011 and Ends on 10th August 2011.
Winners will be selected randomly via Random.org or via Punchtab.
All the best and Thanks for your interest on Participating with DailyTUT August 2011 Giveaway.