When the Apple event was announced on Oct 23rd, 2012 every one knows it's going to be launch of the next smaller tablet iPad Mini, apart from that Apple has given few more surprises. MacBook Pro 13-inch was refreshed with Retina Display and 4th generation iPad was launched with improved processor and wireless speed and the new Lightning connecter. Then the iBooks was updated with vertical scrolling and more focused on expanding iPad's usage towards education. The new iMac completely steals the show and one of the best design once again from Apple. It is unbelievably thinner (5 mm) and powerful configuration equal to a server computer.
[youtube width="600″ height="344″]http://www.youtube.com/watch?v=3OGzd6-QwyY[/youtube]
Apart from all these products, Apple released an important and innovative hardware design called as "Fusion Drive". We all know that solid state drives are the advanced internal storage system which is otherwise called as flash storage. It is one of the fastest internal storage drives which helps you to access applications and transfer data in a lightning speed. Compared to normal hard drives, Solid State Drives will improve your computer's performance incredibly. But SSDs are costlier than the normal hard drives and the other problem is you can use only one at a time, either Hard Drive or SSD primarily. Apple fixed up this problem with the concept called Fusion drives. Let's see what is fusion drive and how it improves the performance of your Mac ?
What is Fusion Drive ?
Normal hard drives are cheaper and you can get more storage in that. Solid state drives will improve your computer's speed as well as the applications. So Apple combined these two drives into a single hardware called as Fusion Drive and it is implemented in the new iMac. "What is Fusion Drive ?", in simple sentence, its a combination of HDD & SSD into one Storage Drive. This technology in new iMac released this 2012, enables you to install OS X and other applications on the primary SSD Flash Storage which brings best and faster access overall. This boosts the speed and performance of the Mac computer and you will find the difference from the moment you boot up your iMac.
OS X Mountain Lion automatically moves your frequently used applications and file to SSD for faster access and the applications that you use less will be moved to HDD. Ofcourse, you can control which apps should be stored in the SSD and which should go to HDD manually. This will let you to add some apps that you install and find it should be added to SSD for faster speed and performance. All the primary applications and software will run faster than on older iMac computers. Documents, Movies, Musics and other files can be stored in the Harddrive.

In fusion drives it doesn't mean you should install the applications in flash storage and user data should be on the hard drive. You can change the applications from flash storage to hard drive also you can move the user data from hard drive to flash storage. It doesn't involve any complex steps, just a drag and drop to switch the storage. Fusion drives are really an innovative concept from Apple.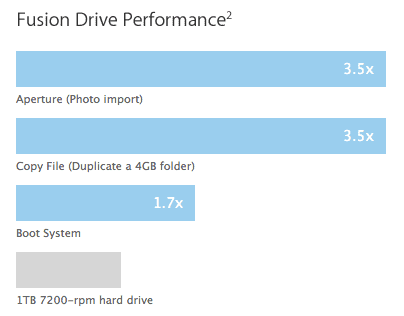 Fusion drives are hybrid technology of hard drives which gives a server standard to your Mac. Right now fusion drives are available only for iMac and Mac Mini, we hope soon this technology will be available on MacBooks in the upcoming releases. Thanks for reading and don't forget to share your opinion in the comments about the new Fusion drive technology from Apple.