TaiG released iOS 8.0,8.1,8.1.1 and 8.2 beta jailbreak today. Apple recently fixed Pangu jailbreak with iOS 8.1.1 update and credited them in the changelog for finding the exploit. TaiG is a third party chinese app store that was less popular before but not any more. Some people in jailbreak community feel that TaiG released the jailbreak too soon to win the race, but once iOS 8.2 released, Apple may fix the exploit that allows jailbreak iOS 8.2.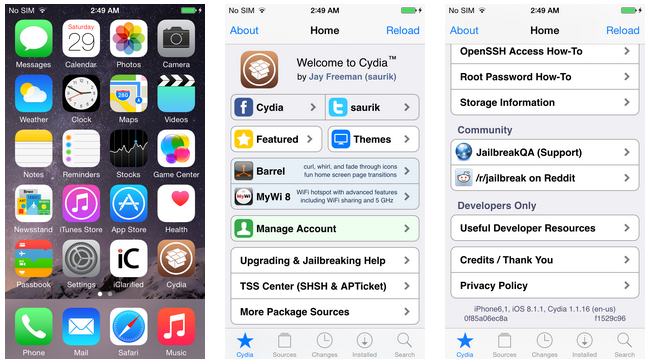 Anyhow here we have a jailbreak that works on older and latest devices without any complex procedure or steps to follow. iOS 8.2 beta is currently jailbroken using TaiG jailbreak tool. Users from many parts of the world confirm that the jailbreak is successful on iPhone 5 running iOS 8.1.1 and iPhone 6 Plus running iOS 8.1.1.
TaiG jailbrek supports all the devices currently. You can now jailbreak all the following Apple iOS devices.
iPhone 6 Plus
iPhone 6
iPhone 5S
iPhone 5C
iPhone 5
iPhone 4S
How to Jailbreak iOS 8.1.1 beta using TaiG?
So if you were waiting for some confirmation from jailbreaking community to update from iOS 8.1 or iOS 8.0, its time to do the update. You can do it manually by downloading the latest iOS 8.1.1 file from direct download links. Use iTunes to Restore the downloaded file and make sure you have took a backup of your iPhone before running the restore. Just to make sure your files are safer locally in iTunes Backup.
Step 1: Do a Backup via iTunes and Restore iPhone with latest iOS 8.1.1 if you havent upgraded to the latest iOS version already.
Step 2: Turn Off "Find my iPhone" under "Settings – iCloud – Find my iPhone" in your iPhone.
Step 3: Download TaiG jailbreak tool from the official website and unzip the file to get the executable file. There is no TaiG for Mac OS X available yet and i cant confirm it will be available in future, currently the official site provides windows version only.
Step 4: Execute the Taig Jailbreak tool you have downloaded. You should be seeing two check boxes named "Cydia | 1.1.16" and "3K..|1.0.0". The second one is a package that installs TaiG Chinese Third party app store to your device. You can uncheck that box if you dont want to install it. Now click on the green button at bottom center to proceed to installation.
Step 5: TaiG jailbreak tool starts to perform jailbreaking your iPhone that is running iOS 8, iOS 8.1, iOS 8.1.1 or iOS 8.2 beta.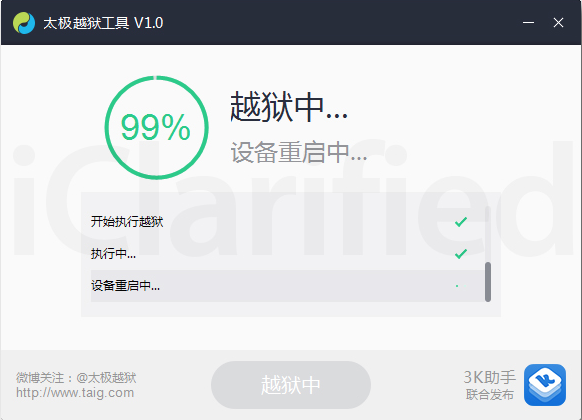 Step 6: Once you see the green smiley, it confirms the jailbreak is successful. You can now wait for the iPhone to Reboot and complete the jailbreaking process. You should be seeing the Cydia in your iPhone home screen.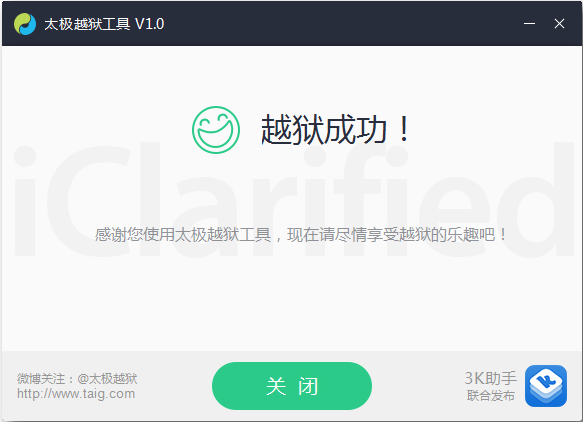 You have successfully jailbroken your iOS device. If you need further assistance do ask in the comment box below. Thanks for reading and have a wonderful day.
via [iclarified, TaiG]