Apple released iOS 15.4 to Developers with New Features. iOS 15.4 New Features will bring Face ID with Mask, 120Hz Apps Support for iPhone 13 Pro and Pro max, Universal Control and Custom Email Domains for iCloud Mail. Apple released iOS 15.3 stable version recently released to all iPhone and iPad users. But it was with Bug Fixes and Security Fixes only.
There were no new features announced and it Looks like Apple saved those pending features for iOS 15.4.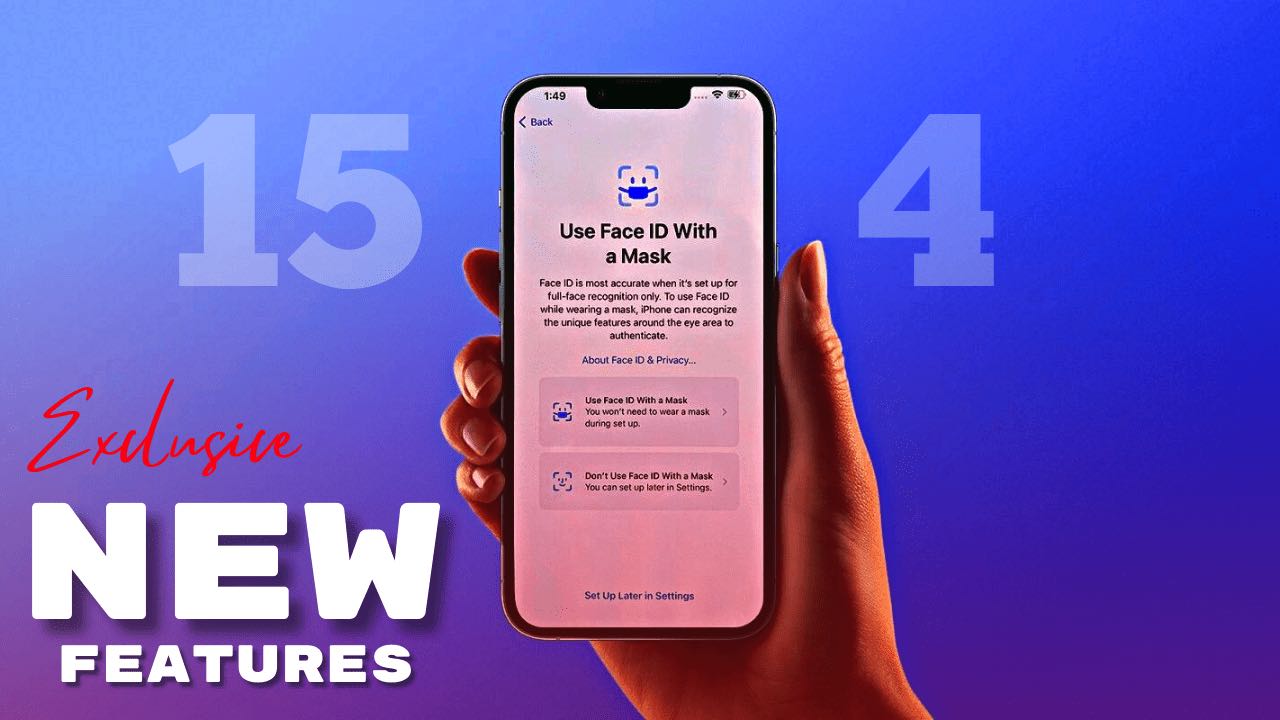 iOS 15.4 Release Date is expected around end of March or in April 2022. Aright, without any delay, let's dive into the iOS 15.4 Features List.
Also Read, iPhone 14 Pro Design Leaks. Crazy! OMG! This is it!
iOS 15.4 New Features
https://www.youtube.com/watch?v=25X0TCyAFH4
Face ID with Mask on iPhone
No more half face covering Face ID Setup to make it work. Sometimes we have to remove the masks completely to unlock the iPhone. Apple does bring features like Password prompt when Face ID Failed or if you use Apple Watch, then it automatically unlocks face id when you wear them and unlocked.
Face ID with Mask on iPhone finally works without any complex setup. Checkout the following video to have a preview of how it works.
https://www.youtube.com/watch?v=s-PPSN1cqiY
After iOS 15.4 Face ID going to scan around your eyes area to identify and unlock the iPhone. This is really a very useful feature and apple finally nailed it. When I tried with my iPhone 12 running iOS 15.4, it was bit slow to unlock. But I am hoping unlocking speed will be improved in upcoming betas.
Added to the Face ID with Mask ON, you can unlock even if you wear Glasses. To improve the accuracy and detect its you, who is unlocking the iPhone. Apple added Glasses support with Face ID Settings.
Also Read, iPhone Face ID Not Working after iOS Software Update? How to Fix?
120Hz Apps Support
iPhone 13 Pro and Pro Max's ProMotion display is still not fully utilised by third party Apps. Variable Refresh rate can make iPhone 13 Pro models go all the way down from 120Hz to 10 Hz. Other than built-in apps, Many magazine apps and other small apps still haven't taken full advantage of the 120Hz ProMotion Display, this update will fix the bugs and allow third-party apps to take advantage of the promotion display.
Good News is, iPhone 13 Pro and Pro Max users will be able to see much smoother experience with Apps and Games, also save battery even more depending on the Apps they use. That's Huge.
Custom Email Domains with iCloud
If you have a business email and want to integrate it with iCloud you can take advantage of the custom domain feature. Currently its available in beta.icloud.com and you can test this feature if you have iCloud+ Subscription.
You will be able to add upto 5 Custom Domains once iOS 15.4 released. It also helps to experience iCloud security. I'm planning to bring a separate article about this feature after its official rollout.
Universal Control – What is it?
I am so excited about this one feature. Universal Control is not for iPhone. It's only for iPad users going to update to iPadOS 15.4. When Apple demonstrated this in last years WWDC Event, users who have multiple Apple devices found it so useful. Simply Drag and Drop Files, Photos, Videos between iPad, Macbook and iMac. It's more powerful than Airdrop, and I think, people may forget Airdrop once Universal Control feature released.
Also make sure to update your Macbook, Mac mini or iMac to macOS 12.3 once its released. Only then Universal Control feature will work between iPad and Mac computers. Compatible Mac's are,
MacBook Pro (2016 and later)
MacBook (2016 and later)
MacBook Air (2018 and later)
iMac (2017 and later) ‌
iMac‌ (5K Retina 27-inch, Late 2015) ‌
iMac‌ Pro
Mac mini (2018 and later)
Mac Pro (2019)
All ‌iPad Pro‌ models
iPad Air (3rd generation and later) ‌
iPad‌ (6th generation and later)
iPad mini (5th generation and later)
We will see plenty of Bug Fixes and Performance Improvements along with iOS 15.4 update. Apple will finally make this iOS 15.4 even more stable in compatible iPhone and iPad models before moving to iOS 16. We will see the first Preview of iOS 16 Features during WWDC 2022.
So, Which iOS 15.4 Feature you are excited about? Face ID with Mask, 120Hz Apps Support, iCloud Custom Email Domain or Universal Control? Share your thoughts in the comments. Have a wonderful day.
You may also like to Read,