Long-awaited iOS 17.1 and iPadOS 17.1 updates released. Since the release of iOS 17, iOS 17.0.1, iOS 17.0.2, and iOS 17.0.3, only a few high-critical bugs have been fixed. People were experiencing fast battery drain after the iOS 17 update, and 17.1 has big expectations to fix those.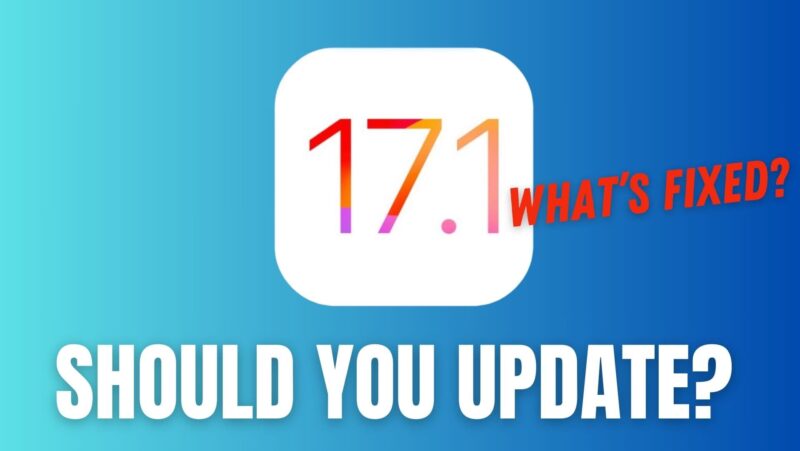 In its ongoing commitment to enhancing user experience, Apple has recently unveiled iOS 17.1 for its iPhone and iPad models. This update brings an assortment of improved features and bug fixes and addresses concerns related to the iPhone 12's radiation problem, as highlighted by France's ANFR.
1. Addressing the Radiation Concerns: The iPhone 12 Situation
Earlier, France's ANFR raised alarms about a potential radiation problem in iPhone 12. Apple has taken this feedback seriously, and the release of iOS 17.1 is a testament to their commitment to user safety.
Those concerned about this issue can now update to fix the iPhone 12 Radiation Problem.
2. AirDrop Adjustments: Seamless Content Transfer
A key aspect in the realm of ios 17.1 bug fixes is related to AirDrop:
Apple announced this feature during the iOS 17 announcement. Now, with iOS 17.1 we can go out of range while transferring files using AirDrop, and the data will be transferred using the device's Internet. This iOS 17.1 airdrop update certainly enhances file-sharing convenience.
3. Enhancements in Standby Mode
For those using the latest iPhone models, such as iPhone 14 Pro, 14 Pro Max, 15 Pro, and 15 Pro Max, there's good news:
Apple has introduced new options to control when the display turns off, offering users more control over their device's standby settings.
Also Read, How to Fix your iPhone Won't Connect to Wifi Problem?
4. Music: New Features to Enhance Your Playlist Experience
Music lovers are in for a treat with this update. Here's a breakdown:
Favorites Expansion: You can now expand favorites to include songs, albums, and playlists. Moreover, it's easier to display your favorite tunes in the library.
Dynamic Cover Art Collection: This innovative feature provides cover art that changes colors to match the music in your playlist.
Song Suggestions: Adding to the overall user-friendly nature, song suggestions now appear at the bottom of every playlist. This makes tailoring your playlist to your mood even more straightforward.
5. A Plethora of Improvements and Bug Fixes
The update isn't just about adding new features; it also focuses on refining the existing ones. The list is quite extensive:
Photo Shuffle Personalization: You can now choose a specific album for Photo Shuffle on the Lock Screen.
Enhanced Home Key Support: Matter locks significantly boost with home key support.
Screen Time Syncing: Reliability has been improved regarding syncing Screen Time settings across devices.
Incoming Caller ID Display: There was an issue where, during an ongoing call, the names of incoming callers wouldn't display. This incoming caller's name not displaying a bug fix ensures no more confusion during multiple calls.
Ringtone Glitches: Those facing problems with custom and purchased ringtones not appearing for text tones will be relieved with the ringtones problem fix.
Keyboard Responsiveness: Some users found the keyboard to be occasionally sluggish. This has been addressed, ensuring smoother typing experiences.
Crash Detection: All iPhone 14 and 15 models have received crash detection optimizations.
Display Image Persistence: iPhone 15 Pro and 15 Pro Max users will be pleased to know that the display image persistence issue has been fixed.
Also Read, Cleanmymac X Review: Worth the Price and Works as Promised?
6. Bug Fixes for Earlier iPhone Models
While Apple has paid keen attention to the newer models, it hasn't forgotten the older ones. This update also includes iPhone 12 bug fixes and iPhone 13 and iPhone 14 bug fixes to ensure a smooth experience across all devices.
Should You Update to iOS 17.1 or Not?
With iOS 17.1, Apple continues its legacy of providing regular updates that aim to enhance user experience, fix bugs, and ensure the safety of its users. This comprehensive update is a testament to their commitment and proactive approach to feedback.
If you are already running iOS 17 versions, then proceed with the update immediately. If you are using iOS 16 versions and want to experience iOS 17 features, then now is a good time to update.
You may, of course, wait till the next iOS 17.2 update comes out. I have noticed a few bugs while running iOS 17.1 beta and release candidate versions. But not as major as iOS 17.0.1 to iOS 17.0.3 updates. It's much better.
Have you updated to iOS 17.1 already? Do share your feedback in the comments section. It will be useful for people who want to decide and update.