iPad Air is thinner, lighter and more powerful tablet device with great hardware inside. The display is very sharp and you can see that while watching movies or playing HD Games in iPad Air. Apple always leads in the best design race and iPad Air is one amazing device with beautiful design that tempts anyone to try. Whenever we buy a smartphone or tablet, we also search for cases and covers to protect it from Dust, Dropping also to use it comfortably anywhere.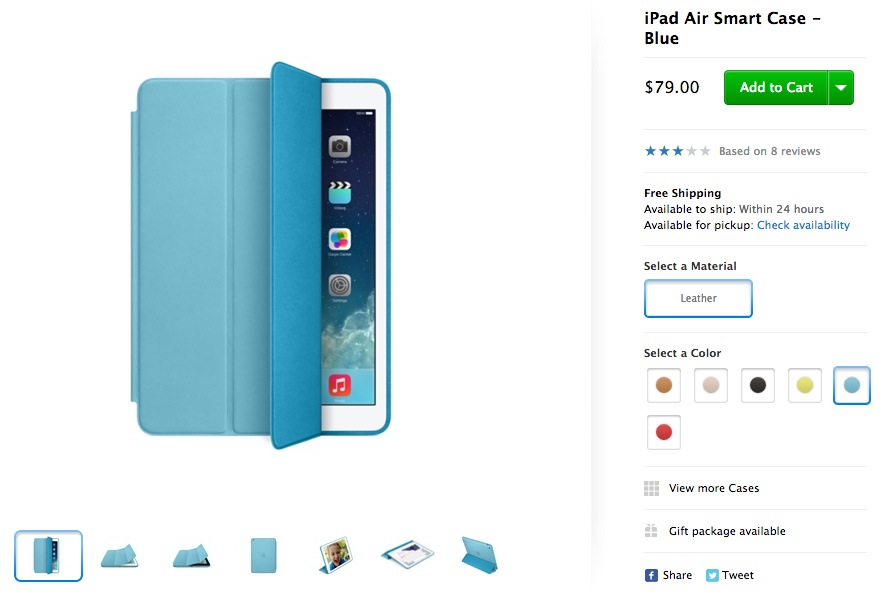 Apple officially has an excellent leather case and cover for iPad Air and iPad mini. It offers decent protection and good color choices to let you choose. iPad Air smart case wakes up your iPad when you open it and puts it into sleep mode when you close it. It has this folding design, when you fold it you can use it as a stand and use it for Facetime calls, Watch videos work on documents (connecting a bluetooth wireless keyboard). The ratings for this smart case by existing users are decent and you can check them at iPad Accessories page.
Product: iPad Air Smart Case
Price: $79
iPad Air Smart Cover
This simple and elegant polyurethane smart cover comes in 6 different colors and adds no weight to your iPad Air. This is super light and you can use this as a stand when you fold the top cover. This smart cover has been there since first generation iPad launched by Apple and the same fits well for the latest iPad Air as well.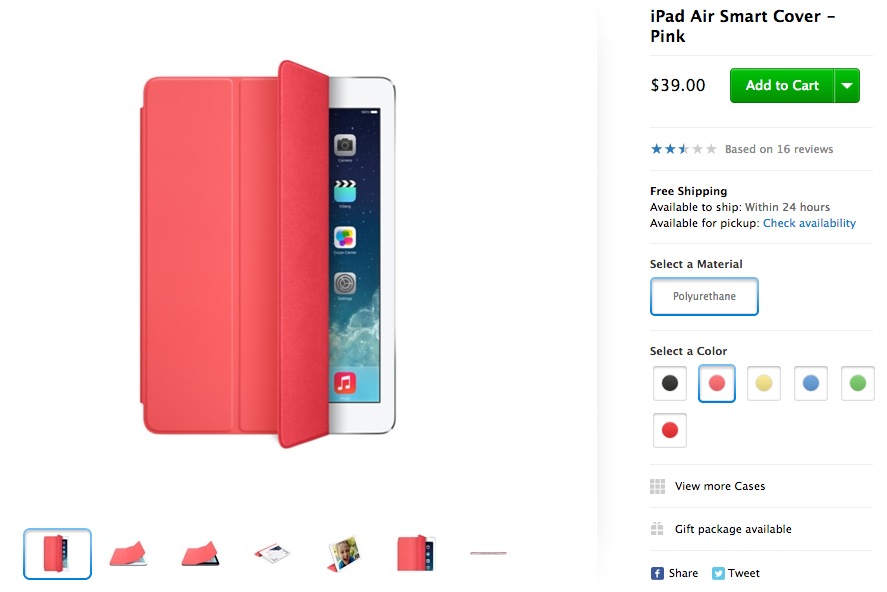 Product: iPad Air Smart Cover
Price: $39 / Buy from Amazon
There are less number of cases available for iPad Air from leading brands who are popular in making cases and covers for iPhone, iPad and other tablets. They add some innovative and additional feature to their cases than what Apple's official iPad accessories section offers. Color choices, Quality Leather and very simple design is all there, but the price is not reasonable for most buyers. That's the reason it has got some starts down by its existing buyers, as you can see in the above image. Here we have filtered some best and high quality iPad Air cases and covers for you to offer better protection, additional smart features and a keyboard to improve the productivity.
Gecko Gear iPad Air Cases + Keyboard
I have used a Gecko iPad case before and liked the quality of leather they used and it was a perfect case for my iPad 2nd Generation. It has the best protection against few feet height drop and the stand feature also gave a perfect angle when i use it on the table to watch movies and youtube videos. Gecko Gear has 6 iPad Air cases and covers so far in their store and you can check all of them here. All of their cases have a guaranteed Premium look and feel and offers same level of protection to your expensive tablet as well.
Gecko Keyboard Folio for iPad Air also comes with built in bluetooth keyboard for your iPad Air that makes it best for Business, School and everyday use. This removable bluetooth keyboard is very slim and comes with USB charging cable. There is no stylus in it, still there is a holder space available to let you put any stylus if you have bought it separate. This iPad Air Keyboard case is well built with soft sponges on all sides to protect your screen and back side from damages.
Price: $99.95
Product Website: Gecko Gear
Gecko Rugged iPad Air Case
Have kids ? want to let them use your iPad Air freely and afraid about Screen Shattering, Dust, and Drops ? well look no further, just get GeckoGear iPad Air Rugged case. This will protect your iPad Air in all corners and you dont have to worry about screen smash or water splashes. This case is best when it comes to handling Shocks from certain height, water splashes, Dust and offers best grip and feel as well.
I normally search for iPad Air military cases to get that level of protection to not worry about the tablet. I can be sure that the iPad will be safe and child proof, so i can share it happily with kids and others to play with it. No worries about damages from any side :). iPad Air is very expensive and protecting it from known and possible threats is important.
[youtube]http://www.youtube.com/watch?v=Gy3h5hbuQ4M[/youtube]
Price: $89.95
Product Website: Gecko Gear
UZBL iPad Air Case
UZBL is popular for making cases and covers keeping kids in mind. Couple of months ago we did a quick review of UZBL Shockwave iPad case and i am using one right now with my iPad 4th Generation. It is one amazing and very protective iPad case that i have seen. The different level of coating adds some weight still offers best protection to the iPad. Airwave iPad Air case from UZBL is a simple, light weight and a rugged type of case for your iPad Air. This one built carefully to not add much weight to your iPad Air. Rubber gives best grip and corners has added rubbers that adds some weight still gives best protection against drops and shocks.
There is no shockwave case so far released by UZBL for iPad Air, and soon it will be available. This case is priced very reasonable and comes in 3 different colors.
Price: $34.95
Product Website: UZBL Airwave iPad Case / Buy from Amazon
Speck iPad Air Case
Speck is popular for its colorful and stylish iPad cases. StyleFolio series from Speck Products gives you variety of colors and designs to make your iPad Air look very stylish. Speck iPad Air case has a full anti scratch lining, allows multiple viewing angles and secure closure clasp gives protection when not in use.
To match with the price factor Stylefolio iPad Air case from Speck are built with high quality in mind. These cases are well tested against various possible scenarios like high temperatures, UV light, scratches and spills. Protection, Functionality, Colorful design and style is all about speck iPad Air cases.
Price: $39.95
Product Website: Speck iPad Air Cases / Buy from Amazon
Otterbox iPad Air Case
Otterbox is very popular brand for their Defender cases. They offer best protection for your iPad Air and existing users of Otterbox Defender cases choose these without any second thought. I feel the pricing is little higher but for the level of protection it offers, its the best available in the market today. Your tablet inside this case is not cheap and it needs a case to ensure that is safe from all possible threats and damages.
Otterbox Defender Case for iPad Air is a rugged type iPad Air case and its multi talyer cover precisely designed to protect your tablet against drops, bumps, dust and scratches. Perfect viewing angles and convenient when you take it outside for your work.
Price: $89.95
Product Website: Otterbox iPad Air Cases / Buy from Amazon
We believe you have found your new iPad Air case or cover by now. To make it easier, we have added the link to amazon website to complete the ordering process. Dont forget to choose the color before completing your order. We have hand picked some laptop models to make the finding of best mid range laptops easier for you. If you are looking for best mid range laptops in 2014, then this article may help you find the one.
Thanks for reading and you may also share this post with your friends and followers if you think it will be useful. Have a wonderful productive day.