This could easily be named the worst year for Apple iPhone and iOS. Since the iPhone 15 Pro and 15 Pro Max release, users have complained about hardware and software level issues. iOS 17 was a nightmare for many users, with Fast Battery Drain and many annoying bugs.
I recently wrote about iOS 17 Bugs and Problems, which you may check to know what I am talking about.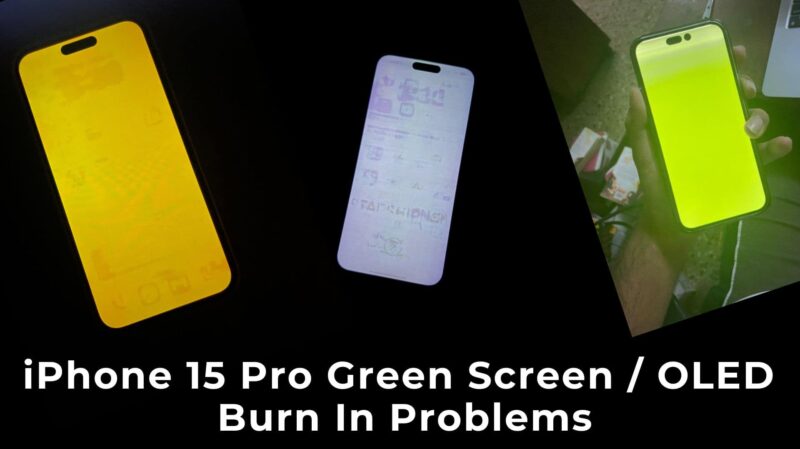 iPhone 15 and iPhone 15 Plus didn't have many problems so far. However, due to internal design changes with the back glass, iPhone 15 Pro and iPhone 15 Pro Max initially started with Durability problems.
It didn't stop there, as iOS 17 overheated and battery drain problems combined to worsen the situation.
Some users recently started reporting about iPhone 15 Pro Green Screen or Yellow Screen Problems on Reddit, Apple Support Community, and Twitter. OLED Burn-In problems are rare, and that too in the new iPhone 15 Pro and Pro Max models amazed users.
Of course, Apple manufacturer warranty is there for one year, covering such OLED Burn-In Problems or Screens turning green or yellow.
iPhone 15 Pro Green Screen Problem
In our YouTube video, I suggested a few tips about the iPhone 13 Pro and Pro Max Green Screen problems; the same steps will help if you are also experiencing similar issues.
https://www.youtube.com/watch?v=nha2FQ-b9Qo
As the device is under warranty, you can take your iPhone to the nearest Apple service center to get it replaced immediately or in a maximum of 2 days if a replacement unit is readily unavailable as it's a new iPhone model.
Not all iPhone 15 Pro and iPhone 15 Pro Max users are experiencing this OLED Burn-In Problem or Green Screen issue. Also, this issue cannot be seen with a screenshot. You have to take a photo from another phone camera to show if you are talking to Apple support about this issue.
A few users are experiencing this problem; maybe a particular iPhone 15 Pro/Max production must have been affected.
You may check iPhone 15 Pro and Pro Max Case with Camera Protection here,
What if the Warranty is Over?
Suppose you are worried about your iPhone 15 Pro or Pro Max display turning Green or Yellow after a year when the warranty expires. Don't worry. You can still claim a warranty by talking to Apple support. The same thing happened with iPhone 13 Pro and Pro Max users.
Many could claim free display replacement when they diagnosed their iPhone at the Apple service center, confirming the user did no internal or physical damage right after a recent software update.
So, talking to Apple support will help in this case to get a free iPhone display replacement.
Apple didn't launch any repair or replacement program for iPhone 13 models affected by this green screen issue. I hope the same won't happen with iPhone 15 Pro models. As it is a newly launched model and if specific reports raise a red flag, we may see Apple announcing the Repair and Replacement program for such units.
That will speed up the process when iPhone 15 Pro models go out of warranty and require screen replacement. Whether you have Applecare+ or not, this will help.
iPhone 15 Pro/Max OLED Burn-In Fix
Apple also mentioned in the latest iOS 17.1 Release Candidate release notes, that they fixed the issue of some users experiencing OLED Burn-In problem with iPhone 15 Pro and iPhone 15 Pro Max models.
I had a doubt about how the OLED Burn-In problem could be fixed with a software update. It looks like one of the many iOS 17 bugs that cause software-level issues, rather than an actual OLED Burn-In issue.
But if you are using an iPhone 15 Pro or iPhone 15 Pro Max, there is no need to worry. You can claim a warranty if anything goes wrong within the warranty period, or you can get a free display replacement even if the warranty has expired, provided you haven't caused any physical damage to the device.
If you're worried about any chances of physical or accidental damage in the upcoming months, it's recommended that you get an AppleCare+. That way, you can prevent yourself from having to spend a large sum of money on display replacement fees if any damage or drops happen.
Thanks for reading and if you find this information useful, feel free to share it with your friends on Twitter, Reddit, and Facebook. It may help fellow iPhone 15 Pro and Pro Max users. Have a good day.