The products of Apple have become very popular in the technological world of this century. Apple iPhone and iPad are some of the most commonly used electronic gadgets that have been well known for their flexibility, mobility, and versatility. People regularly use their iPhone and iPad for browsing on the internet and security of the data is a very important issue, especially when using Wi-Fi hotspots on public places. VPN is a great technology that provides protection and security while you use internet on your device.
Also Read, Get Free Unlimited VPN in Windows, Linux and Mac OS using Opera Browser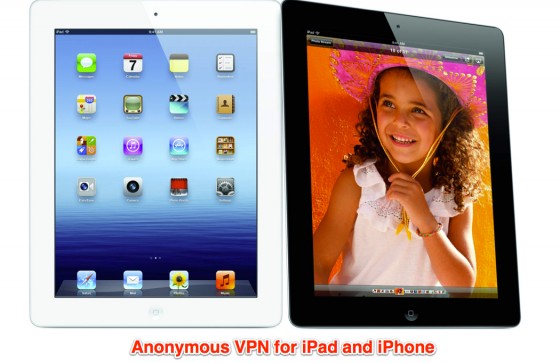 It is recommended for the users of iPhone and iPad to use anonymous VPN. The reason is that the anonymous VPN offers a couple of uses to the iPhone and iPad users. VPN may not be a commonly used technology, but due to the increasing number of eavesdroppers, hackers and legal authorities trying to obtain your personal information, the VPN technology becomes an attractive service and opportunity to protect the data with the online anonymity.
There are certain risks involved if you use an internet connection, especially using a public Wi-Fi on your mobile device. To reduce and avoid all these risks, it is recommended to use an anonymous VPN.
What makes VPN Attractive?
The common people may not be aware of the many benefits offered by the VPN service. Therefore, it is important to know the useful benefits that make VPN an attractive technology for every individual willing to protect the data received and transmitted using the internet. Some of the useful benefits are as follows:
Blocked websites can be accessed by the user as VPN changes the IP
Personal data and business information stays private and secure
The user is protected from the hackers and eavesdroppers when using shared networks
All these useful benefits are somehow interrelated to each other and broaden the scope of protection of your data. The online anonymity refers to the changing of IP address, so that no one is able to hack or identify your IP. It means that your original IP will be replaced with a new IP and you will not be found on shared networks. Thus, it protects you from the data sniffing and eavesdropping and you will not become a victim of data breach. Also, it offers privacy of your personal or business information that is being shared using unsecured networks. All of this is obtained from the anonymous VPN by the data encryption.
Also Read, Best iPad Pro 9.7 and 12.9 Inch Accessories for Productivity
VPN for iPhone and iPad
In general, iPhone or iPad user needs to have a VPN connection to use the service that basically has two parts, i.e. the VPN tunnel and encryption. For the users of iPhone and iPad, VPN tunnel uses PPTP or L2TP. It may be easier to set up PPTP on your device, but greater protection can be obtained from L2TP. The encryption used by L2TP is IPSec that uses a code of 168-bit, while PPTP uses the PPP encryption. Further data protection is added by two more layers as the data is sent through VPN tunnel of L2TP from your iPhone.
Author Bio: Philips belongs to VPN Ground and holds a Master degree with an emphasis on writing. He has written numerous articles on various topics. However, he has experience and loves to write about VPN.
You may also like to Read,