Apple announced iPhone 5S 2 weeks ago and it is now available in many countries Apple Stores. Apple will slowly add more countries to its iPhone 5S available list. But first Whats so special about iPhone 5S Camera ? Many asked me about upgrading to iPhone 5S from iPhone 4, 4S and iPhone 5. I am using iPhone 5 and i personally feel upgrading from iPhone 5 to iPhone 5S makes no sense. Because internal improvements and same display size no big difference with screen resolution makes me say NO.
But this is one huge upgrade for iPhone 4 and iPhone 4S users. Light weight, better screen size and resolution, stunning camera that takes pictures like a machine gun mode, A7 super fast processor, M7 Co processor (which is yet to be fully utilized by apps in coming days) are some special reasons i recommend people to consider upgrade. As an iPhone 5 user i feel like this is not the right time to upgrade and may be i should wait for iPhone 6. In 1 year time M7 processor will get more apps and apple may introduce some new features (may be screen size and more battery power) to make the upgrade worthy. And finally, the Fingerprint Scanner, which i think just one security feature that most people dont need right now just to unlock the iPhone and to make purchase in iTunes App Store. I am ready to type those special codes using the wonderful iOS 7 transparent keyboard without any problem 🙂
If Apple opens up the Fingerprint Scanner to developers, then we can expect more apps and security features coming in, or may be apple itself should come up with more apps that uses this powerful technology.
Lets talk about iPhone 5S Camera and what is so special about it. There is always a myth about these megapixels of a camera. People believe that cameras which have more megapixels will deliver better quality photographs. Actually, it is not. Any camera more than 5-megapixels will be enough to take good photographs. Also the strength of a camera depend on its hardware quality, low light performance and various other factors. That's why Apple hasn't updated iPhone camera's megapixels after iPhone 4S. They concentrated only on the performance and hardware quality of the camera.
[youtube]http://www.youtube.com/watch?v=kK0_OVn_uxA[/youtube]
Apple released next generation of iPhone's (iPhone 5S and iPhone 5C) in their special event on Sep 10, 2013. iPhone 5C is the colored and cheaper version (they claim but honestly, it is still expensive) of iPhone 5. The hardware and specifications of 5C is quite similar to iPhone 5 but some of the new features were also introduced.
Apple always believe in the design that really works. Though iPhone 5S doesn't have a remarkable design change in its look, the hardware and performance of the device has been increased tremendously. It has A7 processor (64-bit), which increases the performance of iPhone 5S to 40 times more than the previous generation iPhones.
iPhone 5S 1080p Video Sample

[youtube]http://www.youtube.com/watch?v=lbxq8wNZqYw[/youtube]
Credit: Engadget
Another important hardware upgrade in iPhone 5S is the Camera. As I said before Apple hasn't increased the megapixels instead they made the pixels bigger (1.4 to 1.5 microns). Actually bigger pixels will allow more light inside the sensor and gives an excellent output even in low light situations. Also they have increased the size of the sensor which adds more clarity to the picture. The aperture of the camera is reduced from f/2.4 to f/2.2 which gives 33% more lighting than the previous generation iPhones.
Next important upgrade is the "True Tone Flash". The camera flash has got dual LEDs which adjusts the lighting according to the ambient light situations. In that dual LEDs, one is cooler white light and another one is warmer light. So based on the lighting conditions camera will automatically trigger the flash in various combinations to get a best output. The True Tone Flash can trigger the flash light in 1000 different combinations to give a perfect lighting to your picture. It also works same for the videos you record.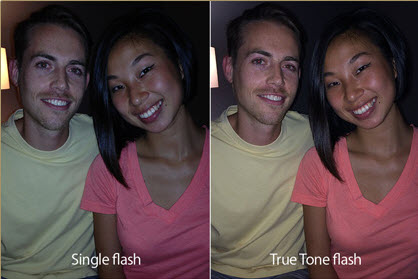 While choosing a DSLR, one of the important factors we look is the shutter speed. For entry level and mid range DSLRs, it will be around 4-6 Frames per second (FPS). The new iPhone 5S has got 10 FPS which can actually take 10 photos in a second. Apple call this feature as "Burst Mode". Semi-Professional DSLRs like Canon 6D, Nikon d800, etc., has got only 8 FPS but the new iPhone has got a very good shutter speed which helps you to easily capture the fast moving objects.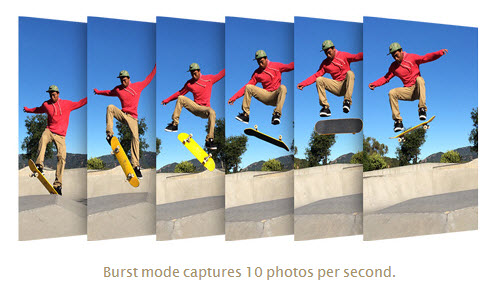 In Smartphones, little shake will make your image blurry, especially in low lighting conditions. In iPhone 5S, you have "Auto-Image Stabilization" which avoids shakes and motion blurs from the pictures. So when you quickly take a picture the burst mode and auto image stabilization will freeze those moments beautifully in your iPhone.
The intelligent software for iPhone 5S camera, will shoot images with multiple exposures in a fraction of second and give you the best one. The performance of panorama has increased 50 times more than the iPhone 5. It can easily adjust according to the different lighting conditions while you rotate the phone and lets you shoot pictures at 30 frames per second.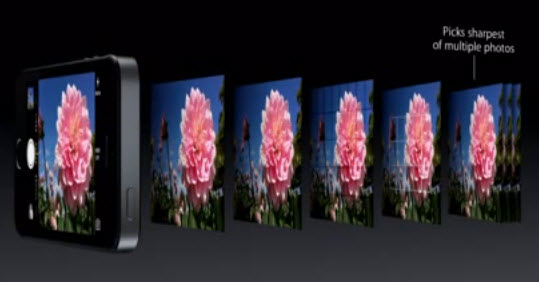 "Slo-Mo" is one of the important features introduced exclusively for videos. iPhone 5S lets you record videos in 1080p resolution. So the recorded videos can be played back in slow motion at 120 frames per second. Also it offers 3x live video zoom and 25% playback speed to jump anywhere on the video quickly. You can watch the video demo to learn more about the "Slo-Mo" feature on iPhone 5S.
[youtube]http://www.youtube.com/watch?v=QglbZYqj4_0[/youtube]
iPhone 5S Slow Motion Video Sample
[youtube]http://www.youtube.com/watch?v=urKU6twjcpM[/youtube]
Credit: Slashgear
iPhone 5S Camera Picture Samples
Yesterday, Apple officially released iOS 7 for iPhone and iPad. It has a whole new design and many new features have been introduced. The new camera app in iOS 7 has got different shooting modes, eight inbuilt filters and much more. It is a great device for people who love photography. You don't need to be an expert to use all the features,  for both beginners and professionals, the options are really easy to understand.
So, what do you think about the upgraded camera in iPhone 5S ? Are you getting one ? Share your views in the comment box below and thanks for reading. You may also share this post with your friends and followers to tell them about this powerful iPhone 5S Camera. Have a wonderful day.