iPad is an incredible E-Book Reader. The stunning Retina display and the powerful A6X processor will give you a better reading experience in the new 4th generation iPad. Even though it has many competitors like Amazon Kindle, Galaxy Tab and Windows Tablets, iPad stands out from the crowd with its unique features and extraordinary performance. At the iPad mini event, two days before Apple gave lots of surprises to the world and refreshed most of its important products with stunning features and design. New MacBook Pro 13-inch with retina display, improved Mac mini and thinner iMac (5 mm) with fusion drive technology.
New 4th generation iPad also launched with new Processor that is twice as fast than the previous generation and new lightning connector as well. Next, the most expected and rumored product iPad Mini with 7.9-inch display released with the configuration equal to iPad 2 with the new 5 MP iSight camera.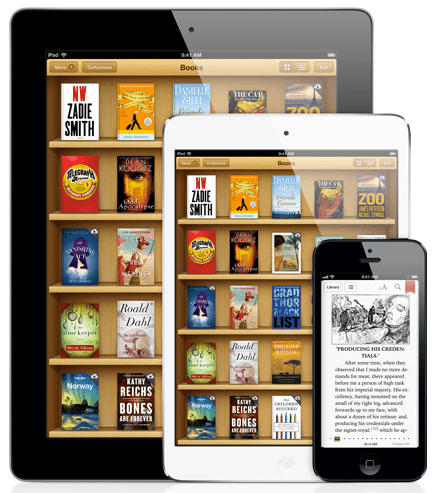 With these new iPads, another important update is rolled out for iBooks from Apple. iBooks is one of the best applications from Apple for reading books. Like App store it has an inbuilt library where you can download your favorite books. Also it supports .PDF file format so that you can read PDF documents and books through iBooks from your iPad, iPhone or iPod Touch. Let's have a look at the features added to the new iBooks version 3.0.
What's New in iBooks 3.0 ?
One of the important update for iBooks in version 3.0 is continuous scrolling. Before it was like turning the pages, even that was an excellent concept, continuous scrolling in vertical will be even more convenient to move back and forward while reading. iBookstore is the library of iBooks where more than 1.5 million books are available in that many of them are free. Once you enter into the iBookstore you will find the featured and most downloaded books. Also you can search for your favorite books on the application. You can see the complete details of  the book along with the feedback and ratings from people who read that book already.
Another important update rolled out is the iCloud synchronization. So the books you download in any iOS device (iPad, iPhone or iPod Touch) will automatically sync with all the other iOS devices, so that you don't want to download it again. When you start reading in your iPad, it is more than a book. The vertical scrolling makes reading even more comfortable but if you want the old method of turning pages you can get it by turning the iPad in landscape view. Also the landscape mode will show you two pages at once.
The next update in iBooks 3.0 is iOS sharing. You can select any part of the text from the book you are reading  and share that in Facebook, Twitter, Mail or Messages. Also you can copy the text and paste it in notes for later use. This helps you to share things you like from the book you were reading. Previously if the books you download got an update, you can update that in your iBooks, you need to download the new version again. But in the recent update, instead of downloading the entire book you can update it right from your iBooks app.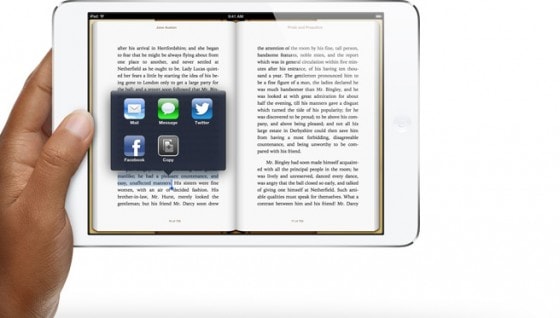 As I said before iBooks supports .PDF format, so you can keep your PDF books and documents on the iBooks shelf for quick access. The recent update is completely focused on pushing iPad more into the education. So download the new iBooks today and try it on your iOS device and share your experience with us in the comment box. Thanks for reading. Have a great day.