Are you interested in painting ? Want to paint your home walls and accessories on your own ? Here is an app called "How To Paint Anything" from a famous magazine "Better Home and Garderns". They have recently launched this app for iOS users to learn painting on their own. This app is available for iPhone, iPad and iPod Touch. Using this application you can learn painting different type of accessories and walls in your home and office. This is a best app for people who are interested to try something new.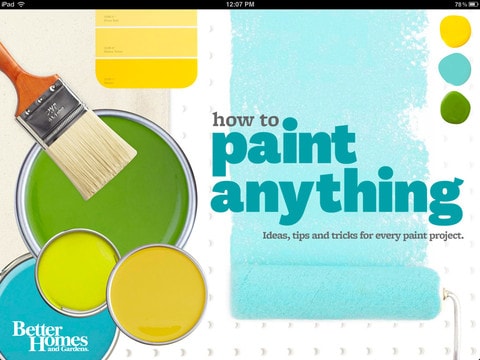 "How To Paint Anything" app has a complete set of tutorials for painting different types of walls and accessories in your place. It has 50+ step-by-step painting tutorials which gives a clear explanation with detailed videos and presentations. The tutorials are divided into six different categories based on the different types of painting. Let's have a detailed look at the functions and specifications of this app below.
How To Use "Paint Anything" App on iOS Devices ?
You can purchase the app from iTunes for $0.99 and install it in your device. The same app can be used across all the three devices (iPhone, iPad and iPod Touch). Once you install and open the application, as I said before you have six different categories of painting tutorials on the home screen. You have tutorials for painting walls, accessories and different types of objects in your home. Even you have tutorials to transform your plain curtain into a custom window treatment.
Once you are done with the tutorials you can create a shopping list from that app itself. For instance, you are interested in doing wall art and you like a tutorial from the wall art section, you can just drag that particular tutorial to shopping list category on the top of the page. Once you did that you can see a list of items required to do that wall art in your place. So not only the tutorials, also you can know about the requirements of raw materials to complete that project. You can easily add and remove the items in your shopping list and take a printout of them directly from the app.
Apart from the six categories of the application, you have a separate section for getting painting ideas and choosing colors for your work. These tips and suggestions are from the experts of "Better Homes and Gardens" Magazine. These tips and color choice will give a professional touch in your paintings. Also you can add notes and save custom projects inside the app which will let you create a new design on your own.
These are the features and functions of "How To Paint Anything" app for iOS devices. There is no announcement regarding app for Android devices. Hope it will be available soon. Try this app in your iOS device and share your experience with us in the comment box.