If you go ask someone what's your happy surely "Reading Books" will be on their list. Because reading is nothing but learning, it gives a different perspective to things which you see in your day to day life. Many scholars, philosophers and scientists achieved their goal and made their dream come true because of books by great authors. The medium of reading has changed a lot from the olden days. Initially books were only source of reading, later E-books came into existence and people started reading from their PC and laptops.
After the evolution of Smartphones, e-books were officially released for reading in mobile devices. Later for the convenience of readers bigger screen e-book readers were released. That has given the mobility as well as best reading experience to the users. Today we have best e-book readers like iPad, Kindle, etc. After e-book readers came into existence the reading many people started reading newspapers, magazines and books in them. Especially iPad has changed the entire user experience on reading books and many such activities. It is one of the best products from Apple which has revolutionized the tablet market.
All the tablets in today's market were launched after Apple released its iPad. The biggest strength of iPad is its applications and most of the other tablets failed in that part. This made iPad to stand out of the crowd from other e-book readers. So today we are going to discuss about three different apps for iPad which trains you to read fast.
Read Quick
Read Quick is a fast reading trainer for iPad. It helps you to read faster than ever before. This application is designed specifically for people who loves to read a lot that too in a short span of time. The concept of this application is very simple, choose an article of your choice and then the application will teach you how to quickly navigate between the words in a sentence. The navigation is calculated in terms of Words Per Minute (WPM). Initially it will be less, you can manually adjust the count to get better results. The more you use the app faster your reading rate will become. (iTunes link)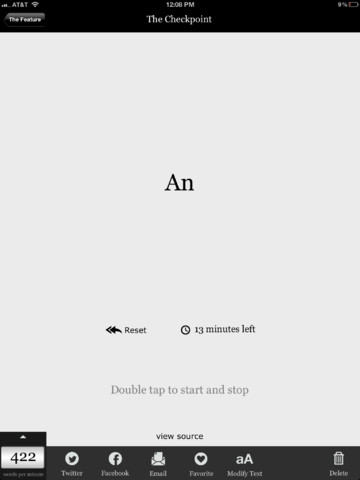 Reading Trainer
Reading Trainer has got a different concept and it is an ideal app to double your reading speed. While improving your reading speed it helps you to improve your retention as well. This application is available for both iPhone and iPad. Many users found this application has significantly improved their reading speed as well as their mental capacity. The reading techniques in this app is really fun and surely you will enjoy it. You won't have all the features in trial mode, you can purchase the full version for $1.99. Also it will automatically analyze your strength and weakness and trains you according to that. (iTunes link)

Quick Reader
Quick Reader is yet another iPad app for fast reading practice. Quick Reader is quite different from other two apps we have seen before. It trains you with factors like reading, concentration and your mental skills. It helps you to improve all the three things and gives remarkable results by the end of training. Quick reading will save lots of time as well as makes you unique from others. Even you can see lot of changes in your day to day activities after your finish this training. It is a must have app in your iPad which will enhance your concentration and the reading speed dramatically.  (iTunes Link)
These are the three different applications for iPad, which helps you to improve your reading speed. After practicing with iPad you will automatically start reading your newspapers, reports and magazines faster than before. So try these apps in your iPad and share your experience with us in the comment and do let us know if I have missed any of your favorite apps for fast reading practice. Thanks for reading.