Apple has released iPad Pro 11 inch recently with all new Gorgeous Design and Redesigned Smart Keyboard and Apple Pencil as well. If you have recently Pre-Ordered one or already picked one up from the nearest store, then this post is for you. We hand-picked few Best USB-C accessories for new iPad Pro, Macbook Air and Macbook Pro models, to make your shopping a lot easier. Accessories that are truly useful, to boost your productivity, blend with your creativity and let you do much more.
One huge move that Apple has made with this year's iPad Pro is, replacing Lightning Port with USB-C Port.
Which brings in a lot of Connectivity options that are already available and more manufacturers will come up with Adapters and Accessories that will power up this beautiful beast in terms of Productivity.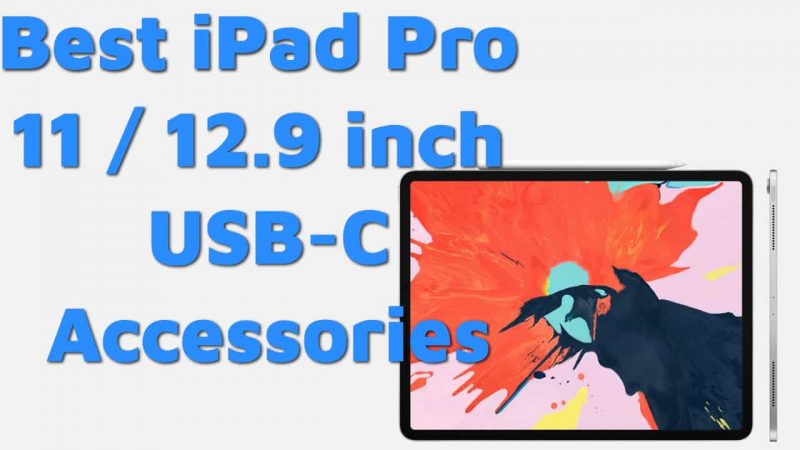 Let's see the iPad Pro 11 inch accessories one by one, and we do have the best pricing for each product in the list. You can Save some money while considering our suggestion.
Apple iPad Pro 11 inch Accessories
I like to start with a must have two Apple's own accessories for new iPad Pro 11 inch and 12.9-inch models. Its the all-new Smart Keyboard and Apple Pencil that now has Wireless Charging feature. If you are planning to get a Keyboard for your new iPad Pro, my recommendation goes straight to Apple Smart Keyboard.
Also Read, Best iPad Pro Keyboards, Apple Smart Keyboard Alternatives
New Apple Smart Keyboard Folio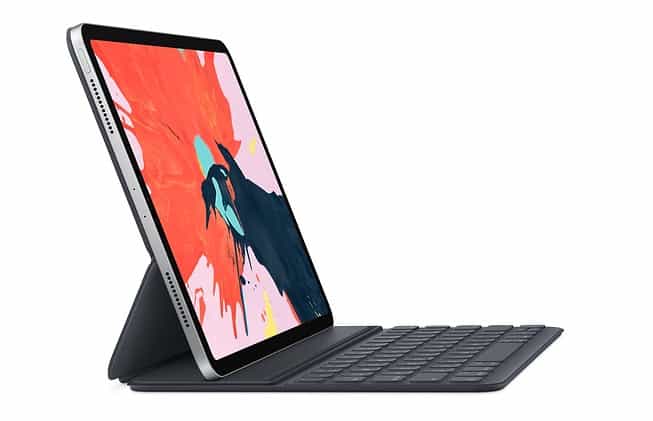 It's not just a Keyboard, the all new Folio Keyboard from Apple, now protects your iPad Display and the Rear panel as well. As a huge surprise, you don't need to buy any other Cases or Covers when you have Apple's Smart Keyboard Folio.
Been using my iPad Pro 10.5 inch with Smart Keyboard for almost an year now. I am sure this is the best keyboard i have ever used that is small and compact as well. Have seen a few Bluetooth keyboard from popular brands like Logitech, but i am a big fan of Apple's Smart Keyboard for its Perfectly layed out Keys structure and the feel of Woven Nylon fabric.
So 99.99% don't think about any other third party bluetooth keyboard that may suck more battery juice from your iPad Pro.
New Apple Pencil 2nd Generation

Apple took the already amazing Pencil and redesigned it from scratch. The all new Apple Pencil 2nd Generation now comes in new Design and with Wireless Charging feature. No more lightning port or cable is necessary to charge your Apple Pencil. Simply place the Pencil on top of iPad Pro and the magnets on both the Pencil and iPad Pro will hold it tightly and starts to Charge as well.
Its now much simple and very beautiful in that matte finish flat surface design on just one part of it. Also, you can double tap on the pencil with your index finger, to Zoom in and Zoom out on the application you are working on. The feature you were using on Magic Mouse and Magic Trackpad, is now in Apple Pencil 2nd Generation.
USB-C Car Charger 36W with Quick Charge 3.0
It is a must have travel accessory to charge your super fast on the go. Forgot to put the charge at night for your new iPad Pro or iPhone ? Worry not. This ultimate, powerful 36W USB-C Car Charger can charge your iPad Pro faster than the one came with the box.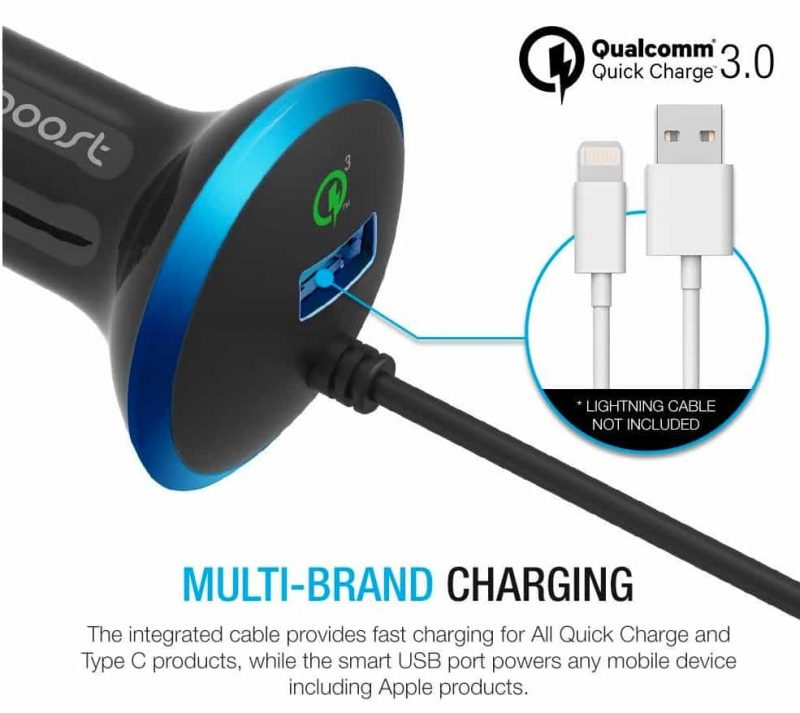 There is a USB-C Cable extended from this Car Charger to a decent length and additionally, you have a USB 3.0 port to connect your Lightning Cable for charging your iPhone or any other gadget on the go. One of the best accesory and must have in your Car if you have purchased the all new iPad Pro 2018 model.
Satechi Aluminum USB-C Mobile Pro Hub
Satechi the popular USB-C Hub manufacturer for 12 inch Macbook and Macbook Pro models is here with a dedicated iPad Pro USB-C Hub. Its minimal just like their other products and blends in well with the Space Grey and Silver iPad Pro 11 inch and 12.9 inch models. Yes, they come in two colors to fit your new iPad Pro color choice.
This USB C Hub is really Pro with its features. It supports 4K 30Hz HDMI Display output, Data Transfer Rate at 5 Gb per second, 3.5mm headphone jack (if you want to use one) and you can charge your iPad Pro with USB-C Charging cable simultaneously.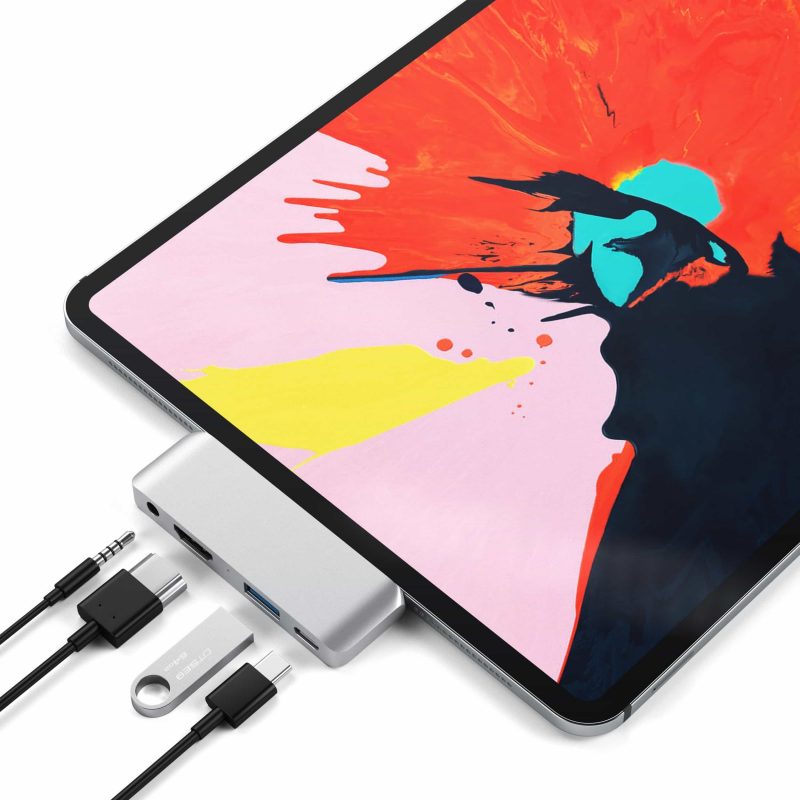 Its Compact and Fits excellent for not just your iPad Pro, also for your new Macbook Air 2018 models as well. Connect your Flash Storage Drives, Portable HDD's, Digital Camera's, DSLR's and many more devices with this one beautiful accessory.
Syntech Thunderbolt 3 / USB-C to USB 3.0 Adapter
I normally recommend this accessory as a must have for every Macbook or Macbook Pro buyer to keep it in their Bag or Carry case. Very handy tool to connect the regular USB Drives anytime and anywhere without adding more weight to your bag. Now, the all new iPad Pro and Macbook Air models do come with USB C connectivity, it is important that you consider getting this USB-C to USB 3.0 adapter.
Most of the time, we use USB 2.0 or USB 3.0 cables to connect with our iPhone, Portable Hard Dries, Flash Storages and Camera's. This tiny USB C to USB 3.0 adapter will be super useful and you will be using it regularly, every day.
Not every body needs a USB C hub, and this tiny adapter will be enough for most of us in our day to day tasks with Data Transfers.
USB-C Digital AV Multiport Adapter
It is from Apple, an official multi port adapter for USB C Devices that are released by Apple. Macbook, Macbook Pro, new Macbook Air and now the all new iPad Pro models can use this accessory for better connectivity. Being an Apple's official accessory, it is expensive but does the job very well.
For people who prefer Apple's genuine accessories to match with their Apple Devices, then this USB-C Digital AV Multiport Adapter is for you.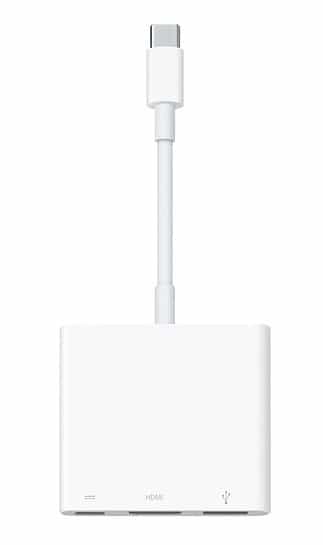 You can mirror your Mac or iPad Pro display to your HDMI enabled Television or Computer Display in High Definition. To be specific it can output 1080p at a 60Hz frequency or Ultra HD 3840 x 2160 screen resolution at 30Hz to a TV or External Monitor. Except the pricing, its a good original accessory for all your USB-C enabled Apple Devices.
Price: $69.00
Buy Now: Apple USB-C Digital AV Multiport Adapter
Mophie Powerstation USB-C XXL Universal Battery Pack
I am a big fan of Mophie products. They have the best Powerbanks and quality is top notch. I am using their Mophie Powerstation Pro Rugged series for almost 5 years and more. It saved me from going out of charge for so many times. Truly a remarkable product. They recently released USB C Power bank or Battery pack for devices that has USB-C Ports.
Design wise, this one looks solid and well built. Indicators to show how much battery juice left in it, so that you can charge and keep it full before your travel. Inside, you will get 19,000 mAh Lithium-Ion battery to store all the necessary power. Outer design uses Premium Fabric that feels great in hand and do gives excellent durability.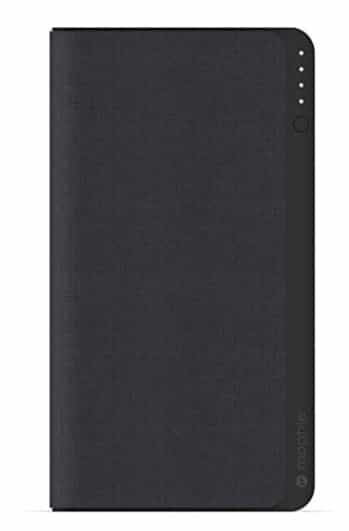 Practically, this mophie powerstation can charge your Macbook to extend its battery life up to 14 hours. The output power will be 30W, which means you can fast charge your iPhone, iPad and Macbook very well. Ofcourse, any Android phone's with USB-C Connector is also compatible with this Powerstation.
We will be adding few more USB C accessories for iPad Pro, Macbook Air and Macbook Pro models in coming days. Do share this post with your friends at Twitter and Facebook if you find this useful. Thank you very much for reading, and do tell us which USB C Accessory you have purchased for your new iPad Pro or Macbook Air today in the comments below.
Also, if you want us to add any other accessory that you are using and finding it wonderful, then feel free to mention them too. Have a Productive Day.
You may also like to Read,