WALTR is Brilliant application that allows you to upload .mkv, .avi, .mp4 and many other video, audio file formats to iPhone, iPad and iPod Touch without the need of iTunes Software.
No additional iOS Apps required.
No additional Mac Apps required to Convert your videos.
Directly upload the video and music files to your iPhone, iPod Touch and iPad simply by a Drag and Drop. WALTR mac os app is a must have app if you are bored or feeling restricted to transfer files to your iOS device. This will be the perfect answer and the best itunes alternative to transfer movies, music files to iPhone and iPad.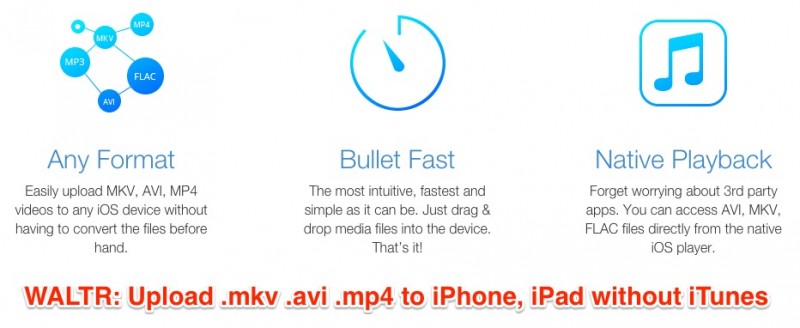 WALTR App for Mac OS X is a premium application that is absolutely worth for the its price and gets your job done. Apple has protected its iOS platform and in order to break the limits, users opt for Jailbreaking the iOS Device. But Apps like WALTR cut those jailbreak needs and brings an essential feature to iOS devices that Apple didn't want to add even in its own OS X platform.
Upload .mkv .avi .mp4 to iPhone, iPad without iTunes
We need more apps like WALTR for OS X to completely manage the iOS device without the need of iTunes. Or, Apple should consider adding those features in its iTunes software to let any novice user also to manage their files, music, movies and documents in iOS device. But we all know that either never gonna happen and or may take century from Apple side to consider that choice. WALTR App for Mac OS X breaks the barriers and let you transfer any media file format simply by a drag and drop to your iPhone, iPad and iPod Touch. During the super fast copy process, it automatically converts the media files to be compatible with your iPhone and iPad.
[youtube]https://www.youtube.com/watch?v=KM1kRuH0T9c[/youtube]
This helps you to save more money from downloading another third party application to install on your Mac OS X and further do the conversion process. We normally download files from Youtube, Torrents and other easy to use file sharing services. By default it is not easy to simply copy to your iPhone or iPad. First, you got to drag and drop them to iTunes Library which checks for media encoding file formats and ensures its compatible and playable at iOS devices. Then you can transfer those files from iTunes Library to your iOS Device.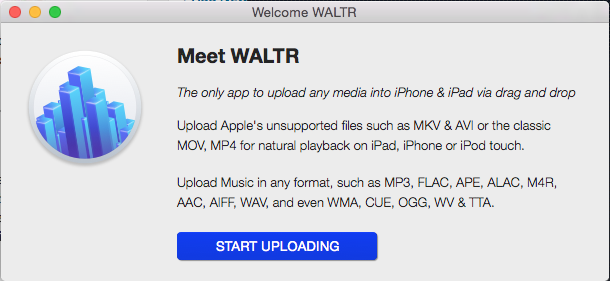 When you drag and drop, it will again check for file compatibility and then moves the files to your iOS device. During this process it does optimizes the file format to avoid any issues with playback on your iOS Device.
WALTR simply takes care of that job and does the necessary file conversions after the moment you dropped it in the file transfer box. It is super fast with the copying process and you can see the demo from the video added above. Play .mkv files on your iPhone and iPad without any additional softwares. There is one method where we can use VLC media player for iPhone and iPad. But the files have to be stored inside VLC App. WALTR pushes the file to appropriate iOS folders, for an example, if you copy Movies it will be stored in Videos App inside your iPhone, iPad. The same goes for music as well.
Download WALTR App
WALTR is not currently available at Mac App Store, and i dont think it will be available soon as apple may reject this type of Apps. You can still download it from their website directly. For security reasons avoid downloading any Apps or Softwares from sites other than the Software Vendor website.
WALTR for Mac is currently running a promotion for limited time, so you can get this $29.95 app for just $14.97 . This is a single user license and a lifetime license as well. If you are looking for 5 users then it comes at $39.97 and get a discount of $70.
Single User Lifetime License:
Original Price: $29.95
Discount Price: $14.97
WALTR 5 Users License
Original Price: $79.95
Discount Price: $39.97
Thanks for reading and i hope you found this new mac app very useful to transfer movies, music without iTunes to your iPhone and iPad. WALTR is without a doubt, best itunes alternative app available for Mac OS X. You may share this post with your friends and followers. Have a wonderful day.