You can access WhatsApp Contacts in your iOS Share Sheet. WhatsApp recent update brings WhatsApp Contacts suggestion to iOS Share Sheet making it easier to forward messages to your WhatsApp friends. Unfortunately, many users encountered an Error after updating to latest WhatsApp version.
Either iOS Share Sheet crashed, or Blank page shown with some icons not properly aligned for many users. This can be fixed by following the troubleshooting steps given below.
Update: If you haven't updated to latest WhatsApp version and want to use WhatsApp Contacts on your iOS Share Sheet, then stay with current version. Because WhatsApp Contact Suggestions on iOS Share Sheet Removed Temporarily.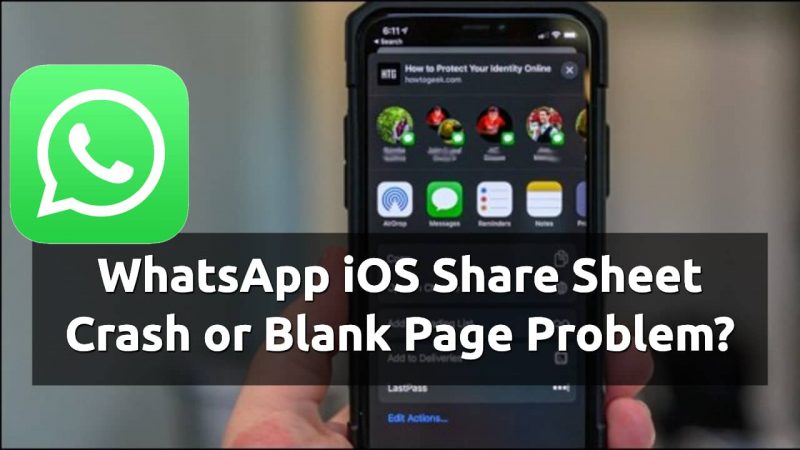 WhatsApp Share Sheet integration helps us to quickly select contacts right from the iOS Share Sheet and saves couple more taps on the screen. It's a good addition, but the frustrating part comes when it crashes iOS Share Sheet which was working fine before latest whatsapp update.
Let's Fix WhatsApp iOS Share Sheet Not Working, Crash or Blank page problem.
Also Read, Best WhatsApp Messenger Alternative Apps
Have you updated your WhatsApp?
As a first troubleshooting method, it is important to make sure there are no pending updates available in Appstore. Go to your Appstore – Tap on your Profile Picture – Swipe Down to Refresh the Page. And if there is any WhatsApp Update waiting for you, tap on "Update" and complete the Update.
Now check your WhatsApp share sheet integration of Contacts by visiting any app. Example: Visit Photos app and try to share a photo with your WhatsApp Contacts.
If you have updated and still facing problem, proceed with the second troubleshooting step.
Is your "WhatsApp Screen Lock" Enabled?
WhatsApp Share Sheet will not work, if you have your WhatsApp Screen Lock feature enabled inside "WhatsApp – Settings – Account – Privacy – Screen Lock". Make sure to disable that feature to enable WhatsApp Share Sheet integration in iPhone.
Did you Save the Contacts in your Address Book?
Another reason, for WhatsApp Share Sheet integration not working in your iPhone, is because of No-Saved Contacts. It tries to show the contacts that you have recently texted via WhatsApp, and there is a bug which causing the Share Sheet to Crash and Force Close the App. This ofcourse, absolutely not your fault.
But till an update comes out to fix the problem, you can add such frequently used contacts to your Contacts App or Phone App – Contacts section. It should help you with iOS Share Sheet Blank page or Crashing Problem with WhatsApp Contacts.
Do let me know which of the above method worked out for you. Will be happy to assist further with your iOS Share Sheet WhatsApp Contacts Problem. Do mention your iOS version and WhatsApp version details while posting your question.
Thanks for reading and if you find this Post about Fix WhatsApp iOS Share Sheet Not Working Problem, Crashing or Blank Page problem, feel free to Tweet or Share in your Facebook. Have a wonderful day.
You may also like to Read,