There is no doubt that Macbook Air is super light, super powerful, sleek, slim etc., But the question is, should you buy one right now or wait for some hardware upgrade? Well my answer is simple and it is, you should wait and if you are in urgent you should consider getting Macbook Pro MD101 model (that supports hardware upgrade such as RAM and Hard Disk) or Macbook Pro Retina models if you find it affordable. Macbook Air is Super thin, that doesn't mean it is the best buy right now and yes, i am talking about Specs.
Update: Apple released new macbook 2015 model with refresh in Design and Internal Hardware components. You can read Is the New Apple Macbook 2015 model worth Buying? article here.
Looking for New Macbook Pro 2016 models? You can Buy Macbook Pro 2016 models at Amazon.com and get Fast Shipping for Amazon Prime Members and more offers.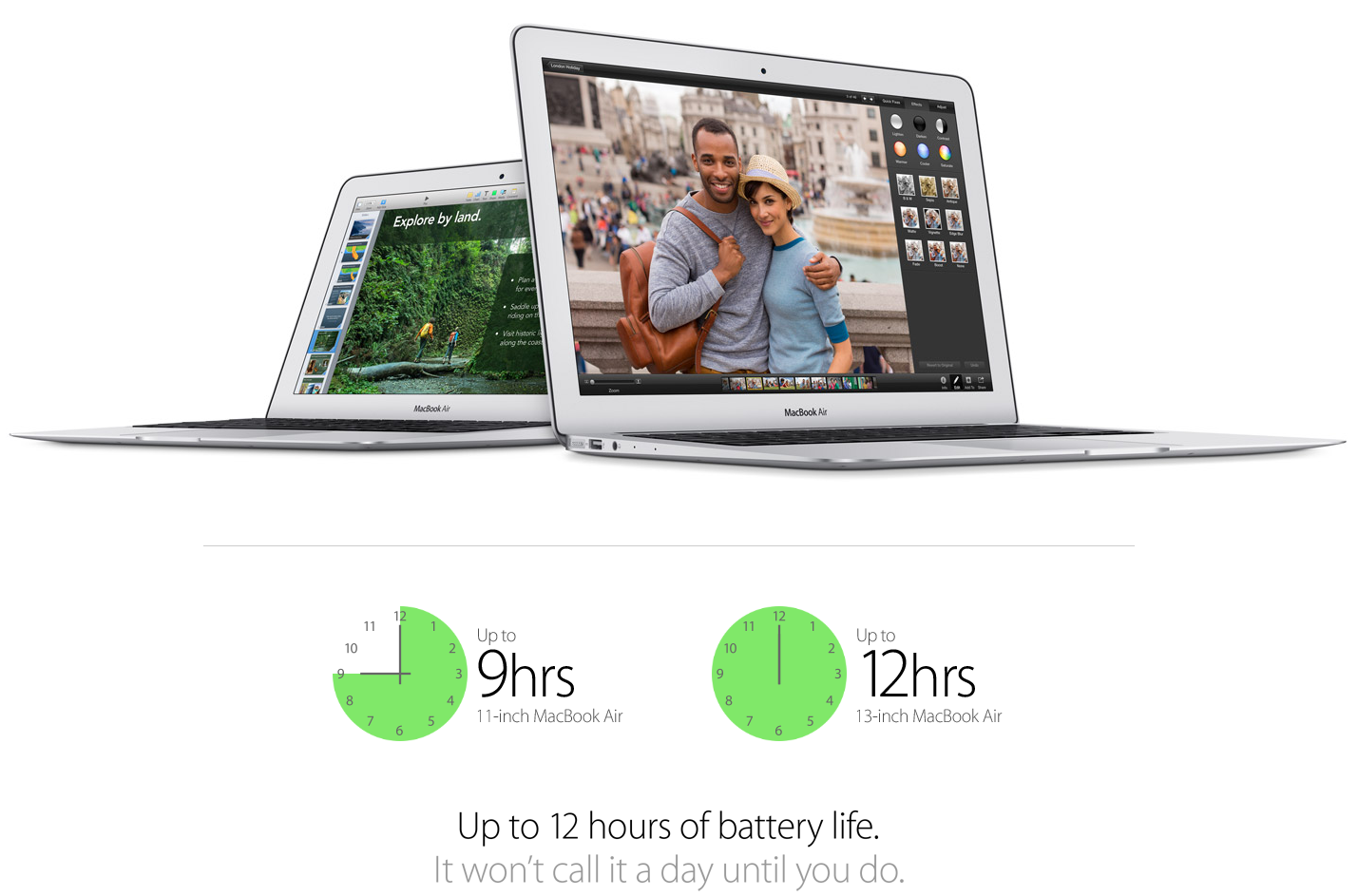 Apple didnt change the design of Macbook Air since its release. The first macbook air released in 2008 and it was stunning without any question. Even today macbook air looks gorgeous and light weight, excellent battery life are main reasons that people choose macbook air over other computers. I thought to share my views about Why you should wait for next generation Macbook Air than buying one right now.
Why You Shouldn't Buy Macbook Air Right Now?
Macbook Air has decent hardware specification but it is not equipped with the hardware that will be sufficient for next few years (for the price). It is expensive, and its Apple. There is no doubt about the quality of the product when it comes to Apple. Also, i am remembering Macbook Pro + Nvidia Graphics Card Problems that is worrying many Macbook Pro owners.
Macbook Pro models with Intel Graphics chipset is one best choice to buy right now. Especially, the macbook pro MD101 models if its available in your country on sale. You should get that mainly because of its RAM and HDD upgrade possibility, which is not possible on latest macbook pro 13 inch and 15 inch retina models.
Macbook Air's Display
Macbook Air currently comes with 720p display and i feel like "What is wrong with you Apple?, What is stopping you from upgrading that horrible 720p display to atleast 1080p display?". Well i didnt notice big difference when i use my macbook air for some time. But i noticed huge difference with text sharpness, image, video quality after using macbook pro and imac non retina models. They both serves the purpose in excellent way and worth for their price tags. iMac with its gorgeous 2560 x 1440p display is super choice if you are looking for an all in one mac desktop computer.
Display is one big reason i am saying "Nope" dont buy macbook air right now, and wait for Apple to upgrade its Display to 1080p or something truly sharp and better than what it is right now.
Macbook Air's Memory Upgrade-ability

It is not possible to upgrade your Macbook Air RAM and i am not blaming it at all, as it works cool with that 4GB. I personally feel that 4GB is OK memory when you use Safari for surfing the web and use some less number of apps overall. But when you want to open Firefox, Google Chrome, and try to do multitasking little more, then you will find that 4GB RAM is not sufficient at all. It is better to go for Macbook Air 8GB RAM if Apple allows customizing option in your country. You are lucky as apple don't have that option in most countries where it sells Macbook Air.
Macbook Air's Storage Upgrade-ability
Again, i am not blaming the restriction, and i totally understand that a device at this much thin, i dont expect to upgrade anything manually by myself. Which in turn makes me to expect some true computing powers in hardware similar to Macbook Pro. I am not paying any less money at all, so i am sure Apple can make that happen atleast in near future, may be with next generation of Macbook Air in 2015 models.
Macbook Air's current storage options are 128GB and 256GB where you will be paying extra (ofcourse, not little extra) for the storage. Apple always memory hungry in terms of pricing them on iPhone, iPad and Macbook is not an exception as well.
Macbook Air's Processor
No doubt it has the best processor that can Turbo Boost up to 2.7GHz and it also has 3MB L3 Cache memory. It may look convincing, but the Memory factor makes me say No, dont fall for it. You should better wait for the next upgrade.
Macbook Air Discount Offers
Apple and mostly all Retailers are running various promotions, year end offers, christmas offers and discounts for Macbook Pro, Macbook Air, iMac and iPads. You can visit your nearest Apple Store to know about current offers, and websites like Best Buy, Amazon also running various promotional offers currently. If you are buying it for some huge discounts, then go for it. Else i would suggest you better wait for the next macbook air 2015 model which most of us expect it to be truly game changing device ever released in macbook product lineup. Rumor mills started to spin some months ago and there were claims that next macbook air will be more thinner and will get Display upgrade (may be 1080p or Retina equivalent display), more RAM and more added memory options.
When Microsoft releasing new TV Ad Commercials that kicks Macbook Air for not being updated for long time. We can expect some true change in hardware that will make it cost same or little less ($100 may be) than what it is right now.
Conclusion
Macbook Air is a must have computer to enjoy better mobility and productivity. There is no doubt in that. I personally feel that Apple is so crazy when it comes to upgrades and your wait for some more days will make it worth when you get the best product to yourself. As i said earlier, if you are in cannot wait mode, then consider choosing the Macbook pro 13 or 15 inch Retina models (when budget isnt a problem). They both are worth for its price and simply the best. Also, if possible choose the one without Nvidia chipset as i quoted above, there is some serious problem with those nvidia chipset which i personally had trouble with one macbook pro and saw many cases as well.
Checkout this video to see How to upgrade Macbook Pro with SSD, Secondary HDD replacing Super Drive and 16GB RAM?. Build your powerful computer with this step by step tutorial.
GET IT: Apple Macbook Pro MD101 from Amazon (Discounts and Holiday Offers for Limited Time)
If your usage is very less say like, just for Emails, Web Surfing (lightly) and Video watching, then you may get a macbook air under some good offers this holiday.
Decide wisely.
Thanks for reading and i am sure you find this post useful. You may share it with your friends and followers across Twitter, Facebook and Google+. Have a wonderful day!