Get Going with Google Adwords is a fresh ebook from Rockable press Team. The author of this book has assured you a faster way of bringing insearch traffic. Understanding Internet Marketing is one essential part when you have a plan to promote any product through online. Search is the only way to find what we need. And its the job of the product marketeers to advertise in right channel with right product to consumers. Cost of this book is 15 USD.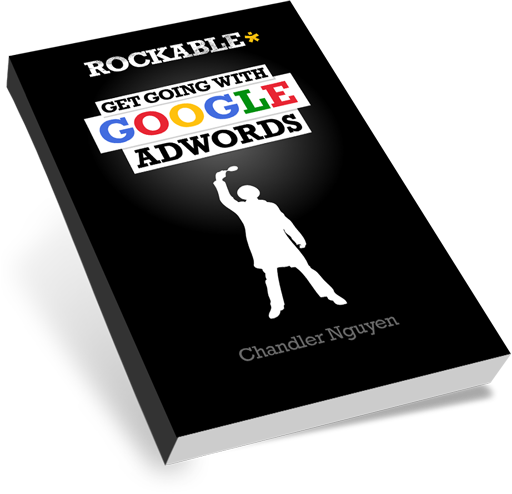 In this internet, we achieve this through advertising campaigns. How to create an effective google adwords campaign is one big question arises in every new google adwords users mind. To solve so many possible questions that Google Adwords users will have in mind, we have this great ebook as a suggestion, written by an expert Chandler Nguyen.
About the Author
An intro about the author Chandler Nguyen, from his blogger profile page.
Hi, this is Chandler and i am writing this blog to share my experiences working in Search Engine Marketing Industry in SouthEast Asia and North Asia. When i first started this blog, i wanted to focus solely on the development of Search Engine Marketing in the region. As time goes by, however, i realized that SEM is only part of the puzzle and it needs to be mixed well with all other marketing activities so the topic was expanded to covered off Affiliate Marketing, Online Media, Web Analytics and so on… If you have any feedback, feel free to contact me via [email protected].
About the Ebook "Get Going with Google Adwords"
Bypass weeks or months of waiting around for search traffic to point readers to your site or product. Using Google AdWords is the fastest way to get the traffic you need! This book will help those of you who are completely new to Google AdWords. You'll get a comprehensive introduction to AdWords, and a thorough walk-through of how google adwords works. You'll learn all the ins and outs of setting up an account, getting it live, and reporting on your campaigns.
Find out why and how so many people are using Google AdWords to help them get the measured results they want! Stop wasting time, and Get Going with Google AdWords!
You may follow us on Twitter or like us on Facebook to get quick tech updates, software discount coupons, giveaways and so on.