Update: This technique allows you to download pdf files from scribd.com less than 30 pages only ! If you are looking for PDF Password Remover tool, then check out iSkysoft PDF Editor for Windows and Mac which removes PDF Password Protection easily.
Scribd is a PDF hosting service where user can upload their PDF documents and share it with his or her friends by simply sharing an URL. This brings a great relief for PDF users where the quick sending of pdf documents compare to doc (msword) files was tough earlier. Scribd brought another service as iPaper which raises the talks and questions in internet among users as "Is iPaper a PDF Killer ?".
Lets keep all those talks away. Here i am going to guide you step by step to download a Protected PDF file from scribd website. The process requires simple PDF Creator tool which can be installed as a plugin with the Microsoft Office and helps to covert word documents to pdf in 3 simple steps.
Step 1: Download and install any PDF Creator
I assume that you have MS Office (compatible or latest version) installed in your system already. Now, download PDF Creator which ofcourse available for free in internet. Here some commonly used PDF Creators (PrimoPDF , PDF Creator , doPDF and many more…). Do remember, that Google is your best friend. doPDF is one of my favorite.
Step 2: Open the Scribd Document which is protected and download or "save option" not enabled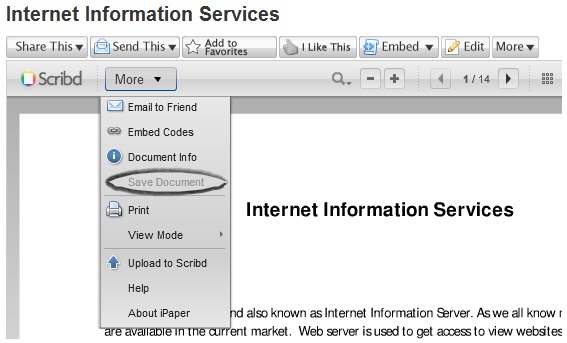 As shown in the above screen shot, now open the document which has no "Save Document" option enabled. Now select "Print" which is next to that. Remember, you must select print only after confirming that the full document loaded on the scribd ipaper page. Else there is a possibility of getting last few pages blank in your document.
Step 3: Now, select print and click ok to proceed saving the document in your local hard drive
We use the PDF Creators to convert any .doc, .docx format files to .pdf . Here i am converting it using doPDF tool and the above screen cap shows that. If you are using Mac OS X then do check PDF Creator and Editor Mac OS.
When it prompts to save the document, you may locate the desired path. However the file name should be as it is. Changing in file name result in blank document many times. Once the document download completed you may change the document name as you wish. In 3 simple steps you have your document downloaded to read at your convenience. Happy Reading… 😉
Readers update:
Best option will be install Internet Download Manager. After installing just right click on the page you want to download and select "Download with IDM". It works even for protected files..Hope this helps…
– Alex Mathew
You may also like to Read:
Thanks for reading my article !
Thanks for reading and do subscribe to our Feeds for more tech updates and news. You may share this post in Facebook and Twitter to let your friends know about it this trick.