[youtube]https://www.youtube.com/watch?v=DDCYb9ffUGI[/youtube]
What is Incentivibe ?
Incentivibe groups businesses together, so they can offer big contest prizes (e.g. $500 vacation) while sharing a fraction of the prize cost with other businesses (e.g. $25). This new system will help Bloggers, Web Masters to get more traffic and generate leads for their businesses. For visitors, incentivibe helps them to participate and win Cash Prizes, Gift Cards, iPads, Apple TV and much more.
This article will be very helpful for Bloggers and Web Masters to know about this wonderful new program and deploy it in their website in just 30 Seconds. Sit back, watch and enjoy the results.
Let me highlight the reasons, why i like Incentivibe and like to recommend the same to my fellow bloggers as well.
You $25 for a huge prize that you like to offer your visitors.
Incentivibe concept is very clear and you will understand it just by watching the introduction video embedded above.
Cost Sharing program is what it is all about. You don't have to spend hours in creating, managing and launching a contest with a doubt in mind about its conversions. People will like huge cash prizes, vacation packages and gift cards that can help them save some money when they shop online at Amazon, Best Buy etc.,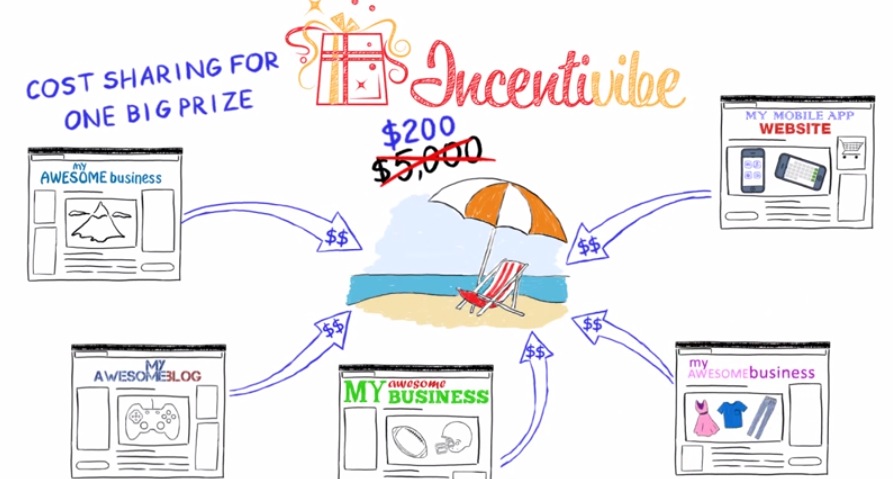 Their 14 day trial version is risk-free, hence you can try them and see how the conversions happening and you can pay them after you see the results.
Incentivibe your visitors in 30 seconds with its simple to use embed widget.
This article right here, will help you understand about Incentivibe fully and if you still have any doubts, you can write to [email protected] to get faster answers for your questions. The aim of Incentivibe is to provide you tools and services to launch a branded contest with a huge prize for a fraction of the cost. Administration, Collecting responses, contest legal compliance, prize cost and delivery of the gift will be taken care by them complete which saves the blogger a lot of time. By keeping the winner announcement transparent and as a cosponsor, you will see all the positive results it has created for your blog.
How is Incentivibe Different from Others ?
Extremely Targeted leads: Entire focus of incentivibe is to help you get targeted email lists and increase visitor or subscriber conversion rate. You will specify what the visitor have to do in order to participate and win the prize.
Free End-to-End contest services plus Branded Tool: Incentivibe provides all the necessary tools to setup and run the contest in our blog. This can save hours in contest preparation and thousands of dollars in contest legal compliance, prize cost and delivery.
How Incentivibe Works ?
Incentivibe pools business so they can offer a $500 contest prize together by dividing the cost with other businesses. Just like you there are other businesses that are paying $25 to co-sponsor the $500 prize.

What is Incentivibe's vision ?

Allow small businesses, bloggers and marketers to offer big contest prizes like the big brands but at a fraction of the cost.

What kind of Prizes can clients offer ?

Incentivibe has iPads, vacation gift cards, Tiffany Co. Jewelry, Visa Gift cards, Nike Fuel Band, Paypal Cash and many more right now in their basket. Clients can offer from a variety of other prizes that we have listed on Incentivibe to attract their target audience.
What kind of Results can Bloggers/Marketers/SMBs can Expect ?
Based on incentivibe testimonials by their clients, they are already seeing 200% to 1200% increase in their email subscribers and social media fans. Based on the research, leading marketing blogs have attested these results.
Lets jump little deeper to know how incentivibe works with some possible questions that bloggers generally asked.
Your Branding: You will be able to customize the design of Incentivibe website pop up tab to suit your blog design and theme. This tool can run on your Website, Blog and Facebook page with your brand name as co sponsor.
No Data Sharing: Your website visitor information is not shared with incentivibe clients or businesses. They use the participant details to choose the winner and announce them. Privacy is highly assured with their strict policy on protecting user data. So you dont have to worry about user email address, name, address and contact numbers.
Fair Monthly Winners Process: One nominee is chosen from each co-sponsoring business, and then a winner is randomly selected from those nominees each month. Incentivibe sends email to contestants with Winners name. To ensure better privacy, Business name from which a winner was chosen is not disclosed to contestants. The businesses from which the contestant was selected is contacted only to deliver the Prize.
How Incentivibe Collects Targeted Email Lists ?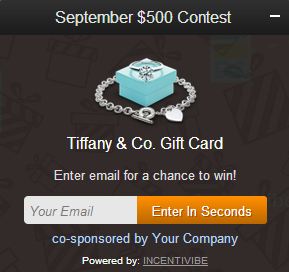 Micro-insights feature allows you to ask visitors to answer any question to enter contest. For example: "What topic would like to read more about (Content Generation, Affiliate Marketing, Social Media Management) ? The dashboard will show you aggregate result and a list of visitor emails that answered "Affiliate Marketing" or "Content Generation" so you can not only gauge your overall audience interest but also send them targeted emails based on their topic preference.
You can create custom questions or choose from the listed bank of insight questions to generate targeted leads.
Setup and Widget Installation is Easy: Simply select which prize you want and what actions you want your visitors to take to enter the contest and Incentivibe take care of the rest.
Real Time Analytics and Data: Another interesting feature that you will get with Incentivibe is
its Real Time Analytics to know the Social Media performance and Email Subscribers collected data in one place. Also, you will see how many dollars you have saved by creating a contest with Incentivibe.
Integrating Incentivibe with CMS and Other Tools: Incentivibe seamlessly integrates your data with Mailchimp, Aweber, Unbounce, Shopify, Magento, WordPress, Bigcommerce Wix, Volusion and Custom Website platforms as well.
So 25$ Covers 500$ Prize ? What about Support ?
Yes and it also includes full email and phone support. There are no contracts. $25 is per monthly contest. There are no additional fee.  Money back guarantee, cancel any time.
What if i dont upgrade after Free Trial period ?
There is a 14 day free trial and even if you don't upgrade, your contestants will still be eligible to win the prize for that month.
$1,000 Facebook Ads Contest
As a part of launch promotion, they are currently doing a $1000 facebook ads contest. Bloggers can now take advantage of this exclusive offer, to let their visitors participate and win the prize. This will be a great chance for any website owners, product developers to promote their business in facebook using facebook ads to reach massive amount of social networking users.
So what do you think about Incentivibe ? Share your views in the comment box below and if you are ready to try them, just share this article with your followers and fellow bloggers at Facebook, Twitter and Google Plus. Have a wonderful productive day !