Ebook reader has become so famous all because of its light weight, clear text reading and enhanced battery backup capabilities. Compare to multi media players, ebook readers usually consumes less battery power as it just operates to display text and few pictures. iPad and multi media enabled tablets give us a huge diversion and not fit to read books as it gives less battery backup.
Chinavasion has recently developed an ebook reader named Mebook Touch Mini, with some extra ordinary capabilities to suite your needs. This is ofcourse a great competitor for other ebook readers exist in market today. This light weight ebook reader helps you to read books for so many hours without making your feel like you are holding it on your hand.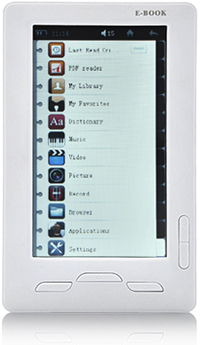 It comes in 4.3 Inches of size with color resistive touch screen with bright display. It has 480 x 234 pixel screen resolution that supports ebook formats like TXT, EPUB, PDF, HTML, UMD and few more.
There is 4GB internal memory and the external memory can be expanded up to 32GB with the help of microSD card slot so that there is an extension of storage space for all your favourite contents. The Mebook is packed with media player, 3.5mm headset jack, built in mono speaker, 1700 mAH battery, microUSB port and others as additional features.
You may follow us on Twitter or like us at Facebook to get more tech updates right on your desk quickly.