Two weeks before Mozilla Team launched the complete version of Firefox 4. It is one of the most expected browser among the web. Firefox 4 has reached more than 65 million downloads. It gave completely a new interface of browsing and offers lot of features for the security and privacy of the users.
Initially the speed of browser is excellent but the problem occurs only when adding add-ons to the new firefox. It reduces the browsing speed and extends the time of loading web pages. So mozilla team realized  this and released which are all the add-ons most responsible for slowing down.
Higher the rank of add-ons slower the speed of firefox. So the firefox team says not to add these extensions into the browser this will down your browsing speed. The top ten add-ons which slow down the firefox is being listed below. View the complete list here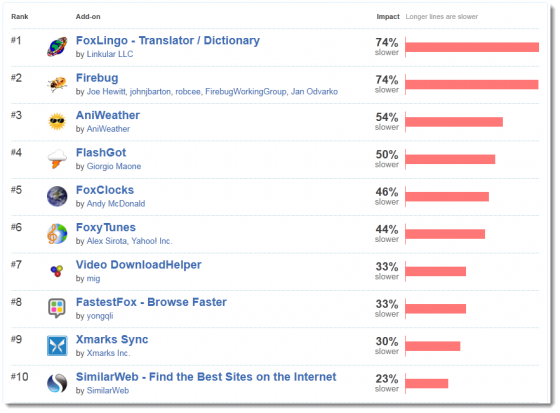 One of the most disappointing add-on is "Faster Fox-Browser Faster" which meant to speed up firefox and turned into negative.
This is an initiative by mozilla team to inform firefox users that not to add these extensions for the better browsing. Lets hope firefox will patch up with all these things in future update. What do you feel about this action by mozilla team. Let us know in the comments.