Screenr
I remember using this service when i had a PC with 40GB HDD storage which was plenty of storage 7 or 8 years ago. Screenr is a very old service that still works for many online teachers who want to instantly create a screen recording and upload it manually to Youtube, Vimeo or with your Blog Post. Recently there are issues with the screenr website where it throws application specific errors to visitors. The team behind screenr may not be giving enough attention these days to update this powerful screen capture application and make it compatible on all platforms.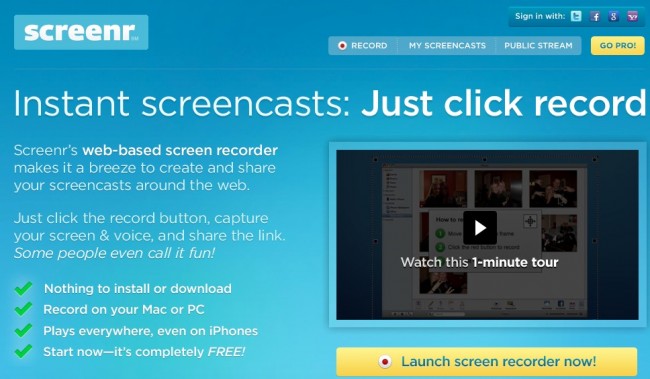 That is all, and if we come across any other screen recording application that works well on different platforms, we will update this article. If you know any such service, feel free to add the link in the comment below.
Go to Screenr
Also Read, Free Screen Recorder Apps for Mac OS X
Apart from free web based screen recorder software's, i also like to recommend you apps and software's that are excellent with tons of features and editing capabilities on Mac OS X, Windows and Linux operating systems. Download Screen Capture / Recorder software only from their official / developer websites and install it on your computer. Techsmith's Camtasia is one such popular screen recorder software that so far delivers excellent tools and features to let you record stunning and very attractive videos.
Thanks for reading, and don't forget to share this post with your friends and followers if you find it useful. Have a wonderful day.
You may also like to Read,