This month GMail started to roll out the new design and interface to give some refresh to the old GMail look and feel. The introduction of Tabs in GMail lets you keep your Inbox more organized and easy to access your mails than before. There is no doubt about that. But the annoying thing is, GMail did brings advertisements inside these new Tabs, and made it look exactly like an Email that you have received in your Inbox. This increases the chances of you clicking on that link which takes you to a different page (new window) or a pop up within GMail that displays the advertisement.
[youtube]http://www.youtube.com/watch?v=CFf7dlewJus[/youtube]
It is quite an interesting feature for people who like advertisements, but not for people who feel irritated when they realize its not an email that they have received. Ofcourse very less percentage of people like ads and i am not one of them 😉 I like advertisement when it is less in quantity on pages. We use Adblocker browser extensions or addons most of the time to get rid off these ads.
How to Opt Out New Gmail Ads ?
Step 1: Visit "Settings" -> "Configure Inbox" located at the top right corner
Step 2: Remove check box from "Social, Promotions" tab.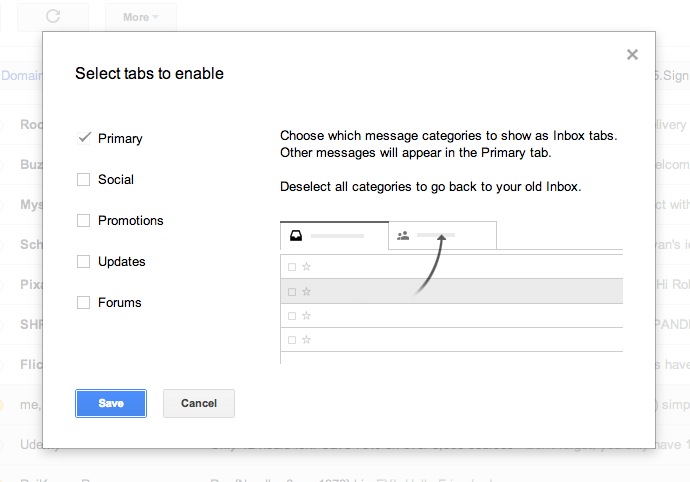 You can leave the "Primary" box checked to get back to the old interface where you can clearly see the difference between advertisement (on the top of inbox) and your emails.
Well the new Tabs feature enabled to many GMail users, but not the ads. The relevant ads are slowly started to roll out for accounts that has got new Tabs feature. By default the Tabs are titled as "Primary, Social and Promotions". You can create new tabs and name them as well if you want to customize the way you receive your mails. This tabs really saves a lot of time in reading your mails knowing which is really important and which is not. The Social tab contains mails that you get from Facebook, MySpace, Flickr, Google Plus notifications and from other social media websites. You dont have to search for your important emails in between the social network notifications anymore.
Promotions Tab is the place that has all your Deals, Discount Coupons and Promotion related emails. This again makes it pretty easy to check out the latest promotional offers from your favorite online shops and sellers. This is where Google puts their ads that looks exactly like an Email. Currently there is no specific option to block ads inside new GMail tab, and the only choice left is Removing the tabs completely and getting back to the old gmail design.
Thanks for reading, you may now share this post with your friends and followers across social networking websites to help them out to remove or opt out from new GMail Ads. Have a wonderful day !