500px – Unlimited Photo Upload
For long time, 500px.com stands out from the crowd with its unique offerings and features. Connecting Professional Photographers, Marketers and Buyers.
I still remember, friend of mine uploading a Photo he shot using my iPhone 4S Camera and made few bucks by selling it on 500px website.
I thought it was Flickr, which is Pro Photographers Paradise. But 500px showed its quality and good improvements since day one. There are plenty of success stories among Mobile Photographers and Pro Photographers being successful with 500px.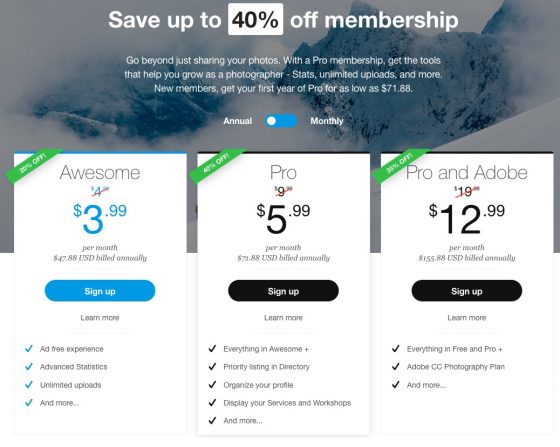 Their Base plan starts from $3.99 per month for annual subscription and $4.99 for monthly subscription. Which is very sufficient and affordable if you are looking for the Best Flickr Alternative this year to move all your Photos.
You get ad free experience, Unlimited Photo uploads, advanced statistics and much more features bundled with the Base Plan. Their Top Tier plan of $12.99 per month (annual billing) is very attractive for Professional Photographers as it comes with Adobe CC Photography Plan.
You Save Money while selling your Photos on 500px and upload unlimited photos and store them in Cloud Storage.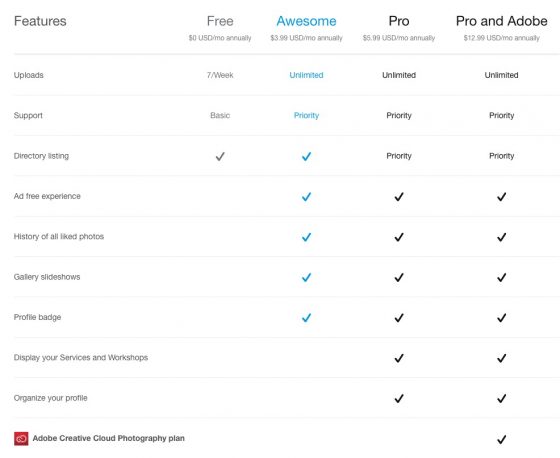 So, which tariff you are going to choose now with 500px? Do tell us in the comment box below. It may help other fellow new 500px users to make their decision as well.