Ubuntu for Android OS powered smartphone are about to arrive and that will let Ubuntu users to enjoy their Ubuntu Desktop anywhere anytime. All it requires is a Multi Core smartphone with android operating system and ubuntu app for android. You are all set to use your ubuntu os right from your smartphone. It is a full featured operating system for desktop computing and all you have to do is, connect your mobile to your computer monitor using HDMI to use it.
You must Dock your handset to use the Ubuntu OS and when it is removed from the Dock, you will be using the Android OS on your Mobile.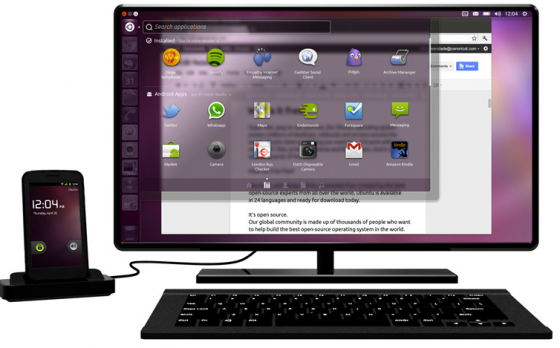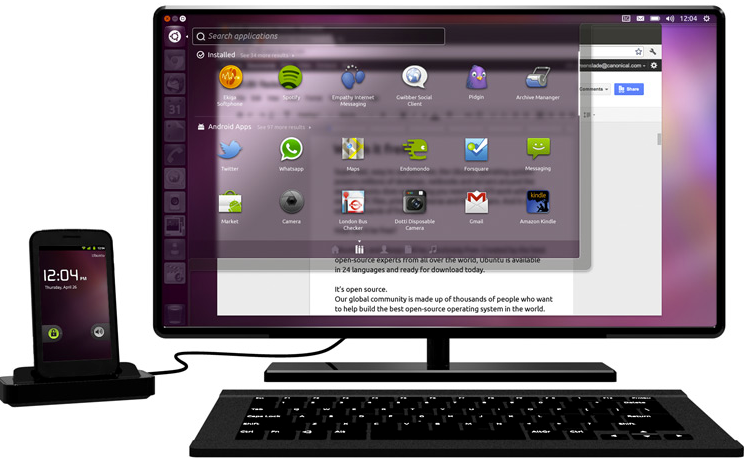 Android smartphones with Dual Core processor, GPU and GB of RAMs can now become a powerful desktop with this amazing development by Ubuntu Team. [Ubuntu Running on Android Video]
Why carry two devices, when you could carry only one? Your next high-end smartphone has far more horsepower than you'll need on a phone, and more than enough for a laptop.
Ubuntu App for Android
The worlds favorite open source Linux operating system Ubuntu now join hands with High End Android phones to transform the way you work with your computer. All you need is a just a phone and no need to carry a laptop at all. This can also make your Android is an all in one device, where your android smartphone can serve you as the best mobile and Ubuntu adds Desktop feature once its connected to the computer. Amazing isnt it ? There is no date released so far about the beta release of Ubuntu Android App.
But it is very near and we can expect an official announcement from Ubuntu Team and this getting featured on Android Market as well. Ubuntu is open now for Handset owners to receive requests and suggestions to make the release to be a great one. If you are an handset manufacturer and like to join with the bandwagon then do visit the official page. Ubuntu for Android OS is one of the greatest move that will boost the sales of smartphones with Dual Core processors in coming days.
All we need to know is, the date when we can expect the beta release of this app. Thanks for reading and you may share this post now to tell the world about Ubuntu App for Android.