Email clients are one of the best application for accessing multiple emails in a single place. Primary feature of Email clients is we can store the emails in our desktop and we can access to our old emails even we are at offline. It gives a great support for lot of business people that's why all the leading OS developers have their email client. Previously I wrote about using Google Goggles on your android phone now i'm going to explain you about the best email client for android.
K9 Email Client for Android
1. Go to android market, search for k9 and download the application (download k9 email client).
2. Install the app in  your android phone and go to menu to start the application.
3. Initially you need to enter the email id's and password you need to use with the email client.
4. That's all your mails have been configured to use with k9 in your android phone.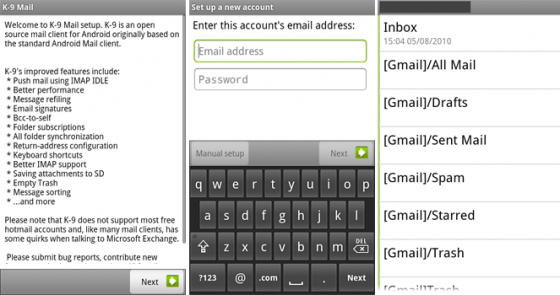 5. You can combine all the mail from various mail id's in a single inbox also in separate inbox.
6. Every mail id will have a separate folder for your easy access so that you wouldn't confuse the mails from different addresses.
7. These are all the steps to install and use k9 in your android phone.
Thanks for reading and i hope you find this content interesting. You may share this article with your Facebook, Twitter and Google Plus friends to let them know about this great app for android mobile.