What is QR Code ?
QR Codes (Quick Response Codes) are the two dimensional bar codes capable of carrying information in a text format. It is similar to barcode but its quite advanced one. In barcode you can embed only the text information also it cannot carry much data. But QR Codes are capable of carrying information like a website url, text message, phone number and so on.
Any barcode reader can read the QR Code and gives the output as text. QR Codes are mainly introduced for smartphones. They can transfer data from physical world to digital world without even typing a letter. Previously I wrote about using wordpress in your android phone. Here I came with an another interesting topic to transfer files from your desktop to mobile using QR Codes.
Upload Files using Sendoid
Sendoid is one of the secured and free online service for transferring your data using QR Code. You have two options in uploading your file. Either you can use the online application to upload your file or you can download the desktop application for uploading your file. Follow the steps to upload and share your file.
1. Open your browser and go to sendoid.com (previously it is called as isendr)
2. Click the "choose files to share" option in the window to upload your files.
3. After you click the share button, browse and select the files you need to upload.
4. Then a link will be generated for sharing the file online. You can share the link to your friend in chat or sms.
5. Also you can add more security to your link by keeping a password for downloading the file. The option will be available after you upload the file. Check the set password option to enable it.
6. One more option for your link is, you can change the link as a reusable link. Check the reusable link option to reuse your downloading link.
7. For sharing more number of files every time you don't need to go for the website. You can download the desktop client from sendoid to upload and share your files (you need flash for using desktop application of sendoid).
Note: You must not close the sendoid window until download is finished at the other end. The same thing applies for sendoid desktop application too. Basically sendoid transfers data in peer-to-peer mode. So both hosts need to be awake until the file transfer is complete.

Convert your Link into a QR Code
When sendoid was isendr, they itself offered to share files as QR Codes. But now the option was removed from the website. So we need to go for other services to convert your link into a QR Code. One of the best web application I found is, qrcode.kaywa.com. It converts all your text into a QR Code. Follow the steps to convert your link into QR Code.
1. Go to qrcode.kaywa.com from your web browser.
2. To convert the generated url into a QR Code please have a look at the screenshot below.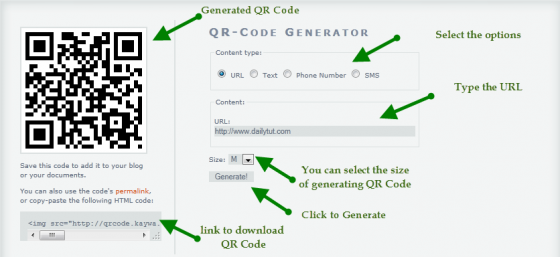 3. Now you can use that qr code to download the file. You can use the qr code to transfer the uploaded files from desktop to your android phone or vice versa.
How To Transfer Files Using QR Codes
1. Upload your file to sendoid.com and get the download link.
2. Follow the above steps to convert your url into a QR Code.
3. Use barcode scanner in your android mobile to read the qr code from your desktop.
4. You will get a link and options as shown in the screenshot above.
5. Click the open browser option to download the file into your android phone. The process is quite simple and you can easily transfer the files without cables.
6. Here i have a video tutorial for better understanding to do this process.
[youtube width="550″ height="350″]http://www.youtube.com/watch?v=DALS8EJuYW8[/youtube]
Thanks for reading. Hope it will help you in transferring the files  from your desktop to android phone using QR Codes. Please leave your suggestions and doubts about this article in the comment box.