Here is the trick to transform your android phone as mouse and keyboard. It will be helpful when you don't have mouse or keyboard when you are out of your home. It is not much complex as rooting your android phone or using your android phone as modem. The process involved is very simple and the conversion takes only a minute.
How to use Android Phone as Mouse and Keyboard ?
1. You need Java SE Environment installed on your computer (latest version is preferable).
2. You need a wireless internet connection (WiFi).
3. Then you need a device running Android operating system (mobile or tablet).
Using Android Phone as Mouse and Keyboard
1. Download the RemoteDroid app from the android market and install in your mobile.
2. Then you need to download the RemoteDroid desktop application from the developer's website (download here)
3. You don't need to install the file in your system because it is a kind of portable one and another important thing is, the desktop application is a java file so that it supports for most of the available operating systems.
4. After downloading double click on the executable java application, a RemoteDroid server window will appear before you as you see in the screenshot below.
5. Then  you need to enter the IP address in your RemoteDroid app which appears at the top of window.
6. After entering the IP address you will get a screen appears in the screenshot below in that top one is the trackpad area then left and right mouse buttons are available at the bottom.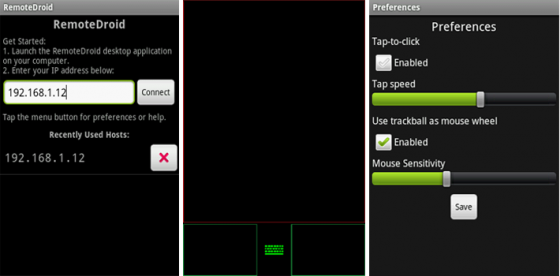 7. You can find a small green color keyboard symbol in between left and right mouse button. Click the icon to use your mobile keyboard as system keyboard.
8. It works in both landscape and portrait mode also works with any WiFi network.
9. If you have scroller or trackball in your mobile it functions as a mouse scroller in your system.
Thanks for reading. Please let me know if you have any doubts or suggestions about this article. Soon I will come with some more tips to make your android device much more powerful than what you have now.