Android Tablets have got the capacity to impress a mass community of people. The best ever marketing tool in the world is man to man marketing. Android tablets got that thing very clear and with this mechanism they have launched a limited number of devices in market. Getting noticed by the market it got a bigger demand and thus most of the Indian companies started manufacturing this 8 inch Tablet devices.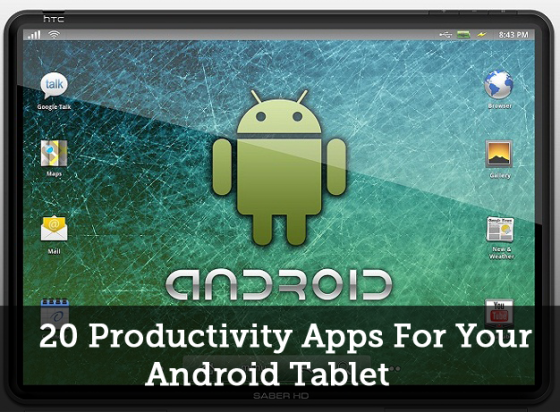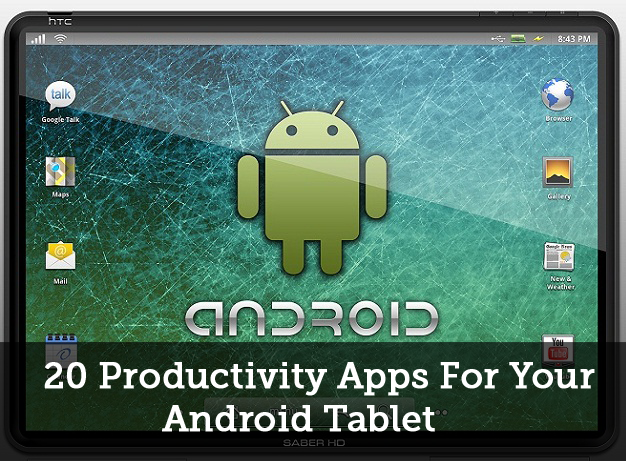 This is the history of tablet in a brief way and now we are going to see some useful productivity applications for your Android tablets which you should carry for sure. Productivity can be categorized as the the following terms as apps to share, apps for video conferencing, apps for documenting, apps for business, apps for social media, apps for file sharing and organizing and so on.
Newsr is an android centric way to read Google RSS feeds on android tablet. This is most specially designed application for your Android and this carries the responsibility for feeding you the updates from the registered pages regularly. Its been synchronized to Google reader  so you will not come across the same news you read already. It works on Android devices with Honeycomb inside it.
A new twitter client for your Android tablet is ready to download. This is highly customizable client for you which will be feeding you with updates of your followers. You can use twitter very live using plume and i am sure you will be carrying this application in your device as most essential.
This application lets you control your desktop from remote places and there by recollecting data from your desktop from your Tablet. The application really works on WiFi using which it can access the remote computer and perform for you in limited possible ways.
Kindle for Android Tablet is an application which allows you to make an easy to use interface with your reading ability. It helps you to identify thousands of free books in online store and there by helping you to choose the best one with many reviews. This is not just for eBooks but also allows you to read magazines and newspapers online and keeps you a book worm. Amazon whispersync allows you to keep a bookmark and last page you read so that you may continue with that on your next session.
Everyone needs to plan something before they are going to implement that. Think how it will be you can carry a mind mapping tool along with you. This application allows you to draw and map the ideas for what you going to plan. A portable main mapping tool for android Thinking Space pro is a paid version and you can buy from Android market.
You can view, edit and create documents in your tablet using this application. Documents in the mean like word, excel, PowerPoint files and also high fidelity in viewing PDF files. This is one of the essential documents application and will surely add value to your Tablet.
The keyboard application is so called Artificial intelligence of Android and thus will split keyboard into utility prediction. This application is mostly preferred for enhanced keyboard split layout, personalization, styles and language support. SwiftKey Tablet X is a paid application for tablet and you can collect it on Android market.
Dropbox helps you to share photos, doc and videos anywhere freely. This application works as after installing in your computer so then when you add some files to that folder it will automatically get saved in computers and dropbox as well.
This application is a multi-tasking platform which helps to categorize Email, Contacts, Calender and tasks from your corporate Exchange server. So this operates as outlook express after user experience. You can enjoy the universal updates using this application and also you can move this to SD card from the main memory.
Google docs is an essential app for your tablet which allows you to make a professional documentation both online and save a file on offline. It carries all the features as the google docs application works for Google. Its a free available application in Android market.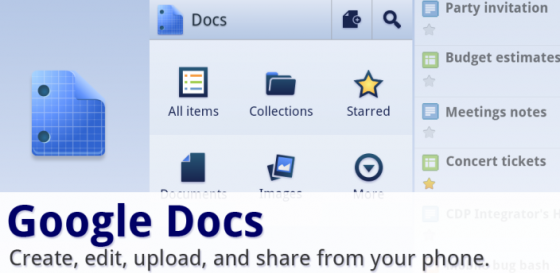 Using this application you can pay the payments anywhere and everywhere starting from a coffee shop to airport. Every user will be receiving a Square credit card to use. You can easily pay for the downloads through android market after that square credit card.
Blogger is an essential app for the blogger who have an account in blogspot. This will help you to update your posts, add pictures, labels and location. This app is available for free in Android market which you can use it for mobile also.
Google translate is a most essential application for tablet users. It helps to translate between 50 languages which will support to keep the vocabulary level up and read the homophones of each and every word.
Skype is a well know tool for communication and especially for free video calls. It works great on all tablets and free of cost. Android devices running 2.3 and above will support with the features of skype.
This application is going to act as your memory in hand. It helps to remember all the used apps in your device and also to organize productivity. It supports taking notes, capturing pictures, create to-do notes and record voice reminders.
Bloomberg is an application used for getting news, market data, financial support and the portfolio tracking tools from some of the trusted financial professionals around the world. This helps in providing easy to understand charts, swot analysis on market data and important business trends in current situation.


Wizz is a widget which allows you to experience Facebook, Twitter, Calender, Google reader, Timeline in a single platform. This wont drain most of your battery as this acts behind the currently executing application.
This is an free Tv and movie view application online which contains a large collection supports many users round the world. Having this application in your Tablet will keep you entertaining in your leisure hours.
Preereader is an online newspaper which allows you to read more than 1900 full content from 95 countries and 49 languages to your tablet.
Barcode scanner scans on products and QR codes so that it can collect the relevant information stored on it from web. Using this application you can take the reviews price of the products and the make an optimized decision on the products you buy.
I hope this post will help you getting a professional collection on your Android tablet. So make a try with all these stuffs and share us if you got some other unique, interesting productivity application in recent days.
Thanks for reading and please do share this article in Facebook, Twitter and Google+ to help more android tablet users.