Friday is one of the best android app for recording all the activities in your android phone. It stores the complete information about your calls, gallery, messages, the location you went and everything. One of the unique feature of friday is it can answer the questions you ask. For example, if you ask the question how many missed calls I got yesterday during the time of charging ? Friday will answer you. So its a full fledged app for tracking your mobile in all the aspects.
Update: We like to recommend mSpy Review, Best Spy App for Android which will help you monitor the android smartphone remotely using secure, encrypted mSpy Dashboard. mSpy also works on iPhone (without jailbreak), Windows 8 and Mac OS X.
How to Record all Android Phone Activities ?
For downloading the app first go to the friday-app.com. It is the official website of friday app developers and you need to get an invite from them to download the app from android market. All  you need to do is enter your email id in the get invite text box on home page. The invite will be sent to your email and download the app using that email id otherwise it won't work.
1. Go to android market, Download Friday and install the app in your android phone. Go to menu and tap the friday icon to open it.
2. The first step is you need to create a password for log in to view your data.
3. The moment you start using the application it will start tracking all mobile activities.
4. The next time you log in to the application, you can view the activities based on a particular date or you can ask the question to get your results.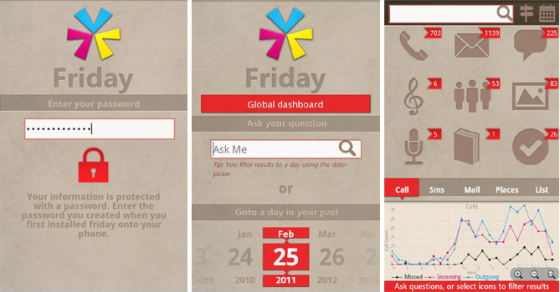 5. The application will keep log of your call logs, messages, music you heard, the places you went, photos you took and much more.
6. It will give the statistics of your mobile phone usage in the above said categories.
7. Every time you view your dashboard it will give the information about your frequent activities (like you spend most of your time around Central Park, Newyork).
8. Also you can view the places you went on a particular day (or) from the day you installed the friday application in Google maps.
t9. You can customize the settings in your friday application. The setting will have a list of activities tracked from your mobile phone. You can check or uncheck the categories you need to modify.
[youtube width="550″ height="350″]http://www.youtube.com/watch?v=MrwXdFzVyNs[/youtube]
Note: The application does not work without the invitation from developers even you download the application.
Thanks for reading. Hope the application will help when you missing some important information from your mobile phone. Please let me know if you have any doubts and suggestions about this article in the comment box.