Bitdefender Total Security is an All-In-One Security solution for Windows 10 computers. Even with earlier versions of Windows versions like Windows 7,8 and Windows 10. Not just for Windows PCs, Bitdefender Total Security is very popular in protecting Android Phones and Tablets as well.
Alright, without any delay, let's explore the highlights and features in our Bitdefender Total Security 2019 Review. Also, don't forget to get our exclusive up to 50% Bitdefender Total Security 2019 Discount Coupon Code at the end of this Review.
Free Download Bitdefender Total Security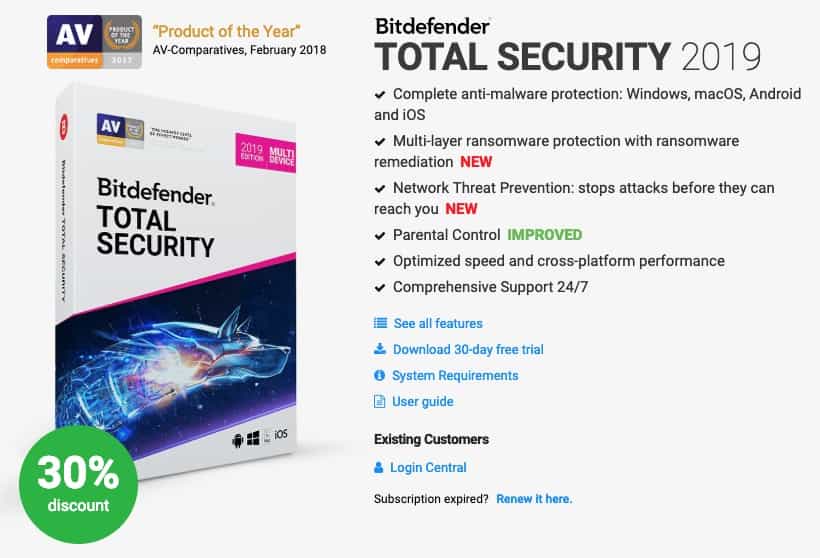 When you want a complete peace of mind and 24/7 protection against all types of security threats, you should consider downloading Bitdefender Total Security software. Packing all the essence of Bitdefender Internet Security, Total Security brings few additional and very important features to your Windows Computer.
Bitdefender Total Security 2019 Review
In this quick review i just want to highlight the security features Bitdefender Total Security 2019 offers when you install it in your Windows PC.
Also Read,
Multi-Device License – Now you can use this wonderful security software on all your devices. Buy one bitdefender total security multi-device license key and use it in your Windows Desktop, Windows Laptop, Windows Surface Tablet, Android Smartphone and Tablet as well. Simply choose the number of license and year at the end of this post to match with your number of devices you are planning to install this security software.
No Slow Downs – Bitdefender's Photon technology is unique and exclusive. It scans your PC hardware environment and adapts to the hardware and software configuration of your Windows PC.
Cloud Integration – Scanning in the cloud brings zero impact on your system speed and performance. Bitdefender cloud integration scanning never uploads any of your local resources or files to its cloud scanning services. It performs the scan by obtaining virus signature files and matches them with your local files for detection.
Safepay – Bitdefender provides a unique way of banking and shopping using your Windows computer. In order to prevent any type of fraud and to protect your transactions with high level of encryption, bitdefender safepay is the best solution for anyone. Fill out bank login credentials, passwords, credit card details and more.
Ransomware Protection – the most advanced and constantly improved Ransomware Protection comes with Bitdefender Total Security software. Don't let any hacker take control of your Windows PC remotely and demand for Ransom. This new threat is in Rise and many windows users are becoming a victim for Ransomware attacks and losing hundreds and thousands of dollars sometimes to get back their data.
Never let Ransomware attacks happen to you. Prevent it by installing bitdefender total security software in your Windows computer.
Social Network Protection – One of the easiest way for hackers and cyber criminals to find victims. It is easy to find random strangers in Social Networking websites. Bitdefender TS comes with Social network protection feature that protects you from any malicious links and threats. Links shared in Facebook, Twitter and Google+ may look legitimate as you may see it being shared by your friends. Bitdefender SNP scans for any malware attack possibilities or spywares, adwares when you click and visit any website links.
This way you can protect you and your family from online attacks random or targeted.
Anti-Theft and Data Protection Tools – One of the important reason i recommend Bitdefender Total Security software to any one looking for best antivirus for windows 10 laptops. Along with providing all the virtual security solutions, Bitdefender Total Security brings the ultimate Anti-Theft and Data Protection to your Windows Laptop.
Value for Money Antivirus Software
Perform a quick scan once a week or couple of weeks once to make sure everything is working fine and no suspicious codes found on your existing softwares and files. Bitdefender Total Security performs automatic system scans to make sure the system health and performance is excellent all the time.
License Info: up to 5 Devices / 1 Year
Store Price: $89.99
Discounted Price: $67.49
Bitdefender Total Security 1 PC + up to 50% Discount
Millions of Windows users are already using Bitdefender Total Security 2017 in their Windows 7, Windows 8 and Windows 10 Desktops and Laptops. They are not just happy, they are also secure against all types of Online attacks and threats. Everyday you connect your computer to Internet, and Bitdefender Protection 24/7 ensures your online activity and data are 100% safe from hackers and cyber criminals.
Bitdefender Total Security Discount Coupon Codes
Are you ready to buy / download bitdefender total security software for your Windows computer? Here we have an exclusive offer for you to save up to 50% with your purchase of Bitdefender license keys. Protect your Computer and Save Big with our exclusive Bitdefender Total Security Discount Coupon Codes.
***NEW*** Bitdefender Total Security 2020 Coupon Codes to save upto 50% from Store Pricing.
Thanks for reading and feel free to share this post about Bitdefender Total Security Review and up to 50% Discount Coupon Codes if you find it useful. Have a wonderful productive day.
You may also like to Read,