Nuance saves you big time by simplifying your file converting process with its Omnipage 18 software. Omnipage 18 converts almost many format files that we use every day. It is the most precise way to convert paper, PDF Files, and even digital camera pictures into documents. Not just that, you can edit in your favorite PC applications once the convert of picture to document done. This may sounds interesting to you, continue reading to get more idea about nuance omnipage 18 as we have a little review of the product.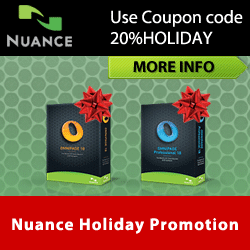 Its all about the Accuracy, Speed and Innovative features that nuance omnipage 18 delivers makes us to come up with a review over here. We have an industry leading document converter solution right here today. Omnipage simply turns your paper and PDF files into electronic files that you can edit, search and share easily with anyone. It also ensures that the converted electronic documents look exactly like the original copy that includes complete text, graphics, columns and tablets you have on the paper or pdf file. Omnipage significantly reduce the amount of time that you usually spend to convert some of your important files.
Nuance Discount Code
Stop wasting time on converting your documents anymore and spend more time with your business goals. Omnipage 18 can be your perfect solution this holiday to convert your files that are editable documents. We have 20% Holiday Discount code today for your nuance purchase. Limited time offer, so hurry up today.
Nuance Omnipage 18 Features
Superior Word Accuracy – Now you get accurate text for the best conversion and archiving of any document that you convert. This works brilliantly for words on paper and in images as well.
Best Formatting – You cannot find the difference between the converted document and original as both will look exactly same with columns, tables and graphics.
One Click Workflows – Built in workflow functionality is pretty great and that helps you to create your own workflows to get recurring conversion jobs in just a click of a button.
Unlock PDF Files – eDiscovery Assistant keeps originally searchable content intact and process just the non searchable elements. OCR Process helps you to open multiple PDF Files at same time without loosing any of your valuable information in it.
Transfer PDF to Amazon Kindle – You scan a document and automatically convert it into a format that is readable and very well supported in Amazon Kindle eBook Reader Devices, and all it takes is just one step.
Independent Applications Support – Naunce Omnipage supports wide range of output formats including PDF, Microsoft Word, Excel, Powerpoint, Corel file formats, Wordperfect, HTML and many more formats to mention.
120 Languages Supported – Now you can process, edit and store documents from virtually any part of the world. Omnipage comes with an intelligent language detection system that detects language recognition possibility which is based on Latin, Greek and Cyrillic alphabets, Chinese, Japanese and Koren languages as well.
iPhone, iPad Supported – Now you can use images from Apple iPhone, iPad and any digital camera to convert them into a readable format for mobile devices and ebook readers like nook, amazon kindle and so on.

Nuance Omnipage 18 Highlights
Let me list out some of the highlights of this awesome product before you buy.
Performance – new version of naunce omnipage gives 67% improved layout accuracy, 18% word accuracy got improved, 50% more compressed searchable PDF-MRC files without loosing any word accuracy and 30% faster processing on multipage PDF documents.
Cloud Supported – OmniPage provides native integration with Evernote and Dropbox. In addition, the included Nuance Cloud Connector application provides access to a number of cloud services including Microsfot Live SkyDrive, GoogleDocs, Box.net and many more.
New and Improved Naunce Algorithm – The algorithms for removing speckles and dots from page images to help increase accuracy are improved, with a choice of despeckling methods (Normal, Halftone, Salt & Pepper).
SET Tools Enabled – When whiteboard content is captured by digital camera, the text and diagrams can be enhanced for maximum readability. Auto-crop pages to have margins detected and reduced; the punch hole remover and border tools produce clean page borders without scanning shadows and marginal notes.
Automatic language detection – Simply auto detects the language of the document you have given as input. I must say, this is one amazing feature that many file and pdf converter software claim to have and miserably fail, but you can trust with naunce as they are masters in it for long time.
ISIS Scanners Support Included – Scanners that support ISIS drivers can be used to scan directly into OmniPage.
The following Holiday discount coupon code will be valid till January 31st, 2012 and available only for users who are from UK, France, Italy, Spain and Netherlands.
Logitech 30% Discount Coupon Code
You also get 30% Logitech Coupon Code with every single purchase you make with Nuance Store. Its almost a Double Savings to you this holiday season.
Nuance Omnipage 18 Professional Edition
Choose the country in order to get the 20% Holiday Discount Coupon and proceed with the purchase. These coupons are valid till May 15th 2012.
Nuance Omnipage France
Nuance Omnipage Italy
Nuance Omnipage Netherlands
Nuance Omnipage Spain
Nuance Omnipage United Kingdom
You may use the same coupon code that you obtain above for any Nuance Standard Editions as well. Thanks for checking out this great product. Leave a comment below if you have any.