Connecting to your friends desktop has never been this much easier. No need to go for any pay services (like GoToMeeting, Logmein etc.,) to connect remote computer. Windows Remote Desktop connectivity works perfect only, when we are in LAN or WAN sort of networks. But when it comes to Internet, due to LAN IP addressing it is not possible to establish such connectivity using Remote Desktop tool exist in windows computers. Thats the reason we need to look for some alternative tool to fulfill this requirement. Moreover the tool we select must not have a complex procedure or installation steps. If it is a web based tool to perform such task then it will be better too.
Also read, Best Remote Desktop Apps for Mac, Windows and Linux which has updated list of remote desktop and remote assistance utilities for your Computer.
Zolved is the tool which allows you to connect to remote desktop computer (Supports Windows OS Only) after an authentication process. Let me show, how you can establish the connection with your friends computer located somewhere in this world 🙂 . Both of you have to download single application from Zolved website to begin the connection process. The steps are well explained in the Zolved website's download page itself. However refer the below steps if you like to.
Step 1: Download the Zolved Remote Control
While downloading ensure you have selected the correct country. US, UK and India are the three countries currently supported.
For Controller or Technical Person:
Download the Remote control software from zolved website.
For Viewer:
Download the View a Computer from zolved website.
Step 2: Execute the downloaded file
The computer which you are trying to establish remote connectivity must be logged in with administrator privileges .
Step 3: Share the PIN Number and establish the connectivity
For Technical Person: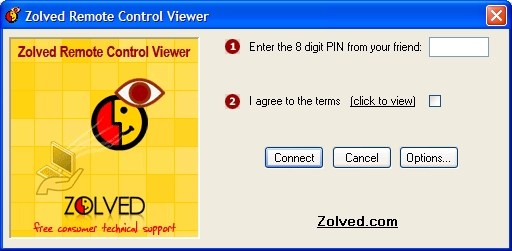 You will see the above screen and wait for the 8 Digit PIN number from your friend. Once received, enter it in the text field and Check on "I agree to terms" and "Connect". you will be getting a warning message to inform,  "Zolved is not responsible for any problems caused from you allowing remote access to your computer. Please be careful with whom you share your computer." Click "OK" and wait for few seconds till Zolved servers establishes the connection.
For Viewer:
Select the closest location to get good speed while in remote desktop connection. Then Select the permission level that you wish to allow your friend (or tech person) to. Send the 8 Digit PIN number through chat or any other messaging service. Click on the "I agree to terms" and then click on "Share My PC". And wait for the other end person to enter the shared PIN Number. Usually you get the above Warning message or Disclaimer once you clicked on Share my PC.
Similar Programs:
There are similar other programs like zolved. Teamviewer, logmein (free edition), Yuuguu, Showmypc, Skyfex and so on. Zolved is simple and easy to operate. Give a try yourself !
Please dont forget to subscribe to RSS Feeds or Newsletters, if you like my posts.