"A new hero arrives and everybody got threatened due to him." You may heard this in stories but this myth have proved to be real in the tinsel town very recently. Hope you understood whom i'm speaking about. Google+ is the juggernaut in his way. Most of the technology evangelists were admiring the new one into the circle of social media.
You may also like to Read:
The exciting feature of Google + is you can take your data anytime you need. Normally no other social media carrying this feature makes Google+ unique. So lets see how you can backup your data in Google+.
How to Backup Google Data ?
Step 1: First Login to your google account.
Step 2: Now move to Google takeout from here.
Step 3: You will be seeing a screen like this.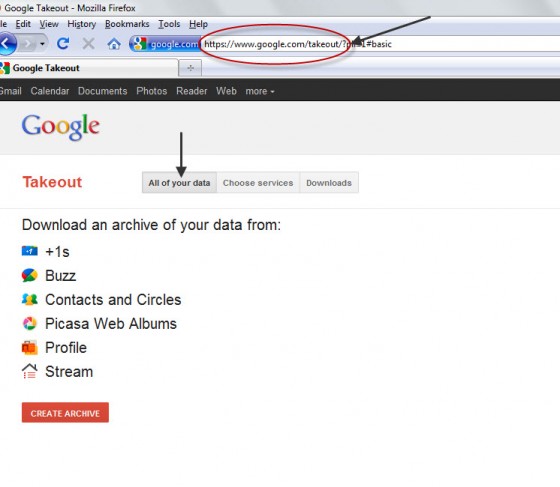 You can find the sections as All of your data, Choose services, Downloads on the Takeout window.
Step 4: Now Choose the services where you need to takeout your data.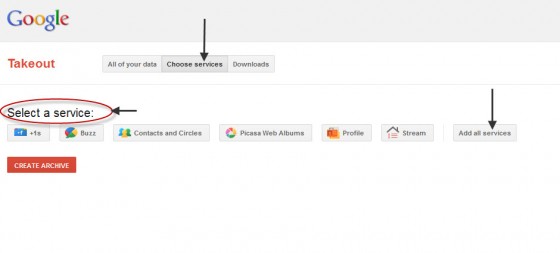 Step 5: When you are willing to view the posts and data you have shared in all possible services click on "Add Services" and will be getting this screen.
Step 6: So you were clear about all the details regarding your data and now getting ready to download those stuffs as a backup. Click on "Create Archive" and that's all you have done.
So Enjoy using Google+ with an assurance that you can take you data any time you need.
[youtube width="550″ height="344″]http://www.youtube.com/watch?v=16W6K39BL-g[/youtube]
That is all. You will get the compressed file as the download to use it at your convenience. If you find this article useful and may help others, please do share it using the social bookmarking icons. Thank you.
You may follow us on Twitter or like us at Facebook to get more Google+ News and Tips