Its quite shocking to read "Facebook stole every contact and phone number in your phone" at BGR. I have understood that it is very important to unsync our phone contacts to facebook also the contacts stored in our computer must kept safe. Though you wont plan any terror activities, it is must to keep your internet activity anonymous, as there are chances your private data may get leaked in internet if any of your web account stolen. If there is any security risk to the Facebook Database, then its not just to them, it is to our data and privacy.
Hence it is always recommended to not leave the entire life history of yours in Facebook to let people surf and watch them. The pictures you upload, videos you share and texts that you type should be under your control. And there are reports like, facebook is not actually removing the data that you delete from facebook completely.
Consider your email address. What if you are unable to access your email address for a week time ? There is a high chance of some one may misuse your data either by leaking them online or sending spam messages to your contacts (phone and emails).
Here we came up with a simple tutorial on how to unsync facebook contacts.
Step 1: Login to your Facebook Account and Navigate to "Edit Friends" under "Account".
Step 2: Select "Contacts" from Left side Menu.
Step 3: Click on "this page" from "Phonebook Contacts" located at the Right side column.

Step 4: Click on "Remove" to initiate the process.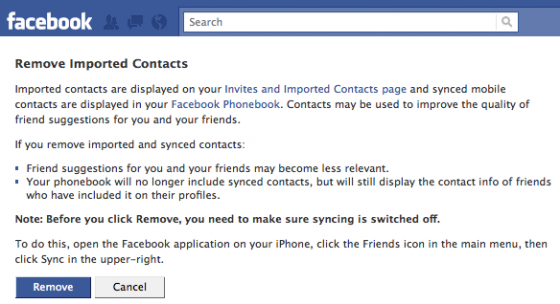 You will get a confirmation of your submitted request to delete the contacts from your Facebook Phonebook contacts database. Remember, this step can also done from your droid or android mobile handset as well. So you can now remove facebook contacts from android mobile anytime.


Facebook may take several hours to remove the data completely from their server. But still i am doubted whether they remove it completely or backup it for future reference. Which is ofcourse a big privacy concern for its users. We know that every activity that we do with facebook are recorded and it can be pulled back whenever required in future.
Thanks for reading and i believe this helps you to protect your online identity from increasing threats. You may now share this post across social media sites to tell your friends about this and help them too.